Gael Tarleton
Home
Friends and Neighbors,
As the end of regular session draws near, we face increasingly difficult policy and fiscal decisions. I wanted to share my thoughts on a few of those big issues we are addressing here in Olympia. I also wanted to offer my thanks to those of you who have contacted my office to share your priorities with me.
Sound Transit 3 (HB 2201)
Four months after the voters in the 36th District overwhelmingly approved Sound Transit 3's $54 billion, 25-year regional transit program, people throughout the Sound Transit 3 region got the bill for their car tabs.  Although the ballot initiative told the voters that the motor vehicle excise tax would increase by a certain percentage, people rarely dig into the details until they have to pay the bill.  My colleagues who represent residents in Sound Transit's three-county region were deluged with complaints. Car owners said that their tax bill assumed a value for their vehicle that far exceeded actual market value. They felt their tax bill was unfair because it assumed an inflated value of their vehicle. I received a handful of emails from constituents urging me to solve the car- tab sticker-shock problem without harming ST3 projects.  I voted for HB 2201 off the House floor Wednesday night because it was the right thing to do.  The bill now goes to the State Senate.
My House Democratic colleagues and I agree: this bill is our solution. If signed into law, the legislation would be effective through 2028, whereas Sound Transit will be collecting revenues as the region grows during the subsequent 13 years.   Some transit advocates have concluded that HB 2201 automatically cuts Sound Transit funding. It does not cut funding.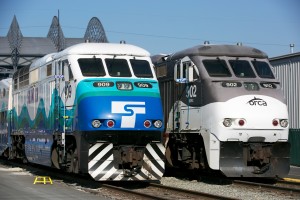 It does potentially increase Sound Transit's costs by an estimated $780 million over the next 10 years. ST3's financing plan assumes a $1.6 billion contingency fund. The Sound Transit program is a 25-year infrastructure investment with dozens of projects. During the next quarter century, our region will grow, projects will be redesigned, bonds refinanced, and new sources of revenue created. I started voting for the monorail in 1990, when I moved to Ballard. I remember when Tim Eyman's ballot measure I-695 passed because voters were furious at the escalation of their car tab bills. So here I am, 27 years later, still fighting to get a light-rail regional network built. If Sound Transit projects run into future financial headwinds, I will do everything I can as long as I am in the legislature to help Sound Transit, just as I have for the past four years of service.  In summary:
HB 2201 does not force Sound Transit to use the 2006 car tab schedule. Forcing Sound transit to use the 2006 valuation would jeopardize their bonding capacity. We are instead asking them to charge people the lesser of two schedules, and find a way to make up the difference. Some people might choose to pay the full price because they want to.
We are not cutting projects. In fact, we are telling Sound Transit not to. The cost of the new valuation schedule is around 1.5% of the overall ST3 budget, and we believe that Sound Transit will be able to absorb this over the next ten years. If Sound Transit cannot fill this hole, I will fight to plug it.
I first moved to Ballard in 1990 and lived there for three years. Then my husband and I had to return to Washington, DC, for a few years while he completed his years in federal government civilian service. We moved back to Ballard in 1997, where we have lived for 20 years. It is my life-long goal to ride light-rail in Ballard.  Until then, I will keep fighting for more bus transit to keep people and goods moving.
REAL ID (ESB 5008)
As I have mentioned at our town halls and in previous e-newsletters, Washington State faces a critical deadline: as of January 2018, our state driver's license will no longer be valid proof of identity when boarding a plane for a domestic flight. The Department of Homeland Security will only accept an enhanced driver's license, a U.S. passport, or other federally issued forms of identification as stipulated in the REAL ID Act of 2005.  To ensure that our residents can take domestic flights through 2020 using state-issued identification, the legislature has developed legislation to make our enhanced driver's license compliant with the federal government's REAL ID Act.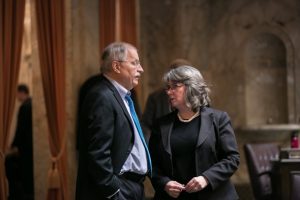 This past week the House passed Senate Bill 5008, amending the Senate language with House language to protect our residents' private information and reaffirming that our state and local law enforcement officials must not take actions against any person based on the form of state identification that they carry.  Unfortunately, the State Senate did not concur with the House amended language. Next week we must find a new path forward. I personally have many concerns about altering the state's identification card or our standard driver's license. Unless federal law changes, however, it is inevitable that by 2020 we will no longer be able to take a flight using a Washington standard driver's license or identification card.  We will be required to have a federally approved form of identification, such as the enhanced driver's license issued by the state or federally issued identification. The types of identification that qualify  are described here.
Internet Privacy (HB 2200)
Many of you have contacted me about the decision made by Congress to permit cable and other internet providers to sell personal data without your permission. This is unacceptable. HB 2200 was introduced in the House last week by Representatives Hansen (D), Taylor (R) and Smith (R).   I co-sponsored this bill, as did 74 Democratic and Republican house members, because Washington has an obligation to uphold our state consumer protection laws. While there are some federal laws that are still in effect, the most recent congressional action casts doubt on how Congress will regulate this industry. Therefore, it is up to our state to provide protections.
HB 2200 had a public hearing earlier this week in the House Committee on Technology and Economic Development (TED), for which I am vice-chair. TED passed the bill out of committee 15-2 this morning. It now lands in the House Rules Committee. I hope it will come to the House floor for a vote in the near future. I will be voting yes.
Carbon Tax (HB 1646)
I have long supported introducing a price on carbon tax as a way to reduce toxic emissions and invest in clean energy, critical habitat recovery and protections, and essential public infrastructure needs. This session, there were several carbon tax bills introduced. HB 1646 is one of these bills.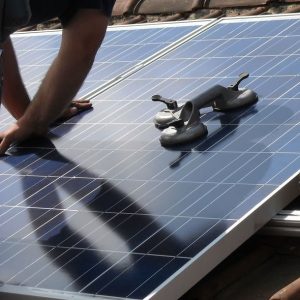 Although it still needs some work to help us aggressively tackle climate impacts from carbon emissions over the next 15 years, I believe we must keep this legislation moving forward: it keeps the pressure on and creates the sense of urgency we need. We need a bill the Senate will pass so that there is something that goes forward for the Governor's signature.
Budget Next Steps
The House Capital budget and House Transportation budget both were approved off the House floor this past Wednesday evening on strong bi-partisan votes.  I love capital budgets: because they show we are investing in future generations.  The capital budget includes money for school construction to reduce class sizes, mental health facilities, community services, and our public parks, forests and waters. The House Transportation budget continues to fund bus transit along the Alaskan Way Viaduct as we complete the SR99 tunnel project and prepare to remove the viaduct in 2019. It also funds critical safety investments in state bridges and interstate highways. House and Senate negotiators are now negotiating these budgets.
The regular session ends on Sunday, April 23rd, at midnight.  Between now and then, our House Democratic budget negotiators are fighting hard to protect those essential services and facilities that make Washington state such a remarkable place to live. Three budgets must be negotiated between the House and Senate, and then the Governor must sign three budgets. I am profoundly humbled to work with my colleagues, our House Democratic staff, and the extraordinarily talented non-partisan professional staff. There are hundreds of staff working 18 and 20 hours a day around the clock for the next nine days to meet this deadline called Sine Die.
These are days of intense pressures and frequently short tempers. People are missing their families and struggling with illness and loss. I am so grateful to everyone who works so hard on behalf of the people of our great state. I hope you will let me know your concerns and ideas as we press forward to complete our work in this session.
I will continue to keep you updated on our progress.
Your voice in Olympia,
Gael
Biography
Gael began her career as a senior defense intelligence analyst for the Pentagon, working on security issues affecting ports across the country and other critical facilities. In 1989, she was the youngest person ever to receive in public the Director of Central Intelligence's "National Intelligence Medal of Achievement" for recognition of her exceptional contributions to protecting vital national interests.
After a decade working at the Pentagon, Gael ran two international subsidiaries of a Fortune 500 company in Russia. She was responsible for creating disaster preparedness and emergency response plans for ports nationwide. Her work helped rebuild the country after the Cold War collapse, employing new technologies in an effort to clean up nuclear waste and prevent environmental disasters.
Gael most recently worked as a strategic advisor for the Institute for National Security Education and Research at the University of Washington.
First elected to serve the people of King County as a Port of Seattle Commissioner in 2007, Gael was re-elected in 2011 and served as Commission President in 2012. During her five years at the Port, Gael has worked to increase transparency, protect the environment, and bring an end to human trafficking. During this time, she also served as a technical advisor for Pacific Northwest National Laboratory in Seattle.
Gael was first elected to represent the 36th legislative district in 2012. She will focus on creating jobs, safeguarding our environment, ensuring government accountability, adequately funding higher education, and funding health care.
Gael was recently appointed to serve on several boards and work groups such as the Women Legislators Lobby (WiLL), Pacific NorthWest Economic Region, and Legislators' Energy Horizons Institute. She also co-chairs the Washington State Aviation Caucus with Sen. Jim Honeyford of Sunnyside.
She holds a master's degree from Georgetown University and a Bachelor of Science from Georgetown's School of Foreign Service. The Northwest Asian Weekly honored her with the "Women Leaders 2012" award, and she also received the "Maritime Industry Official of the Year 2012" award.
Gael and her husband, Bob, have lived in the 36th District's Ballard neighborhood for nearly two decades. The Olympic Peninsula has been their favorite spot to fish for salmon and steelhead and go hiking for 25 years.
Seattle's Working Waterfront
The city of Seattle cherishes its connections to the water – it's all around us. The state legislature created a taskforce on maritime and manufacturing industries, which I co-chair.
This bipartisan, bicameral group is exploring what we need to do to hold onto the jobs and industrial lands for our maritime and fishing companies. Protecting our waterfront will provide our communities with sustainable fisheries, a healthy environment and future economic opportunities we can depend on.
This is why I love our working waterfront:
This segment shows the working waterfront and what it means for the future of our children and the many jobs that are part of maritime and manufacturing sectors:
Economic Resilience of Maritime and Manufacturing Taskforce covers several core sectors including fishing and seafood processing, ship and boat building, maritime logistics, military security and federal operations support, passenger water transportation and tourism.
This link includes information on the Taskforce, upcoming public meetings and work sessions and the Final Work Plan, which maps out the work of the Taskforce.
Below is also a list of Economic Impact Studies for an in-depth look at varying sectors in the Maritime Industry and their tremendous contributions to our state's economy:
Port of Seattle
Port of Tacoma
WA State Maritime Cluster Impact Study
City of Seattle Maritime Cluster
Commercial Fishing Industry
Additional Resources on the Working Waterfront and Maritime & Manufacturing Industries:
National Working Waterfront Network
Sea Grant Washington
Department of Commerce Maritime Industry
News Releases
Videos
Legislator Profiles with State Representative Gael Tarleton, 36th District.
Strengthen the middle class through investments in higher education
Building an economy that works for everyone means making college affordable and accessible. In a state known for its high-tech and engineering industries, Washington House Democrats are committed to removing barriers to college. Here's Rep. Gael Tarleton sharing ideas on how to strengthen the middle class through investments in higher education. #waleg

Posted by Washington House Democrats on Friday, February 26, 2016
Contact
Olympia Address:
429A Legislative Building
PO Box 40600
Olympia, WA 98504
(360) 786-7860
Email Gael
Legislative Assistant:
Elka Peterson Horner
Email: Elka.PetersonHorner@leg.wa.gov
Toll-free Hotline:
1-800-562-6000
1-800-635-9993 (TTY)
Committees:
Technology & Economic Development (Vice Chair)
Higher Education
Rules
Transportation
For Press Inquiries:
Jamie Nixon, Communications Specialist
(360) 786-7202
Jamie.Nixon@leg.wa.gov
For broadcast-quality audio or TV/radio interviews:
Dan Frizzell, Broadcast Coordinator
(360) 786-7208
Dan.Frizzell@leg.wa.gov
---