Gael Tarleton
Home
Friends and Neighbors,
We are now in the third week of the second special session. Thank you to those of you who have remained engaged in the bills and budget items that are currently being considered. I've heard from many of you about new revenue, carbon pricing, education funding, and high school graduation requirements.
Budget Votes 
A lot of the conversation surrounding the 2017 budget has focused on new, progressive revenue. I believe strongly that Washingtonians need a more progressive tax structure to fund the needs of a modern state with more than 7 million residents, but also acknowledge the difficult balancing act that this reform will require. There are only so many types of revenue that are available to use in Washington State, and even fewer are politically feasible with a divided legislature.
Our state depends on sales taxes to fund so many critical services and infrastructure. This is one of the reasons we are ranked as having the most regressive tax structure in the United States. During the nearly 25 years I've lived in this state, the sales tax has increased from nearly 8 cents on the dollar in Seattle to more than 10 cents.
We also depend heavily on the property tax. While property taxes are technically a progressive revenue source, we rely on property tax levies to fund everything that we value: education, housing, family services, support for veterans, parks and libraries, transportation infrastructure, and more. This dependence on levies has led to a crisis in meeting our paramount duty to fund our K-12 schools. There is a terrible inequity among school districts in the funding available to our kids all over the state.  This represents a failure on the part of the state to properly fund public education.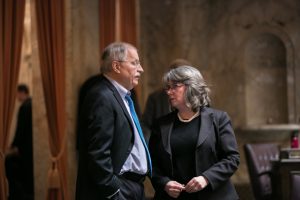 It is our paramount duty to provide ample funding for a quality K-12 public education. It is our constitutional duty to pass a two-year budget to keep state agencies open, serving the millions of people who depend on them every day.  We're in our second special session, the responsibility to deliver the budget persists, but the Senate Republican negotiators apparently don't feel a sense of urgency to get our work done any time soon. Just this week, they have been floating the idea of passing a "continuing resolution" for 30 days.  This is not a good idea. I will do all I can to get a budget before we hit the fiscal year cliff. There is absolutely no legitimate reason to bring us to the brink of a state government shut-down on June 30th. Too many people will suffer.
This is my third term in the House voting on a two-year budget as a representative for the 36th Legislative District. I have learned in the course of my career – before politics and now in the WA State House – that every budget is a compromise. Every budget requires us to make choices and trade-offs.
We vote on a whole budget, not a budget line item. In prior years, I've taken a budget vote that didn't fully fund the State Need Grant…that left our public parks without resources to do maintenance…that eliminated the Life Sciences Discovery Fund (one of the hardest votes I've ever taken). But by voting "yes," I have supported budgets that funded materials, supplies, and operating costs for K-12 schools. I've voted for more funding for home healthcare workers and expansion of Medicaid-provided medical and dental services for hundreds of thousands of Washingtonians. I've said "yes" to protecting pensions of emergency responders, funding rape kit processing for sexual assault victims, and providing homeless youth with safe places to sleep.
When voting on budgets, I think about what is in the best interest for the most people. And then I get up the next day to fight for those who will need us next.
New Revenue
As the budget is negotiated, so are the revenue sources. I support the capital gains excise tax as a solid, progressive revenue source. The democratic proposal is narrow in scope, taxing those who have built their wealth using public infrastructure. The Legislature's investments in our roads, ports, highways, and the information technology sector have contributed to profitable businesses across the state. It is only right that we ask these people and business to contribute to funding the maintenance and expansion of these services.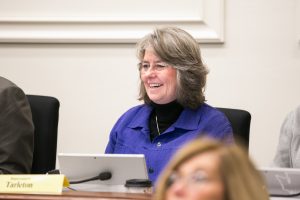 I also support pricing carbon in Washington. No matter how we do it, we must honor our commitment to all generations that follow us. We must ensure that they are able to enjoy what makes the Pacific Northwest such an amazing place to call home. It is my duty and honor to help preserve the lands and waters so that future Washingtonians may hike, fish, snowshoe, or kayak. I believe strongly that we are obligated to extend the livability of our region.  By pricing carbon, we would be taking an incredible step towards truly embodying those values.
I hope to continue hearing from you as the budget negotiations continue. It is critical that I know the budget priorities within my district, and the policy areas important to you.
Your voice in Olympia,
Gael
Biography
Gael began her career as a senior defense intelligence analyst for the Pentagon, working on security issues affecting ports across the country and other critical facilities. In 1989, she was the youngest person ever to receive in public the Director of Central Intelligence's "National Intelligence Medal of Achievement" for recognition of her exceptional contributions to protecting vital national interests.
After a decade working at the Pentagon, Gael ran two international subsidiaries of a Fortune 500 company in Russia. She was responsible for creating disaster preparedness and emergency response plans for ports nationwide. Her work helped rebuild the country after the Cold War collapse, employing new technologies in an effort to clean up nuclear waste and prevent environmental disasters.
Gael most recently worked as a strategic advisor for the Institute for National Security Education and Research at the University of Washington.
First elected to serve the people of King County as a Port of Seattle Commissioner in 2007, Gael was re-elected in 2011 and served as Commission President in 2012. During her five years at the Port, Gael has worked to increase transparency, protect the environment, and bring an end to human trafficking. During this time, she also served as a technical advisor for Pacific Northwest National Laboratory in Seattle.
Gael was first elected to represent the 36th legislative district in 2012. She will focus on creating jobs, safeguarding our environment, ensuring government accountability, adequately funding higher education, and funding health care.
Gael was recently appointed to serve on several boards and work groups such as the Women Legislators Lobby (WiLL), Pacific NorthWest Economic Region, and Legislators' Energy Horizons Institute. She also co-chairs the Washington State Aviation Caucus with Sen. Jim Honeyford of Sunnyside.
She holds a master's degree from Georgetown University and a Bachelor of Science from Georgetown's School of Foreign Service. The Northwest Asian Weekly honored her with the "Women Leaders 2012" award, and she also received the "Maritime Industry Official of the Year 2012" award.
Gael and her husband, Bob, have lived in the 36th District's Ballard neighborhood for nearly two decades. The Olympic Peninsula has been their favorite spot to fish for salmon and steelhead and go hiking for 25 years.
Seattle's Working Waterfront
The city of Seattle cherishes its connections to the water – it's all around us. The state legislature created a taskforce on maritime and manufacturing industries, which I co-chair.
This bipartisan, bicameral group is exploring what we need to do to hold onto the jobs and industrial lands for our maritime and fishing companies. Protecting our waterfront will provide our communities with sustainable fisheries, a healthy environment and future economic opportunities we can depend on.
This is why I love our working waterfront:
This segment shows the working waterfront and what it means for the future of our children and the many jobs that are part of maritime and manufacturing sectors:
Economic Resilience of Maritime and Manufacturing Taskforce covers several core sectors including fishing and seafood processing, ship and boat building, maritime logistics, military security and federal operations support, passenger water transportation and tourism.
This link includes information on the Taskforce, upcoming public meetings and work sessions and the Final Work Plan, which maps out the work of the Taskforce.
Below is also a list of Economic Impact Studies for an in-depth look at varying sectors in the Maritime Industry and their tremendous contributions to our state's economy:
Port of Seattle
Port of Tacoma
WA State Maritime Cluster Impact Study
City of Seattle Maritime Cluster
Commercial Fishing Industry
Additional Resources on the Working Waterfront and Maritime & Manufacturing Industries:
National Working Waterfront Network
Sea Grant Washington
Department of Commerce Maritime Industry
News Releases
Videos
Legislator Profiles with State Representative Gael Tarleton, 36th District.
Strengthen the middle class through investments in higher education
Building an economy that works for everyone means making college affordable and accessible. In a state known for its high-tech and engineering industries, Washington House Democrats are committed to removing barriers to college. Here's Rep. Gael Tarleton sharing ideas on how to strengthen the middle class through investments in higher education. #waleg

Posted by Washington House Democrats on Friday, February 26, 2016
Contact
Olympia Address:
429A Legislative Building
PO Box 40600
Olympia, WA 98504
(360) 786-7860
Email Gael
Legislative Assistant:
Elka Peterson Horner
Email: Elka.PetersonHorner@leg.wa.gov
Toll-free Hotline:
1-800-562-6000
1-800-635-9993 (TTY)
Committees:
Technology & Economic Development (Vice Chair)
Higher Education
Rules
Transportation
For Press Inquiries:
Jamie Nixon, Communications Specialist
(360) 786-7202
Jamie.Nixon@leg.wa.gov
For broadcast-quality audio or TV/radio interviews:
Dan Frizzell, Broadcast Coordinator
(360) 786-7208
Dan.Frizzell@leg.wa.gov
---