Marcus Riccelli
Home
Hello, and thank you for visiting my website. Please check back frequently for latest news and updates on what is happening in Olympia during the legislative season.
If you're interested in reading the joint newsletter I sent out this year about our 2016 legislative session with Rep. Ormsby and Sen. Billig, check it out by clicking the newsletter image below: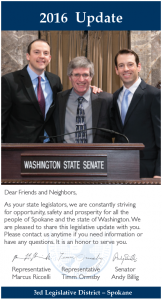 And if you need information or have a legislative issue, always feel free to contact me with your requests and concerns and either I or my legislative assistant, Maureen Haeger, will return your call, email, or letter promptly. This information might be helpful:
It is my honor to serve you!
Sincerely,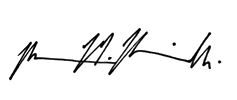 Biography
After graduating from UW, Marcus served as U.S. Senator Maria Cantwell's Eastern Washington Director, from 2007 to 2010. He served as Senior Policy Advisor to Washington State Senate Majority Leader Lisa Brown from 2010 to 2012. As a state representative, Marcus serves as Vice Chair to the Health Care & Wellness Committee. He also serves on the Capital Budget and Transportation committees, and was elected by his colleagues to leadership role of Deputy Whip. He is an appointed member of the Washington Military Alliance and serves as chair of the Legislative Evaluation and Accountability Program Committee. Outside his duties with the legislature, Marcus is a Project Manager for CHAS, the Community Health Association of Spokane. He is also an adjunct instructor at Eastern Washington University's College of Health Science and Public Health.
Marcus is deeply committed to fostering opportunities for young people in Spokane. He has served as a Big Brother with Big Brothers and Sisters of Spokane, and previously advised the Spokane YMCA Youth Legislature Delegation. He serves on the Spokane advisory board for Daybreak Youth Services, and has served as a City Plan Commissioner.
Marcus believes strongly in building relationships and working across the aisle. He was the 2013 organizer of bi-partisan legislative basketball and co-founder of the bi-partisan under-forty legislative caucus. He lives in Spokane with his wife, Amanda, and their two young children.
Community Involvement:
2016 North Spokane YMCA Advisory Board member
Chair, Children's Health One Table
Chair, Legislative Evaluation and Accountability Program Committee
Appointee, Community Economic Revitalization Board
Spokane Advisory Board Member, Daybreak Youth Services
Co-Director, Spokane Central YMCA Youth & Government Youth Legislature Program
Rotarian, Spokane Rotary Club 21
Member, Financial Education Public-Private Partnership
Member, Spokane Public Schools Public Affairs Advisory Council
Member, Eastern Washington Long Term Care Ombudsman Program Advisory Council
Committee Member, Daniel J. Evans School of Public Affairs Denny Alumni Council
Awards and Honors:
2016 Washington State Academy of Nutrition and Dietetics Policy Maker of the Year
2016 Washington State Alliance of YMCAS Y Legislative Champion Award
2016 Legislator of the Year Award Student Government Council of WSU
2015 Washington Sustainable Food & Farming Network 2015 Advocate Award
2013 Washington State Housing Finance Association Proud Partner Award
2013 WACOPS House Democrats Legislator of the Year
2013 Associate Students of Washington State University Champion of Higher Education Award
2013 Chase Youth Foundation Champion of Youth Award for Government
2013 Washington Student Association Legislator of the Year
2013 Washington State Young Democrats Half Lifetime Achievement Award
2012 Washington State Democrats Warren G. Magnuson Award for Rising Star of the Year
2008 Washington State Presidential Elector casting an electoral vote for the Honorable Barack Obama
2007 Nominated for The Robert H. Pealy Prize for a Degree Project of Outstanding Merit, Daniel J. Evans School of Public Affairs, University of Washington
News
Contact
Olympia Address:
JLOB 327
PO Box 40600
Olympia, WA
98504-0600
(360) 786-7888
Email Marcus
Spokane Address:
421 W. Riverside Ave. Suite 317.
Spokane, WA 99201.
509-458-3563
Legislative Assistant:
Maureen Haeger
Email: Maureen.Haeger@leg.wa.gov
Toll-free Hotline:
1-800-562-6000
1-800-635-9993 (TTY)
Committees:
Health Care & Wellness (Vice Chair)
Capital Budget
Rules
Transportation
For Press Inquiries:
Travis Shofner, Communications Specialist
(360) 786-7224
Travis.Shofner@leg.wa.gov
For broadcast-quality audio or TV/radio interviews:
Dan Frizzell, Broadcast Coordinator
(360) 786-7208
Dan.Frizzell@leg.wa.gov
---