Noel Frame
During an election year, there are certain restrictions on my communications to prevent the use of state resources for election purposes. One of these restrictions is a freeze on this website, meaning no new content can be added beginning May 14, 2018 until after the general election in November. If you have questions or comments about legislative issues, please feel free to continue to contact me.
Home
Hello, and thank you for visiting my website.
As a new state representative, my goal is to make sure I keep you informed about the happenings of Olympia. I'll update this webpage frequently with the latest news from my office and the floor of the House of Representatives.
In the meantime, if you need information or have a legislative issue, always feel free to contact me with your requests and concerns and either I or my legislative aide will return your call, email, or letter promptly. This information might be helpful:
It's an honor and a privilege to serve you, so please don't hesitate to get in touch!
Biography
State Rep. Noel Frame joined the legislature in January 2016, driven by a desire to fully fund schools through a more equitable and sustainable tax code – a passion that stretches back more than two decades to her own time as a public-school student in Washington state. Many of her priorities in the legislature are rooted in lived experience, including serving as a foster parent to members of her own family – the unfortunate aftermath of inter-generational poverty, mental illness, addiction and incarceration. Noel works to give a voice to those who are often forgotten in policy conversations, relying heavily on her nearly two decades of experience as an organizer to successfully navigate political systems.
Noel is a member of the House Early Learning & Human Services and Labor & Workplace Standards Committees, and serves as Vice Chair of the Finance Committee. She also serves as the House appointee to the Washington State Partnership Council for Juvenile Justice.
With a passion for politics at a young age, Noel moved to Washington, D.C. to pursue undergraduate and graduate degrees at The George Washington University in Media and Public Affairs and Public Policy and Politics with a focus in Education Policy. From there she continued her advocacy in Washington state, serving as a political organizer and as a legislative correspondent for U.S. Senator Maria Cantwell.
For five years Noel was the Director of Progressive Majority Washington (now Amplify), where she partnered with groups representing communities of color, youth, women, and the LGBTQ community to increase the number of people from those communities running for office. She recruited, trained, and advised candidates for political office, from local government all the way to the state legislature.
Today Noel is a community development and planning consultant, working for a small business located in the Belltown neighborhood of Seattle, within the 36th District. As Senior Associate/Operations Manager, she partners with local municipalities and non-profits to translate authentic community engagement into lasting institutional change, as well as helps to run the business.
Noel grew up in Battle Ground in Southwest Washington. Today, the Greenwood neighborhood of Seattle is home and she is proud to serve her local community.
News
Videos
See my video playlist by clicking here.
---
My videos:
---
---
---
---
---
---
---
---
---
---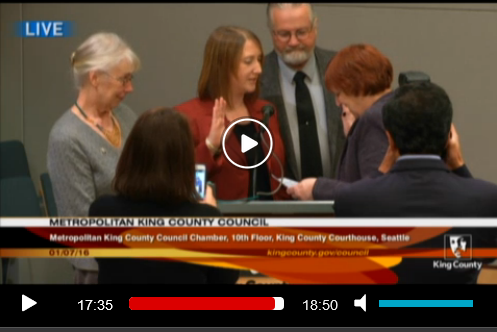 Contact
Olympia Address:
JLOB 319
PO Box 40600
Olympia, WA
98504-0600
(360) 786-7814
Email Noel
District Office:
1200 12th Ave S
Seattle, WA 98144
(206) 435-7032
Legislative Assistant:
Natalia Koss Vallejo
Natalia.KossVallejo@leg.wa.gov
Toll-free Hotline:
1-800-562-6000
1-800-635-9993 (TTY)
For Press Inquiries:
Megan Stockhausen, Communications Specialist
(360) 786-7323
Megan.Stockhausen@leg.wa.gov
For broadcast-quality audio or TV/radio interviews:
Dan Frizzell, Broadcast Coordinator
(360) 786-7208
Dan.Frizzell@leg.wa.gov
---