Pat Sullivan
Welcome to my legislative homepage!
The 2017 Legislative Session began January 9, and there's no shortage of issues we must address. At the top of the list is K-12 education funding and levy reform. We've been working on this for many years, and during this session I believe we can finish the job with a bipartisan solution that will impact generations to come.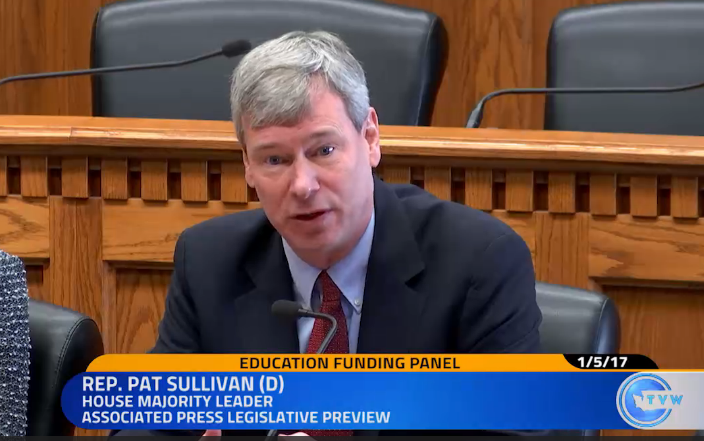 I had the honor of serving on the Governor's Education Funding Task Force, which included Democratic and Republican members from all four caucuses. We have more work to do to come to agreement, but thankfully here in Olympia we don't face the same kind of political gridlock that exists in Washington, D.C.
Please check back frequently for the latest news and updates on what is happening in Olympia during the legislative season.
And if you need information or have a legislative issue, always feel free to contact me with your requests and concerns and either I or my legislative assistant will return your call, email, or letter promptly.
Biography
Pat Sullivan was elected to represent the 47th Legislative District in the Washington State House of Representatives in November of 2004. He is the Majority Leader of the House and serves on the Appropriations Committee.
Pat's legislative priorities include building a strong economy by investing in education, creating good paying jobs with benefits and affordable health care.
A graduate of the University of Washington, Pat has a long history of being involved in his community. He was the first mayor of Covington and chaired the Economic Development Council. Prior to being elected to the House of Representatives, Pat worked for the Legislature and for King County.
He also has served as co-president of the Covington Elementary PTA, as a member of the Learning Improvement Team, and on the Kent Communities in Schools board.
Pat has lived in Covington for over two decades. He and his wife Amy, an oncology nurse, have three daughters: Katie is a college student, Maddie just graduated from Kentwood High School and Green River Community College, and Molly attends Kent schools.
News
Videos
I try to respond quickly to your questions and concerns. When time allows, I also try to answer questions that might interest a broader group of constituents through "Ask Pat." Please take a moment to look through my videos for answers to questions you might have.
Contact
I enjoy hearing from people back home in the 47th Legislative District. Please don't hesitate to contact me if you have an idea, question or concern. I'll get back to you as soon as possible.
Olympia Address:
LEG 339A
PO Box 40600
Olympia, WA
98504-0600
(360) 786-7858
Email Pat
Legislative Assistant:
Lesley Roberts
Email: Lesley.Roberts@leg.wa.gov
Toll-free Hotline:
1-800-562-6000
1-800-635-9993 (TTY)
For Press Inquiries:
Jim Richards, Communications Director
(360) 786-7206
Jim.Richards@leg.wa.gov
For broadcast-quality audio or TV/radio interviews:
Dan Frizzell, Broadcast Coordinator
(360) 786-7208
Dan.Frizzell@leg.wa.gov
---