Timm Ormsby
2018 End-of-Session Update
Click on the image below to open as a web page.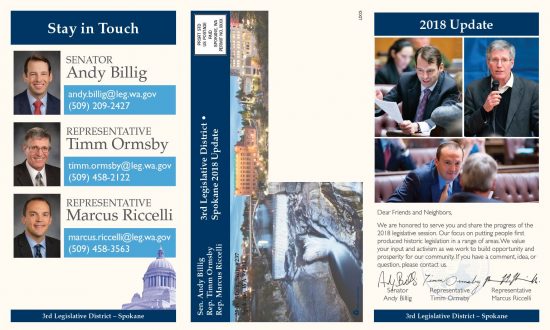 NOTE: During an election year, incumbent legislators are restricted in their communications to prevent the use of state resources for election purposes, or even the appearance of such inappropriate use. One of these restrictions is a freeze on this website, meaning no new content can be added from May 14, 2018, until after the general election in November. If you have questions or comments about legislative issues in the meantime, please feel free to contact me.
Welcome
It's an honor to work for my friends and neighbors in the heart of Spokane. The 2018 session is now behind us, and I hope you received the newsletter that I sent out along with my seatmates.  If not, please click here for an electronic version.
As you can see above, my ability to update this page during the next several months will be very limited.  However, I still work for you, and I can and will respond quickly if you need information or have a legislative issue you'd like me to work on.  Simply contact me with your requests and concerns and either I or my legislative aide will get back to you as soon as possible. You can also . . .
Please stay in touch.
Sincerely,

Biography
Rep. Timm Ormsby was born and raised in the heart of Spokane. Like his 3rd-district constituents, Timm knows first-hand the value of hard work and the challenges facing working families. He is a cement mason by trade, and has been a member of the Operative Plasterers and Cement Masons International Association Local 72 since 1990. He is also a past president of Local 72, and has been the business representative for the Northeastern Washington – Northern Idaho Building & Construction Trades Council since 2000.
In Olympia, Timm serves as chair of the House Appropriations Committee – the panel charged with writing the House version of the state's biennial operating budget. He's also a member of the House Labor and Workforce Development Committee.
Timm has served on a number of other committees during his tenure in Olympia, including the Labor and Workforce Committee, and for several years was vice chair of the House Capital Budget Committee, developing the state's construction budget. He is a special appointee to the State Investment Board and the Select Committee on Pension Policy, which he chaired in 2013-14, and is also a special appointee to the Washington State Investment Board.
In addition to his legislative duties, Timm is an active member of the Spokane community and is affiliated with numerous civic organizations. He is the current president of the Spokane Regional Labor Council and a board member of the Northwest Museum of Arts & Culture, and Spokane Neighborhood Action Programs, and is a former board member of United Way of Spokane County and Rebuilding Together Spokane.
Timm, who has served his friends and neighbors with pride since coming to the Legislature in 2003, is married to Kim Ormsby and has three children and four grandchildren.
News
Contact
Olympia Address:
LEG 122G
PO Box 40600
Olympia, WA
98504-0600
(360) 786-7946
Email Timm
Legislative Assistant:
Shannon Waechter
Email: Shannon.Waechter@leg.wa.gov
Toll-free Hotline:
1-800-562-6000
1-800-635-9993 (TTY)
Committees:
Appropriations (Chair)
For broadcast-quality audio or TV/radio interviews:
Dan Frizzell, Broadcast Coordinator
(360) 786-7208
Dan.Frizzell@leg.wa.gov
For Press Inquiries:
Jim Richards, Communications Director
(360) 786-7206
Jim.Richards@leg.wa.gov
---