April 15, 2011
We're now in the final days of the 105-day session. Next Sunday, April 24, is Sine Die, the last day of session. The next week will be spent almost entirely on the House floor, running concurrences (approving or turning down changes to bills made by the opposite chamber) and budget-related bills. The most significant activity will be budget negotiations as the House and Senate work toward a final version that both chambers can pass.
House and Senate budget negotiations underway
Last week I wrote about the House operating budget proposal, which lays out a spending plan for 2011-13. The state's operating budget faces a revenue shortfall of $5.1 billion in the next two years. The House budget is balanced and includes cuts to every area of state government and assumes savings from consolidation of agencies, services and other reforms.
This week the Senate released its version of the operating budget. Comparisons of the two budget proposals are available here and here.
I believe we need a balanced approach to our budget crisis, including additional revenues to help mitigate the very significant cuts to essential services and education. That's why I joined with 48 of my fellow House members in sponsoring HB 2078, which ends tax breaks for large banks and out-of-state shoppers. Closing these loopholes would generate $170 million over the next two years — enough to fund smaller class sizes for our kids in kindergarten through third grade.
I participated in a Q&A blog with TVW the day after we dropped the bill. You can read my answers by following this link:
http://www.tvw.org/capitolrecord/index.php/2011/04/tuesday-qa-rep-andy-billig-on-the-tax-package-to-fund-schools/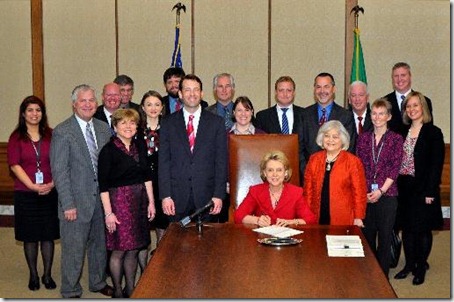 HB 1489 Signed into Law
The "Healthy Lawns, Clean Water Act," House Bill 1489 made it through both the state House and Senate and was signed by the Governor on Thursday. This is my first prime-sponsored bill to be signed into law. This bill (check that…it's not a bill anymore). This LAW limits phosphorous in lawn fertilizer, which has been shown to contribute to toxic algae blooms by providing a vital nutrient the algae require to grow.
We had a great team working to pass this legislation. I was proud to be joined at the bill signing ceremony by representatives of the Lands Council and the environmental community, my seatmates Rep. Timm Ormsby and Sen. Lisa Brown, and assorted staff and others who worked with me to shepherd the bill successfully through the legislative process.
Keeping In Touch
Please don't hesitate to contact my office with questions or concerns, whether they involve bills before the Legislature or topics you feel are being overlooked. If you have a concern, I want to hear it.
You can reach me in Olympia by e-mail (andy.billig@leg.wa.gov) or by phone at 360-786-7888.
And if you know someone who would like to get their own copy of my weekly e-newsletter, tell them they can go to my website at http://www.housedemocrats.wa.gov/roster/rep-andy-billig/ and click on the link to "Sign up for my e-newsletter" – I'll be glad to keep them in the loop!