Rape victims to testify Wednesday for Rep. Goodman's rape shield law
January 11, 2011 | By Washington House Democrats
WHO & WHAT
Rape victim advocates and judges — including the chief justice of the Supreme Court — are among those expected to testify in favor of House Bill 1001, the rape victim shield law.
This reform would curtail the practice of alleged rapists, acting as their own attorneys, cross-examining their victims on the witness stand, often for days at a time.
A 21-year-old rape victim in King County went to the roof of the courthouse because she'd rather jump than be cross-examined by her attacker.
Half a dozen jurors from that case are expected to travel to Olympia testify.
WHEN  & WHERE
8 a.m. Wednesday, January 12
Judiciary CommitteeHouse Hearing Room A
John L. O'Brien Building
Olympia
FOR MORE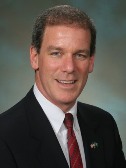 Rep. Roger Goodman
360-786-7878
roger.goodman@leg.wa.gov
Guy Bergstrom
360-786-7811
guy.bergstrom@leg.wa.gov