Thank you for visiting my website. As you know, this is an election year and we are required to follow legislative ethics rules to ensure state resources are not used for campaign purposes.
When election-year restrictions are in place, lawmakers who are up for re-election must limit outreach and external communications, including not sending out email updates after April 12, and not posting new content on our websites after June 30.
However, if you need information or have a legislative issue, please feel free to contact me with your requests and concerns and I will do my best to return your call, email or letter promptly.
Even though my legislative website will remain frozen until after the election, you can still get lots of useful information here:
Please keep in mind I am your representative year around, so don't hesitate to get in touch!


_________________________________________________________________

April 27, 2014
Reps. Mike Sells and June Robinson, and Sen. John McCoy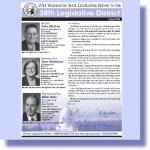 We finished our business on time this year, adjourning just before midnight on the 60th day. The most-publicized matter before us was finding a compromise on the supplemental operating budget. We reached agreement on a modest no-new-taxes budget that protects our safety net and makes some significant investments, such as: • Funding to make services available for 5,000 more people with developmental disabilities. • $11.7 million in additional funding for desperately needed mental health services. • $58 million in extra … Continue reading →







2014 Legislative Report to the 38th District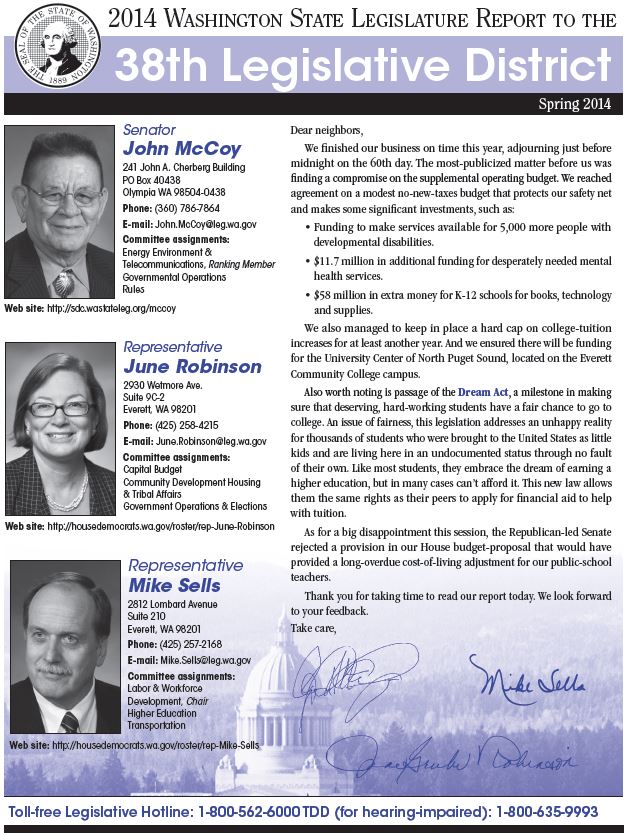 ———————–

Rep. June Robinson talks about a bill to help prospective tenants not have to pay for multiple screening reports within 30 days. This bill will help low-income individuals and families find affordable housing.