January 23, 2015
Rep. Marcus Riccelli
Greetings from Olympia: An Update from Representative Marcus Riccelli In this edition: Session Begins Preventing Tragedies A New Medical School Contact Details:327 John L. O'Brien PO Box 40600Olympia, WA 98504(360)786-7888 Visit my Website Having trouble viewing this email? View it as a Web page. Email: Marcus.Riccelli@leg.wa.gov Legislative Assistant:Michaela WilliamsMichaela.Williams@leg.wa.gov The 2015 Session Begins Representative Riccelli stands with his colleagues to be sworn into office. The 2015 Legislative Session has begun. It is hard to be away from Spokane, but it feels … Continue reading →








Legislative Update
Rep. Marcus Riccelli talks about coming back to Olympia for the beginning of the 2015 session, Sheena's Law, and the proposed WSU Medical School

Rep. Marcus Riccelli talks about the upcoming close of the legislative session, including comparing operative and supplemental budgets. He also talks about some of his bills that made it to the Senate Healthcare Committee and Labor and Commerce Committee.

Rep. Marcus Riccelli gives an update on some of his priorities coming out of cutoff week, including the federal basic health option, wage theft and addressing healthy food in schools, which were all passed on to the Senate. He also talks about some of his goals to address in the supplemental budget.

Rep. Marcus Riccelli updates constituents on the four bills he has introduced as the new vice chair of the Healthcare Committee to create healthier families in Washington, including his newborn screenings bill and his breastfeeding-friendly Washington bill.
VIDEO: District Tour

Come along with Rep. Riccelli as he takes you around Spokane's 3rd Legislative District.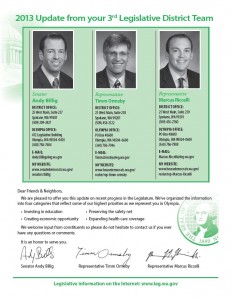 3rd Legislative District Newsletter

Committees
Health Care and Wellness Committee (Vice Chair)
Capital Budget Committee
Transportation Committee