November 30, 2015
Rep. Marcus Riccelli
Final Legislative Update of 2015 With the holidays right around the corner, I wanted to send a final note thanking all of you who reached out to my office in the past year. It's been an exciting year, with over $1.3 billion in new education funding in our annual budget, funding for the completion of the North Spokane Corridor, and the authorization for a Washington State University medical school in Spokane. While there's more to do, we should be … Continue reading →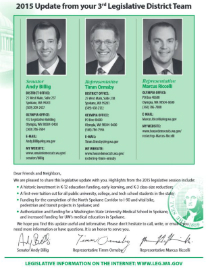 2015 District Newsletter
Legislative Update
Rep. Marcus Riccelli speaking in favor of a resolution honoring WSU President Elson S. Floyd.

Rep. Marcus Riccelli shares a list of projects he's working to fund in Spokane, including the Spokane River, the Corbin Senior Center, the Women and Children's Free Restaurant, the Children's Theater, and a grant to ensure nutritious food is served in our schools.

Rep. Marcus Riccelli talks about coming back to Olympia for the beginning of the 2015 session, Sheena's Law, and the proposed WSU Medical School
Come along with Rep. Riccelli as he takes you around Spokane's 3rd Legislative District.

Committees
Health Care and Wellness Committee (Vice Chair)
Capital Budget Committee
Transportation Committee