January 22, 2015
Washington House Democrats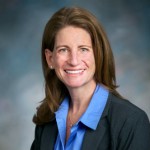 OLYMPIA – Sen. Annette Cleveland, D-Vancouver, and Rep. Tana Senn, D-Mercer Island, today announced their sponsorship of legislation to help close the gap in pay among female workers. The Equal Pay Opportunity Act (EPOA) addresses income disparities, employer discrimination and retaliation practices, and reaffirms Washington's longstanding pursuit of equality in the workplace. "Even today, women are paid 80 cents for every dollar earned by men for similar work," said Rep. Senn. "It's time to revisit this issue so we move … Continue reading →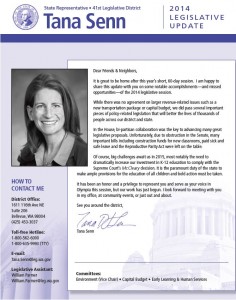 Rep. Senn press conference on Equal Pay Opportunity Act
2014 Legislative Update

Rep. Tana Senn gives a legislative wrap-up of some of the successes and disappointments of the 2014 legislative session. The representative's biggest disappointments were the lack of job creation bills, a new transportation package and the failure to pass a capital budget. However, many policy items–like the Dream Act, extended foster care services, and the extension of early learning to children in the welfare system–were enacted by the legislature.

Rep. Tana Senn talks about three important health and safety-related bills recently passed out of the House, including the oil transport bill, a bill keeping firearms from domestic violence perpetrators, and the Reproductive Parity Act. Rep. Senn said she was proud to vote for all three bills.

Rep. Tana Senn talks about her work to support the Farmer's Market Nutrition program, encourage school cafeteria to provide more nutritional options, and her bill expanding food and yard waste collection.

Rep. Tana Senn talks about the recent work she's done to support small businesses and entrepreneurs through HB 2678, reducing paperwork and saving business owners money. She also talks about her support of the recently passed Paid Safe & Sick Leave bill.

Rep. Tana Senn testifies in support of her bill, HB 2678 to the House Finance Committee.

Rep. Senn discusses hot topics in the Legislature this year including the DREAM Act, early learning, gun safety, and education funding.
The House Democratic Caucus (with Rep. Senn) pays tribute to Dr. King's dream.
Representative Senn speaks with TVW about becoming a new member of the State Legislature.