March 6, 2014
Rep. Tana Senn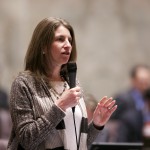 Today the House passed SB 5173, a bill that will provide employees two days of unpaid time off from work and allow children to be excused from school for their religious holidays. "Yesterday was Ash Wednesday. I was glad some of my colleagues were able to have the flexibility to celebrate and observe their faith. "This bill will give the same flexibility to my kids—to all kids—to practice their religion with their families without concern they will be penalized. Every … Continue reading →









Rep. Tana Senn talks about three important health and safety-related bills recently passed out of the House, including the oil transport bill, a bill keeping firearms from domestic violence perpetrators, and the Reproductive Parity Act. Rep. Senn said she was proud to vote for all three bills.

Rep. Tana Senn talks about her work to support the Farmer's Market Nutrition program, encourage school cafeteria to provide more nutritional options, and her bill expanding food and yard waste collection.

Rep. Tana Senn talks about the recent work she's done to support small businesses and entrepreneurs through HB 2678, reducing paperwork and saving business owners money. She also talks about her support of the recently passed Paid Safe & Sick Leave bill.

Rep. Tana Senn testifies in support of her bill, HB 2678 to the House Finance Committee.

Rep. Senn discusses hot topics in the Legislature this year including the DREAM Act, early learning, gun safety, and education funding.
The House Democratic Caucus (with Rep. Senn) pays tribute to Dr. King's dream.
Representative Senn speaks with TVW about becoming a new member of the State Legislature.