May 23, 2013 at 8:55 am
-
WA House Dems
We've seen the tragedy that can occur when the mentally ill don't get the care they need. Tuesday afternoon, Governor Inslee approved several measures to improve mental health care and make Washington a safer place.
Among the reforms is Rep. Tami Green's bill to speed-up the implementation of changes to the involuntary treatment law – funding the updates two years ahead of schedule.
"It's a myth that all mentally ill people are dangerous – but as a nurse who deals with the mentally ill, I know we must treat severe mental illness quickly and correctly," said Rep. Green. "You can't ignore the problem and hope nothing bad happens to that patient, their family or their neighborhood. This is a smart reform that will protect patients and communities."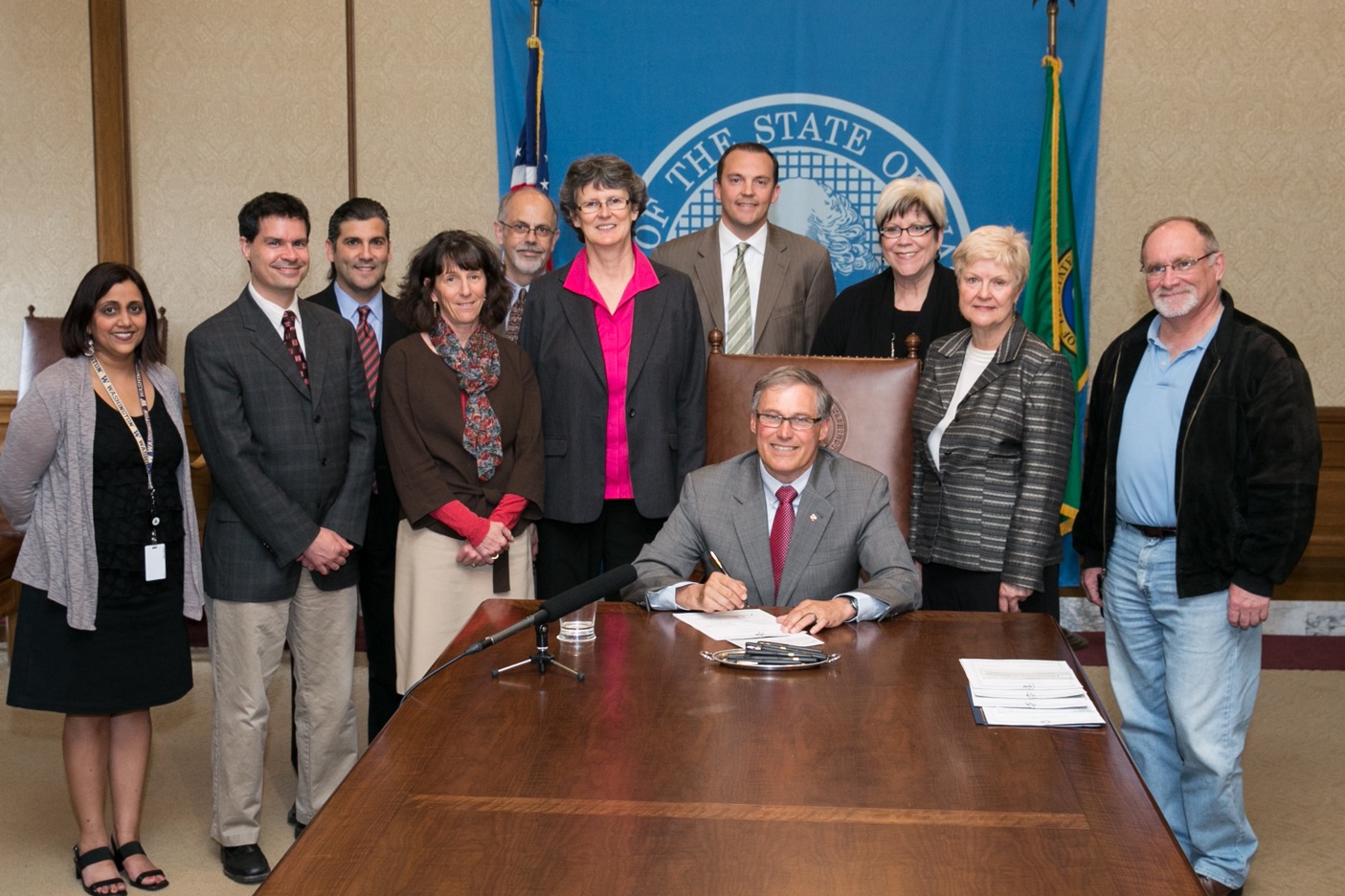 Governor Inslee signs SB 5480 into law earlier this week.
Back in 2010, the Legislature OK'd new parameters for the involuntary commitment of people with pressing mental health issues. Often after a tragedy, we hear from family members or a close friend who admits that they could see the capacity for violence – just not when or where it would occur.
The new approach takes important input from family members and friends into consideration when making a decision to commit. It also allows decision makers to take a close look at a person's history of mental health behavior.
Other measures approved by Governor Inslee include:
House Bill 1114: Introduced by Rep. Jamie Pedersen, fills the gap between the criminal justice system and mental health care providers. It ensures that violent mental health offenders get the treatment they need, instead of ending up on the streets.
House Bill 1519: A Rep. Eileen Cody bill to bring accountability to the behavioral health delivery system. It requires consistent performance outcomes for contract ensuring that individuals receiving will receive the best and most efficient care.
Senate Bill 5732: Another Green bill, SB 5732 will build a bridge between hospitals and the community for the mentally ill. It creates a step down from state hospitals – which will provide an important service to folks beginning to transition back into day-to-day life. This isn't just the right thing to do – it's the cost-effective approach.
Senate Bill 5551: A Rep. Dawn Morrell bill to give county jails the tools they need to meet the growing demand for competency evaluations. Our county jails aren't mental health care providers and, without adequate care, the mentally ill deteriorate rapidly in jail.
The reforms will take effect later this summer.
March 7, 2013 at 6:40 pm
-
Rep. Jamie Pedersen
Legislation seeks stronger participation and diversity in the political process
OLYMPIA – A slate of voting and elections-bills designed to improve voter participation and boost diversity among the men and women who hold elected office was approved by the state House of Representatives today.
"We are a government by the people and for the people, and it is vital that we remove any barriers to participation in order to ensure citizens have a voice in our democracy," said state Rep. Sam Hunt, D-Olympia, who chairs the House Government Operations & Elections.
"While many legislatures across the country have been erecting roadblocks," Hunt added, "House Democrats are focused on promoting citizen-involvement and protecting the integrity of the vote."
Topping today's list is the "Washington Voting Rights Act of 2013" in House Bill 1413, which is sponsored by state Rep. Luis Moscoso , D-Mountlake Terrace. The legislation is aimed at decreasing voter-exclusion and increasing officeholder-diversity.
The Washington Voting Rights Act promotes equal voting opportunities and fairness in political subdivisions to improve representation of underrepresented groups by encouraging cities, towns and other local jurisdictions to switch from at-large elections to smaller districted elections. The bill empowers local communities that have difficulties getting community members elected in at-large elections. While it exempts municipalities with fewer than 1,000 citizens and school districts with fewer than 250 patrons, it gives citizens in larger communities the ability to bring action in state court if they feel their rights are being violated.
"Every vote should count, every voter should have a voice, and government should be accountable to every citizen. That's the idea behind our American democracy and that's precisely what the Washington Voting Rights Act will ensure," Moscoso said. "When entire communities don't have a voice, potholes are not fixed, neighborhoods are not safe and residents don't know where to turn, that's unfair and it's contrary to our democracy."
Another successful proposal, House Bill 1267, sponsored by state Rep. Joe Fitzgibbon, D-Burien, changes registration deadlines leading up to an election from the current 29 days before the election to 11 days for both online and in-person registration.
"We here in our state have some of the strongest election-protection laws in the country, including a statewide voter database to ensure ballot safety and security," said Fitzgibbon. "We have the technology and procedures in place to process these registrations. By allowing more time to register, Washington is moving forward to make voting accessible to all qualified voters without artificial barriers to registration."
House Bill 1279, which is sponsored by first-term legislator and high-school teacher state Rep. Steve Bergquist, D-Renton, allows 16- and 17-year-olds to pre-register to vote when they obtain their driver's license.
"Young citizens should be fully prepared, qualified and signed up to vote when they reach their 18th birthday," Bergquist said. "Motor-voter registration is the most popular form of voter registration in our state. Allowing 16- and 17-year-olds to register simply makes good sense with Washington's five-year driver's license-renewal policy, since a young citizen's next chance to use motor-voter registration wouldn't come until they turn 21 or 22."
Also passed out of the House today were:
House Bill 1195, sponsored by state Rep. Sharon Wylie, D-Vancouver, to expand the requirement that no primary be held when there are no more than two candidates filing for office to include all nonpartisan offices. This measure will give voters as much opportunity as possible to know who is running and to learn as much as possible about the candidates.
House Bill 1474, sponsored by state Rep. Jamie Pedersen, D-Seattle, gives voters the power to choose between the top two candidates for nonpartisan offices.
House Joint Memorial 4001, sponsored by Pedersen, requesting that Congress enact an amendment to the U.S. Constitution returning the authority to regulate election-campaign contributions to Congress and the state legislatures.