Thank you for visiting my website. As you know, this is an election year and we are required to follow legislative ethics rules to ensure state resources are not used for campaign purposes.
When election-year restrictions are in place, lawmakers who are up for re-election must limit outreach and external communications, including not sending out email updates after April 12, and not posting new content on our websites after June 30.
However, if you need information or have a legislative issue, please feel free to contact me with your requests and concerns and I will do my best to return your call, email or letter promptly.
Even though my legislative website will remain frozen until after the election, you can still get lots of useful information here:
Please keep in mind I am your representative year around, so don't hesitate to get in touch!

________________________________________________________________
June 27, 2014
Rep. Larry Seaquist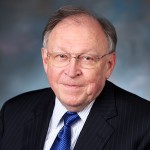 Reps. Larry Seaquist, D-Gig Harbor, and Norma Smith, R-Clinton, both from heavily ferry-dependent legislative districts, released the following statement today in response to: Misinformation from Washington State Ferries (WSF) to the Legislature when a potential problem was brought to its attention by Reps. Smith and Seaquist in February 2014 regarding ramps to the upper car decks and the possible need for modifications on the new Olympic class of vessels. The continuing labor management issues within WSF, including overtime increases, manning … Continue reading →









Rep. Larry Seaquist asks constituents what they think the legislature's education priorities should be in order to reach the 2018 education funding target. Rep. Seaquist also explains the ladder of two-year budgets needed to reach our goals.

Rep. Larry Seaquist discusses the legislative budget process in this week's Washington White Board.

These days it is very hard for kids to get a job and get the life skills you can only get on the job. Here are two young people telling the legislature how they got started. We need to make sure every young person in the state has this opportunity.
21012 Session Review