February 19, 2014
Rep. Larry Seaquist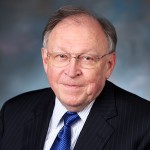 Reps. Larry Seaquist and Jesse Young will host a series of town hall meetings on Friday, February 21 and Saturday, February 22 for residents of the 26th Legislative District. Seaquist and Young will give an update on the 2014 legislative session, discuss the issues important to the 26th district, and take questions and suggestions from participants. We hope that you can attend! Friday, February 21 Gig Harbor 7 p.m. to 8:30 p.m. Peninsula High School Auditorium 14105 Purdy Dr NW, … Continue reading →









Rep. Larry Seaquist asks constituents what they think the legislature's education priorities should be in order to reach the 2018 education funding target. Rep. Seaquist also explains the ladder of two-year budgets needed to reach our goals.

Rep. Larry Seaquist discusses the legislative budget process in this week's Washington White Board.

These days it is very hard for kids to get a job and get the life skills you can only get on the job. Here are two young people telling the legislature how they got started. We need to make sure every young person in the state has this opportunity.
21012 Session Review