Friends and neighbors,
This is fiscal cutoff week, which means that bills that are not given a green light in budget committees are likely dead. So you can imagine it's very hectic around here.
I am happy to report that eleven of my bills have been referred to the Rules Committee so far. This is where they wait to be selected and sent to the House floor for a vote. Not all the bills that make it to Rules will get to be voted on, but I'm hopeful that at least a few of mine will.  You'll see brief updates on two of those bills in this short newsletter.
I also want to take this opportunity to invite you to our telephone town hall on Monday evening. I hope you'll join Sen. Dean Takko and me on the call. All the info is below.
Take care,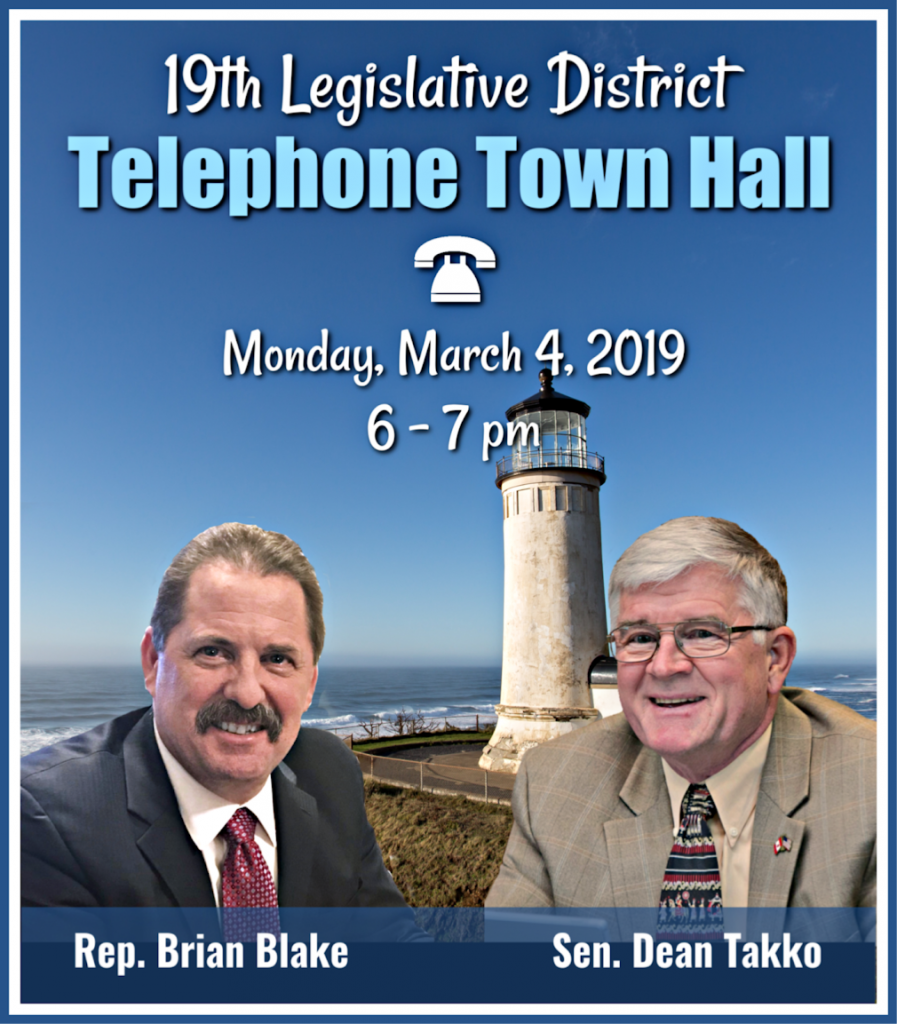 At 6 pm this coming Monday, March 4, calls will go out to thousands of homes (landlines) throughout the 19th Legislative District. If you do not receive the call, you can still participate by dialing 877-229-8493 and using ID Code 116278.
Alternatively, you can also live-stream the telephone town hall:
Go to our Vekeo channel and sign up now to be called when the event begins. (You can also use that link to sign up for future telephone town halls, and to listen to past events.)
Or, if you forget to sign up, you can head over to this page at 6 pm this coming Monday to listen in and ask questions.
Sen. Dean Takko and I want to update you on what we're working on in Olympia, and give you the opportunity to ask us questions on issues that matter to you, such as education funding, healthcare, public safety, transportation, the economy, and the state budgets.
When water is scarce, we need a good plan
When snowpack and rainfall are lower than expected, we need contingency plans ready to go because droughts can be really bad news, especially in rural areas.
We know it is likely that there will be more droughts in the future, so I sponsored HB 1622 to increase our preparedness when we're hit by a drought.
My legislation would allow the Department of Ecology to issue a drought advisory when it appears that drought conditions may develop.
There's also a pilot program in the bill to explore the benefits of long-term water right lease agreements to help lessen potential effects on drinking water, agricultural activities, or fish and wildlife survival.
Under drought order, the Department of Ecology has the authority to make loans or grants from emergency water supply funds when necessary to alleviate drought conditions.
I want us to be better prepared and ready to work collaboratively to address the concerns of our communities when the water runs low.
I discuss this legislation in my latest video update. Click here, or on the image below to watch it.
Celebrating the delicious Pacific Razor Clam
Digging for razor clams is truly a family sport, and a much-loved activity in our district. The Pacific Razor Clam (Siliqua patula) has an olive-green, or olive-brown shell, and can grow up to 6" in length, with a lifespan of up to 5-years.
In 2014, the Legislature named the Olympia Oyster (Ostrea lurida) the official state oyster. So why not bring another Western Washington bivalve to the party?

My bill (HB 1061) would designate the Pacific Razor Clam as our official state clam. No state has a designated clam, and our district, with its beautiful coastline and maritime history, is an ideal place to nominate a first.

If you have a minute and 17 seconds, click here for a quick radio story/interview on my razor clam bill.

In a busy world, it's good to take a moment to appreciate the simple pleasures of rural living, and remember days well-spent with family and friends at the beach.