Greetings from the 46th District!
It is hard to believe, but the regular session adjourned a little over a week ago. You can take a look at the complete list of all bills passed this session here. However, as you've probably heard, we will be going into special session, beginning next Monday, to continue budget negotiations and reach consensus between the House, Senate, and Governor Inslee.
One of the major questions for this session has been: Are certain tax exemptions more important than educating our kids?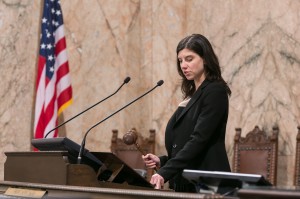 In the House we answered that question by approving a bill that closed or modified ten outdated and ineffective tax loopholes in order to fund our children's education. These would generate about half a billion dollars for smaller class sizes, full-day kindergarten, and new classroom supplies – to name a few. You can find more information on our revenue package here. Kids deserve to win, unnecessary and outdated loopholes should lose. 
 As we move through special session, I'll continue to fight for a responsible budget that funds our state's priorities – education, the environment, health care, and jobs.
Applications available for the Youth Legislative Council
If you're a teen, chances are you can't afford a lobbyist to represent your interests in Olympia, but laws passed under the Capitol dome have an impact on your life just the same.
Wanting to hear from Washington's young residents, legislators passed SB 5254 in 2005, which created the Legislative Youth Advisory Council (LYAC) to:
Examine issues of importance to youth, including but not limited to education, employment, strategies to increase youth participation in state and municipal government, safe environments for youth, substance abuse, emotional and physical health, foster care, poverty, homelessness, and youth access to services on a statewide and municipal basis.
LYAC is a 22-member council of 14- to 18 year-old students from across the state who serve two-year terms. Applications are reviewed by the Council and the Lieutenant Governor's office is in charge of making the final selection.
Do you know a young person who might be interested? They can find the application here. They are due back on June 25th
Keep in touch
As always, I welcome your comments, feedback, and visits! You can reach me at jessyn.farrell@leg.wa.gov. I'm also happy to meet with you in the district.  If I'm not available, my Legislative Assistant Nigel Herbig is always happy to pass your concerns on to me.
All the best,
-Jessyn
---