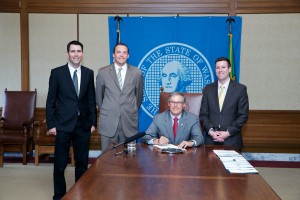 On Tuesday Governor Inslee signed a bipartisan bill to increase transparency in state government by making information on the capital and transportation budgets more easily accessible online.
The legislation, House Bill 2058, improves access to information on state budgets by requiring a one-stop location for the information and simple, user-friendly navigation. It was shepherded through by Representatives Brad Hawkins (R-East Wenatchee) and Marcus Riccelli (D-Spokane) in the final days of the regular legislative session.
"Rep. Riccelli and I worked together on this idea from the beginning, and we learned a lot about the twists and turns of the legislative process along the way," said Hawkins, who sponsored the bill. "In the end, both parties recognized and appreciated us working together and agreed it was good policy. It is a win for the citizens and transparency!"
The bill used the same language as legislation introduced earlier in the session by Riccelli, House Bill 1733, with the goal of making it easier for citizens to understand where their tax dollars are being spent. That bill passed the House unanimously and cleared the Senate, but stalled in negotiations over amendments. That's when the pair introduced HB 2058.
"The transportation and capital budgets are what build our roads, schools and community projects, but until now there hasn't been an easy way for the public to see where their money is going," said Riccelli. "I was proud to work with Rep. Hawkins to make our budget process more transparent for Washington citizens."
The idea for the legislation arose when Riccelli was researching other states' budgets online and found many that were more accessible and user-friendly. When the legislative session began he sought out a Republican partner to tackle the issue with.
"I enjoyed working with Rep. Riccelli and looked forward to hopefully years ahead together," said Hawkins. "He is a legislator who does not care who gets credit — he just wants good policy. It is refreshing! This is what we need in Olympia. I am honored to call him a colleague and a friend."
---