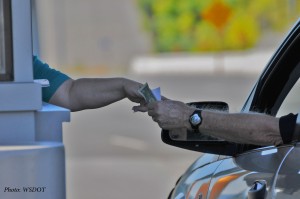 State Representative Larry Seaquist is calling for the Tacoma Narrows Bridge (TNB) to be included in the gas tax deal-making. "We are paying 100% of the bridge costs," said Seaquist. "If we are going to raise gas taxes, part of that must be used to restore simple fairness to our bridge users."
"We were the state's tolling guinea pig," said Seaquist. "One of the big lessons in tolling is that the cost of these mega-projects needs to be spread fairly."
In 2002, the Legislature appropriated $849 million to build the new TNB. The state paid for the construction costs through bond sales, which are being repaid through toll collections.
State lawmakers are currently considering proposals that would increase the state gas tax to pay for long overdue transportation projects, like replacing the aging SR 520 Evergreen Point Floating Bridge. Some lawmakers have proposed using some of the new gas tax revenue to keep SR 520 bridge tolls low and avoid tolling on I-90.
Rep. Seaquist believes these proposals place an unfair burden on Olympic Peninsula residents.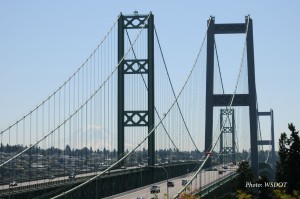 "As negotiations continue between transportation leaders in the House and Senate and the governor, I want to express my strong support for a proposal that benefits the entire state and doesn't unfairly punish my constituents on the Olympic Peninsula," said Seaquist. "If using gas tax revenue to offset tolling costs is good public policy for the 520 bridge it is good policy for us, too."
Rep. Seaquist proposes:
• Rolling back TNB tolls, now $4.25 to $4 (2012 levels), and
• Prevent future toll increases by shifting a small percentage of the proposed new gas tax revenue to a new "Tacoma Narrows Bridge Toll Stabilization Account."
Seaquist will introduce legislation on these proposals during the next legislative session if a compromise transportation package deal that contains these proposals is not reached before January.
"My solution offers a fair and reasonable compromise," said Seaquist. "If these provisions are not enacted, not only will TNB tolls go up, but we'll be subsidizing the 520 project through higher gas taxes. That's a double hit for my constituents and is anything but fair."
"I can't thank the chair of the House Transportation Committee enough for her hard work and leadership on this issue," said Seaquist. "She's has always been a friend to our part of the state and a champion for a balanced approach that benefits all of Washington. I will continue to offer her my support and guidance as we continue to address these issues."
---