While Rep. Gregerson is a newcomer to the Legislature who is serving in her first session – she was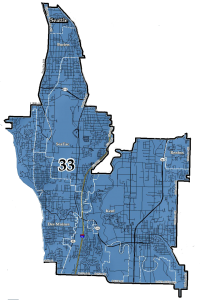 appointed to a House vacancy in late 2013 – her fellow legislators from the 33rd District are veterans of the House and Senate. Rep. Tina Orwall was first elected to the House in 2008; Sen. Karen Keiser served five years in the House before moving to the Senate in 2001.
Here are some recent news articles involving Rep. Orwall and Sen. Keiser.
Rep. Orwall:
Editorial: Give sex-trafficking victims a fresh start
Bill would allow prostitution convictions to be vacated
Tough legislative fight could be ahead for suicide prevention bill
Motion urging State Legislative action on human trafficking unanimously passes County Council
Pierce County case highlights need for mental health reform
Moving Past 'The Life': New Bill Would Allow Erasing Prostitution Convictions From Record
Bill sparks conflict about suicide-prevention training
Foreclosure Fairness Act 2.5 years later
Bill sparks conflict about state's role in regulating training for health care professionals
Bills seek moratorium on destroying DNA evidence
Sen. Keiser:
Health database requirement cut from bill
Tanning booth ban for minors passes Senate
State's health exchange will have to slim down in 2015
Bill would provide tax break on health premiums for self-employed people
Kirkland hospital to change procedures for 'boarding' mentally ill
Jolt: State GOP tries to undo SeaTac, preempt Seattle on minimum wage
---