Reinvesting in Washington means investing in our teachers
What's the best way to make sure every child succeeds in school and life? It's pretty simple really – by having the best possible teacher in every classroom.
If we don't demonstrate that we value good teachers, we run the risk of losing them to the private sector.
It doesn't have to be that way. We can turn the corner and invest in our kids by investing in their teachers.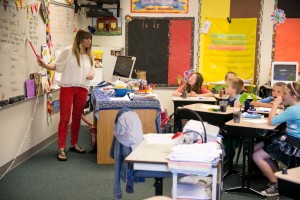 It's been six years since teachers received a cost-of-living adjustment from the state. The Great Recession forced the Legislature to make difficult decisions. Our state saw massive revenue shortfalls during the down years.
As a result, we had to cut over $12 billion since 2008 to balance the budget. Unfortunately, some of those cuts came at the expense of our teachers. Their salaries got frozen while their bills kept going up.
Continuing to balance the books on the backs of teachers is irresponsible and wrong.
As we continue budget negotiations with the Senate, keep in mind the House makes a significant investment in education and our teachers, the details of which can be found here. The Senate Republican budget comes up short for our kids.
"What are your priorities?"
Budget negotiations often come down to a debate over competing priorities.
Many politicians work hard to carefully use state resources to ensure an equity of opportunity for all of Washington residents.
For instance, some legislators propose carefully targeted investments in programs that help foster kids, abused children, and adults with developmental disabilities get the assistance they need.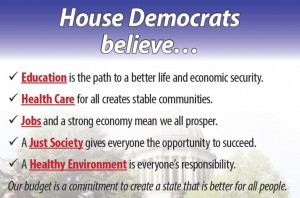 Meanwhile, other legislators want to cut critical government services while spending massive amounts of our state's treasure on tax breaks for the wealthiest earners. And it's the kids and people with disabilities that are the ones feeling the cuts.
This year the proposed House budget invests in our foster care system and staffing for Child Protective Services. Senate Republicans have refused to invest any money in fixing CPS while underfunding court ordered improvements to the foster care program.
The House budget also restores cuts that were made to our state food banks, and it supports homeless kids and families to get back on their feet. Senate Republicans continue to make cuts to the safety-net programs low-income families need most.
Sometimes the choices we have really are that stark. We should not choose to cut investments for the most vulnerable just to spend money in the form of tax cuts for those who don't need them.
We can make better choices than that.
——————————————————————————————————————————–
As ever, I will work to keep you up to date on any progress we make as negotiations continue. Please feel free to contact my office with ideas or suggestions you have.

---