OLYMPIA—A little girl with purple hair changed their minds.
Emma Patterson sat in front of lawmakers and cameras, in a meeting of the most powerful committee in the House—Appropriations—to talk about what a new law would mean to her.
She told lawmakers she's 13 years old and has Down's Syndrome, that she wants to study at college to become an artist. And that's why she supported the ABLE Act by Rep. Christine Kilduff (D-University Place).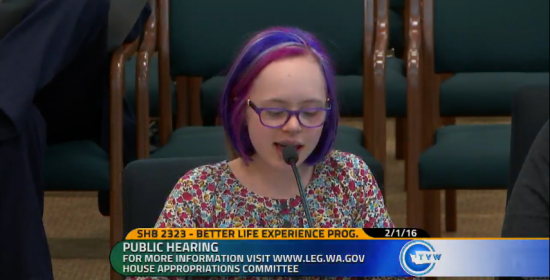 Click on the photo to watch Emma's testimony or use this link.
And then members of Appropriations did unusual. Chair Hans Dunshee (D-Snohomish) and other lawmakers on the committee voted on the bill right after testimony. It passed 29-3.
The legislation (House Bill 2323) would help families save money to help with the education and care of an estimated 35,000 to 50,000 people with disabilities in Washington state.
"People like Emma just want a chance at an education and a good life," Kilduff said. "This new law would give families a great tool to save money for their sons and daughters."
This proposed state law would work with the federal ABLE Act to set up tax-free savings accounts, similar to college savings plans. Families could invest up to $14,000 a year in an ABLE account and withdrawals wouldn't be taxed as long as they money was spent on housing, education, transportation, health care and related expenses for the person with developmental disabilities.
The law would also fix a problem where families today get penalized for having more than $2,000 in savings before they're means-tested for programs like Medicaid or Supplemental Security Income.
The next step is a vote on the floor of the House of Representatives, then the legislation would head to the senate for consideration.
"I'm excited lawmakers got to meet Emma and decided to pass the bill in Appropriations right then," Kilduff said. "People tell me they can't remember it happening before. It's because of Emma's courage."
---