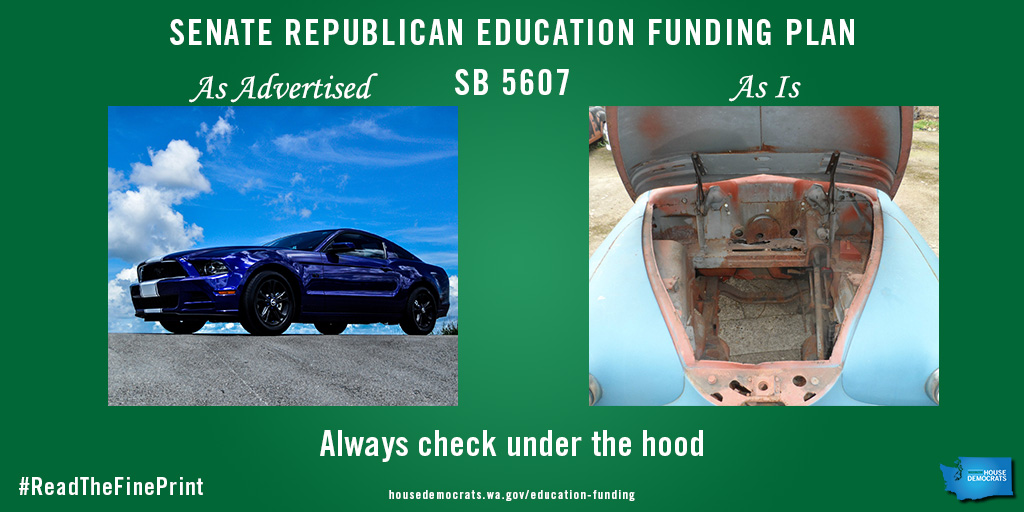 The House Appropriations Committee is holding public hearings on the education funding proposals currently being debated at the Legislature. You can watch the public hearing on TVW here.
House & Senate Democrats plan
HB 1843 – "Fulfilling the state's paramount duty for all children through equitable and responsible investments in the state's basic education program and reductions to local effort contributions."
Senate Republican plan
SB 5607 – "Concerning education"
House Republicans have not released a plan.
Highlights of the Democratic plan include:
Preserves local control of public schools.
Preserves the current funding model that drives dollars out on a per pupil basis.
Education spending will increase. The state will backfill any lost funding that results from the new calculations.
Includes ten days of paid professional development to ensure we have a high-quality teacher in every classroom.
After teacher compensation is phased-in, additional investments will be made in:
CTE class size reduction
Learning Assistance Program (LAP)
Transitional Bilingual Instructional Program
Highly capable
Guidance counselors
Parent involvement coordinators

Teacher COLAs will be added to the definition of Basic Education.
Beginning teacher salaries set at $45,500, and salaries will increase 10% after three years.
Gradually lowers the local levy cap to 24% and removes unfair grandfathering and ghost money.
New accounting and transparency measures will be put in place that will help ensure schools remain fully funded.
Will explore revenue options such as taxing wealthy capital gains investors, corporate polluters, out-of-state tax preference holders, and by reforming the highly unpopular and unfair B&O tax.
Unfortunately, the Senate Republican plan – SSB 5607 – would take our public schools in a completely different direction. That is why it is always important to read the fine print.
Here are 12 reasons why SSB 5607 is bad for kids, parents, teachers, and taxpayers.
Less Money.
About 600,000* students, more than half of state's student population, would receive less money under the Senate proposal than if we did nothing at all.
Loser – Loser.
The bill creates winners and losers for both students and taxpayers.  At least 50* urban and rural districts are double losers – they will pay more and get less.
More money for schools?
Despite the fact that the Senate plan proposes a massive tax increase, it only nets out about $43 million* total for the state's students.
No credentials required to teach.
Senate Republicans don't reduce certification requirements for teachers, they eliminate them.  The only requirement to become a teacher under their plan is to pass a background check.
Cuts to special education.
Overall funding for special education would be cut. Seattle Public Schools have estimated special education funding for the district would be reduced by approximately $50 million.
No help for those who need extra help.
The Senate proposal would drop 2/3 of the students who now receive Learning Assistance Program funding to help them catch up to their peers.
Pay cuts or increased class sizes.
Many districts will be left with the choice of either reducing teacher pay or increasing class sizes.  As health care costs increase, pay would be reduced to fit under the 80% salary cap proposed by Republicans.
No sports, clubs, field trips and extracurricular activities.
Local levies are cancelled for calendar year 2019 leaving no funding for sports and other extra programs that help keep students in school.
Rolling back local control.
Districts would have less control over their budgets and collective bargaining rights would be diminished in a number of ways.
Property tax shifts from corporations to homeowners.
Many large companies and corporations across the state would see a significant property tax reduction while individual homeowners in other areas would pay substantially more.
Hurting those that need us the most.
Future increases in state revenue collections would go first for tax cuts to businesses and homeowners leaving vital services for our most at-risk in jeopardy.
More costly, unnecessary paperwork.
Senate Republicans would require school districts to spend money on a costly review process, wasting time and resources that could be used to teach kids.
*Estimates from Senate nonpartisan staff analysis.
---