Friends and neighbors –
Yesterday, I passed three bills that I introduced to the House of Representatives. In this week's newsletter, I'm happy to tell you about these bills, and remind you of the town hall I'm hosting with Rep. Kristine Reeves at the Federal Way Senior Center on Saturday, March 11th.
What has passed so far?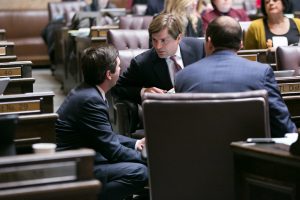 Combating Corporate Crime:
One issue I have seen as a prosecutor is how corporations commit crimes, like fraud and other serious offenses, with little consequence. Washington State hasn't updated the laws for fining corporations since 1924, when the cap was set at $10,000. Nearly a century ago that was significant; now it's just the cost of doing business for some corporations.
I'm happy to report that my legislation (HB 1806) to increase this maximum fine to $1,000,000 passed the House this week, 67-31. This bill now goes to the Senate. It's a great step forward in holding corporate bad actors accountable who harm the public.
Removing Special Interest "Dark Money" from Politics:
Right now, there are organizations that fund undisclosed money into political campaigns in Washington State. These special interest organizations aren't required to disclose their donors like other political organizations or candidates. The DISCLOSE Act I passed this week (HB 1807), 51-47, would close this loophole, shine a light on this "dark money" and require these political campaigns to disclose their top ten contributors and individual contributions over $100,000. It will allow the public to scrutinize their activities. I'm hopeful that the Senate will agree and pass this bill to the Governor.
Fighting the trafficking of children and youth:
Much of the work I'm doing in Olympia relates to public safety, especially protecting children from traffickers. I've prosecuted cases against these traffickers and know just how dangerous they are in our community. My bill (HB 1832) to reauthorize a Commercially Sexually Exploited Children coordinating committee to research these issues will help us better combat sex trafficking issues in our district and throughout Washington. I'm happy this legislation passed the House unanimously, and I'm hopeful it will make it through the Senate and all the way to the governor's desk.
Town Hall Next Weekend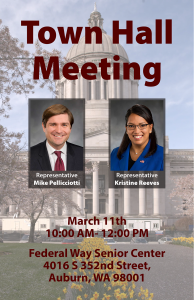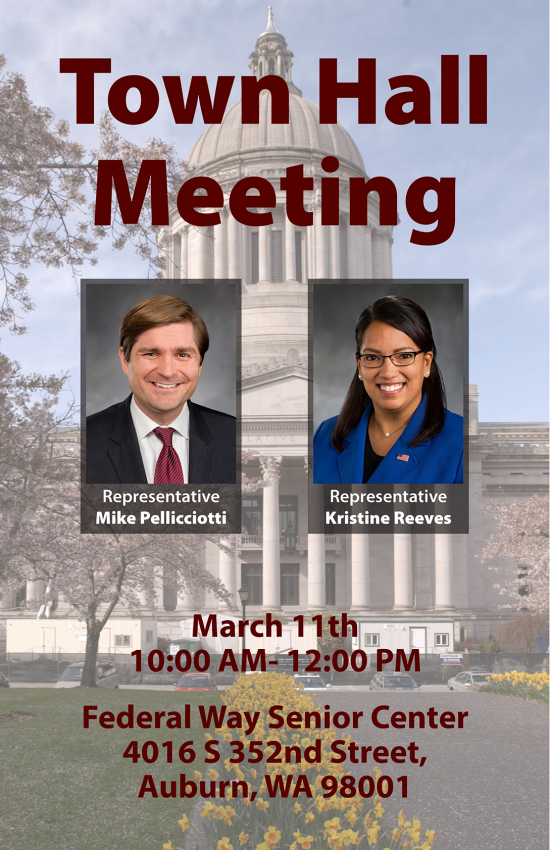 Please join me at a town hall with Rep. Kristine Reeves on Saturday, March 11th, from 10:00 a.m. to 12:00 p.m.
The town hall will be at the Federal Way Senior Center (4016 S. 352nd St, Auburn). This is a great opportunity to hear from you directly, and I am excited for the opportunity to update you on some of the other issues we're working on in Olympia.
Please join us on Saturday, March 11 at 10:00 a.m. at the Federal Way Senior Center!
---