Fulfilling our obligation & promise to our children
My first vote in the State House of Representatives was to extend the "levy cliff" and guarantee our schools have the funds they need next year. It was an easy vote—our kids deserve quality teachers and good classrooms.
That's why I am happy to report that the Republican-controlled Senate, after 45 days of saying they would not extend the "levy cliff," finally agreed and passed an amended version last week. The legislation is now on its way to the Governor and will give schools assurances that their budgets will remain whole while the Legislature works out a compromised deal on the final plan to fully fund education.
As a working mom, I know our school system must provide every student the opportunity to gain the skills necessary to succeed in today's economy. Compromise between Democrats and Republicans will mean tough decisions from both sides, but now that we have all agreed to do the right thing, we can do the hard work of finding a solution that finally fulfills our paramount duty.
Gold Star Families & College Costs
The sacrifices our Gold Star families make can never be repaid. Losing a parent or a spouse is one of the most difficult experiences someone can go through. As a society that values the great contributions our service members and veterans make, we try to do the right thing by those families. That's why I sponsored House Bill 2009, which provides support for gold star families pursuing a higher education.
Tuition has skyrocketed and so has the cost of housing, books, supplies, and just about everything else students need to succeed in college or vocational training. My legislation, which passed the House with a unanimous vote, provides a $500 stipend for textbooks. It's a small cost to the state, but a necessary step in doing the right thing by our Gold Star families.
Town Hall Recap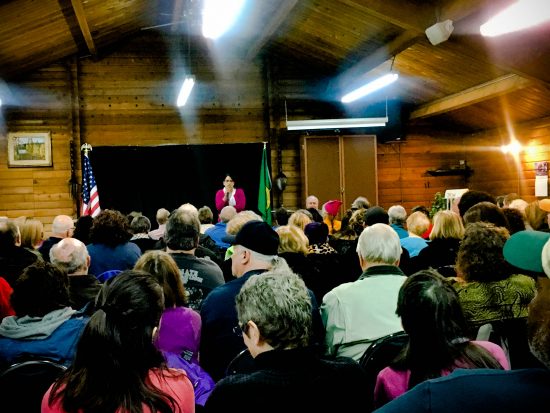 Thank you to everyone who came out to our town hall this weekend. Around 150 engaged and active citizens asked questions and shared their concerns. I hope you found it valuable—I know I did. Having so many wanting to learn more and bring forward ideas about our communities helps me serve you better in Olympia.
From the town hall (and the survey I sent you a few weeks ago), it's clear that education is your biggest concern. I'm proud to support our children and their schools—I supported both the "levy cliff" extension and the House Democratic plan to fully fund education—and I'm working with my colleagues to find a compromise that will work for everyone.
You're also very concerned about the Sound Transit 3 car tab increase. I hear you and I've sponsored and co-sponsored legislation to increase accountability through reforms, provide rebates to families who can't afford these large increases, and offer relief from future increases for all families through a fairer valuation method. I'll keep you updated about the status of these bills as they move forward in the process.
Contact me
As always, please don't hesitate to reach out to my office if you have any thoughts or concerns.
Thank you,

---