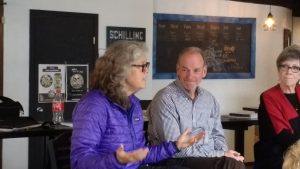 Dear friends and neighbors,
On Saturday, my 27th Legislative District seatmates and I held the first of three "Community Conversation Hours" in Tacoma.
Among the topics discussed were concerns over recent actions by President Trump detrimental to our health care system. I'm devoting this e-newsletter specifically to this issue, because it impacts so many of us.
If you couldn't be there on Saturday, another Community Conversation is coming up this Thursday, October 19, from 3:00 to 5:00 p.m. at Red Elm Cafe, 1114 Martin Luther King Jr. Way, Tacoma. We've reserved the meeting room in back.
Sen. Darneille, Rep. Fey and I will also be in the International Place Common Room at Salishan (1701 East 44th Street, Tacoma) on Tuesday, December 12, from 1:00 to 3:00 p.m.
On my own, I'm continuing to hold informal, drop-in "office hours" in neighborhoods across the district. Upcoming dates, times, and locations are listed at the end of this newsletter. I hope to see you at one of these events, because now is the time to share your ideas about potential legislation with me.
Sincerely,

Trump's assaults on health care hurt access, affordability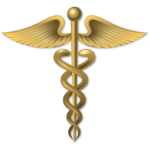 President Trump's seemingly endless assaults on our nation's health care system really kicked into overdrive last week. First, he announced new rules that threaten access to contraception (see below). Then, he signed an executive order that chips away at vital Affordable Care Act protections and threatens to collapse the health insurance market. Finally, he abruptly halted payment of health insurance subsidies, further destabilizing the market and guaranteeing premium hikes. These actions create stress and uncertainty for many individuals and families in our state.
While state legislators cannot prevent the President from taking these irresponsible actions, we can explore legislative solutions to minimize the harm and protect access to affordable health coverage for Washingtonians. For example, in the 2017 session, we took the important step of preserving access to the state's high-risk insurance pool for non-Medicare plans. This ensures medically vulnerable populations will continue to have access to the care they need.
As a member of the House Health Care & Wellness committee, I am committed to working on ways to strengthen our state's health care system, not undermine it.
Reproductive health access threatened
On October 6th, the Trump Administration took action that undermines access to contraception. Washington's Attorney General moved quickly to sue to block the new rules from taking effect.
Protecting access to a full range of preventive care services, including reproductive health, is always a priority for me. I was proud to co-sponsor legislation this year requiring insurance plans to reimburse for a 12-month supply of contraceptive drugs. This common-sense legislation passed both chambers with strong bipartisan support. However, another bill I supported that would have required preventive care services currently covered under the ACA to remain covered in our state died in the Senate.
Senate leadership has also repeatedly refused to let the Reproductive Health Act receive a floor vote in that chamber. This bill would require health insurers to cover contraceptives without cost-sharing, and to cover voluntary pregnancy termination services if maternity care or services are covered. It has passed the House four times now.
I am concerned about any federal action that threatens access to reproductive health care in our state. That's why I support the Attorney General's lawsuit, and will continue working with my legislative colleagues on measures to protect access to ALL preventive health care.
Speaking of preventive care…
The number of reported pertussis (whooping cough) cases in our state is up this year. Now is a good time to make sure you – and your children – are up to date on your vaccines.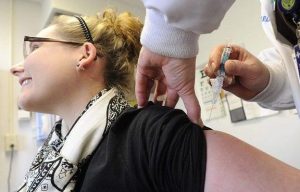 Medicare open enrollment period begins
The open enrollment for Medicare prescription drug plans (Part D) and Medicare Advantage plans is currently underway. You have until December 7 to sign up or make changes to your existing coverage.
Free, in-person Medicare counseling is offered in Tacoma on Mondays by appointment at Sound Outreach, 1106 Martin Luther King Jr. Way. This service is through the state Insurance Commissioner's Statewide Health Insurance Benefit Advisors (SHIBA). To make an appointment, call (253) 596-0918.
Meet me in your neighborhood
Much appreciation to the folks who took time out of their busy day to drop in and chat with me at Old Town Markee in North Tacoma on October 3rd. Here are my upcoming neighborhood office hours:
Thursday, October 26th from 9:15 to 11:15 a.m. at Erica Peace Love and Ice Cream, 4822 Pacific Ave (South End)
Tuesday, October 31st from 9:00 to 11:00 a.m. at Rhapsody in Bloom, 3709 6th Ave (Central Tacoma)
Tuesday, November 7th from 1:30 to 3:30 p.m. at Coffee & Cream, 1100 Town Center NE (Browns Point)
---