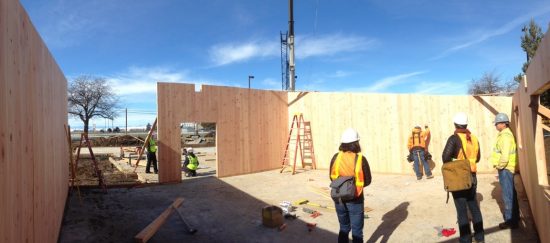 OLYMPIA—The construction budget passed by the House and Senate will build a record $ 1 billion in new public schools and includes more than $46 million in local projects in the 24th District.
"This budget will put people to work from Aberdeen to Port Angeles, building local schools, parks and other vital projects," said Rep. Steve Tharinger (D-Sequim), chair of the House Capital Budget Committee. "It's great news for the people of Washington state, the hard-working folks in our construction trades and every student in our public schools and colleges."
The budget breaks another record by investing more than $800 million in facilities at our community colleges and public universities.
"We pushed hard to boost education in timber and farm country," said Rep. Mike Chapman (D-Port Angeles). "I'm so proud that the budget we're sending to the governor's desk puts every possible dime toward building schools and colleges so that every student, no matter where they live, has a chance to succeed in school and in life."
The budget – Senate Bill 6090 – passed the House 95-1 and the Senate 49-0.
Other investments in education include:
$15.5 million to build Early Learning facilities
$30 million for rural and distressed K-12 schools
$800 million for state colleges and universities, with $433 million for community and technical colleges
$15 million for science, technology, engineering and math (STEM) grants at K-12 schools
Investment in rural parts of Washington include:
$203 million for the Public Works Assistance Program, which helps local governments build critical infrastructure such as water and stormwater projects, roads and bridges
$80 million for Washington Wildlife and Recreation Program (WWRP)
$5 million to bring broadband to timber and farm country
$18 million for forest health and wildfire prevention, a vital need given that the state has spent hundreds of millions of taxpayer dollars in recent years to fight wildfires
$54 million for state parks
$160 million for Clean Drinking Water and Centennial Clean Water programs
$40 million for Stormwater Financial Assistance
In cooperation with new investments in the House operating budget, the construction proposal would put $165 million toward fixing the state's mental health crisis. That funding includes:
$76 million for community behavioral health capacity
$58 million for construction and renovation at state facilities
$24 million for supportive housing for the chronically mentally ill
Finally, the budget puts serious funding toward housing, clean energy, arts and dental care:
$105 million for the Housing Trust Fund
$65 million for clean energy, solar, and energy efficiency
$49 million for arts, building communities, and youth recreation programs
$14 million for dental capacity and residency
Sidebar: List of 24th District construction projects
Sage Arts and Education Building–$1,270,000
Port Angeles Boys and Girls Club–$1,000,000
Captain Joseph House–$225,000
Chimicum Ridge Forest Pilot–$3,400,000
Coastal Harvest Roof Replacement–$206,000
East Grays Harbor Fiber Project–$463,000
Hoquiam Library–$250,000
Jefferson Healthcare Dental Clinic–$1,000,000
Port Angeles Dental Clinic–$610,000
Thurston County PUD construction loans–$1,028,000
Clallam Bay Corrections Center boiler replacement–$1,000,000
Clallam Bay Corrections Center culvert replacement and road resurfacing–$1,100,000
Clallam Bay Corrections Center minor works–$1,536,000
Sound Experience–$394,000
NW School of Wooden Boat Building–$360,000
Polson Park and Museum–$41,000
Fort Worden–$750,000
Floodplains by Design–$2,356,000
Water Irrigation Efficiencies Program–$1,000,000
Integrated Planning Grant: Port Townsend–$200,000
Leaking Tank Model Remedies – Frank McPhee Property–$20,000
Leaking Tank Model Remedies – RJ Hopkins Lodging–$20,000
Fort Flagler State Park – WW1 historic facilities preservation–$3,217,000
Fort Worden State Park – Pier & Marine Learning Center–$697,000
Fort Worden State Park – replace failing sewer lines–$2,204,000
Fort Worden State Park – replace failing water lines–$358,000
Ocean City State Park – replace non-compliant comfort stations–$1,526,000
Serendipity Farm preservation–$107,000
Smith Family Farm preservation–$524,000
Crowberry Bog natural area–$1,572,000
Clearwater riparian protection–$877,000
Leland Lake public access–$325,000
Dabob Bay Natural Area–$99,000
Spruce Railroad Trail–$649,000
Fish passage barrier removal – Johnson Creek–$3,008,000
Fish passage barrier removal – Johnson Creek Tributary–$1,022,000
Washington Coastal Restoration Initiative (four projects)–$4,402,000
School construction – east Grays Harbor transportation facility–$3,234,000
Dungeness Hatchery – replace main intake–$615,000
Fish hatcheries minor works–$250,000
Fish hatcheries preservation–$1,140,000
Snow Creek fish hatchery facility reconstruction–$100,000
Repairs and maintenance at Peninsula College–$1,179,000
###
---