Voting NO on property taxes
If you're like my family, property tax bills have started hitting your mailbox and, wow. We're all seeing an increase in our property tax bill, with Federal Way looking at a nearly 12% jump from last year.
Relying solely on property taxes to fund schools is exactly why I voted NO on the Republican Senate property taxes last year and will oppose any other property tax increase again this year. This has to stop. Working families and the middle class can't keep carrying the water for the wealthiest people in Seattle.
Yes, the state needs to pay for schools and essential services. But it's time we stop relying on sales and property taxes and start looking at a fairer way. Colleagues on both sides of the aisle have presented ideas that would lower your property taxes and I believe we should find a solution that keeps schools funded, but gives you and your family some breathing room.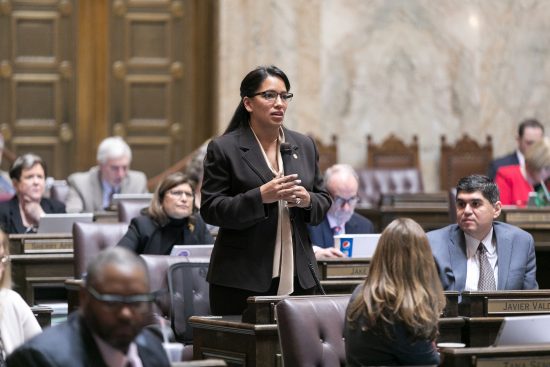 ---
Health care bills pass House
There's a lot of work being done on health care and opioid addiction and I was proud to vote for those bills this past week.
We all know that insurance is expensive and, at times, inaccessible. One bill I voted for this week provides more health care plans in counties where their options are limited. Why is that good for those of us in King County? Having more people buying health care helps slow down or even decrease the cost to the rest of us. Plus, I want all my neighbors to have health insurance coverage for when they need it, whether they are just down the street or a hundred miles south of us.
Opioid use has hit Washington state hard. Almost every person knows someone, or is related to someone, who has struggled with opioid addiction and we need to start finding real solutions. Last week, we passed a bill with unanimous support that incorporated ideas from Democrats, Republicans, physicians, nurses, county health officials, and more. The bill changes how we treat opioids by using evidence-based treatments, requiring more training and education for doctors and patients on the dangers of opioids, and providing more flexibility in treatment options.
---
Child care bills pass!
I'm very excited to announce that my legislation to start the conversation on child care affordability for the middle class passed the House! While both bills changed in the process, they are a necessary first step in finding solutions to make childcare more affordable and accessible for families like yours and mine.
HB 2367 sets up a new task force to bring business to the table with stakeholders, children's advocates, and lawmakers to find new solutions.
HB 2396 creates a pilot program to offer financial incentives for small businesses to contribute to employee child care savings accounts.
Please click the image below to watch a video on the importance of putting people first and passing my legislation to make childcare an option for all families.
---
Contact me
Now that the first half of session is over, our focus will be on the budget and negotiating with our Senate colleagues so that we can get done on time. If you have thoughts or ideas to share, please reach out to my office.
Thank you,


---