OLYMPIA – Increasing the affordability and accessibility to childcare has been a top priority for Representative Kristine Reeves, D-Federal Way, in the 2018 Legislative Session. Today, Governor Inslee signed a key piece of legislation sponsored by Reeves into law.
HB 2367 begins the conversation through a new task force to involve businesses, children advocates, childcare providers, parents, and lawmakers together on addressing the "donut hole" of childcare. Far too many middle class families struggle to make their monthly childcare payments, while at the same time make too much to qualify for state subsidized options. At the same time, many childcare providers struggle to find qualified workers and in many rural and underserved areas, childcare providers are rare.
"Working moms and dads want to know their child is in the best care possible when they choose a childcare provider, but there are far too few options in our state. The cost of childcare to the individual and to society is massive and it's time we start the conversation on how to address that cost so that every child gets access to high-quality childcare and early learning. This task force is crucial to finding solutions to make childcare accessible and affordable for middle class and working families across Washington," said Reeves after Governor Inslee signed HB 2367.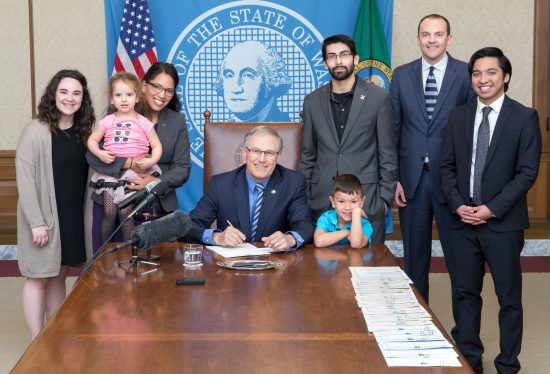 ---