To my Kitsap friends and neighbors,
I considered starting this Appleton Update by saying that 2018 was a very successful session in Olympia. But rather than sound self-serving, I want to point to the results of a non-partisan survey conducted by Elway Research. According to Elway's Legislative Report Card, the 2018 session was the most productive since the company began doing their surveys to rate legislative efforts.
I'm not surprised.  When the first Report Card was issued in 2010, we were struggling, as individuals, families, businesses, communities, and the state as a whole, to recover from the Great Recession. Then, after the very worst of that crisis had begun to ease, there were five consecutive years in which Republicans held a slim majority in the state Senate.
Those years were characterized by endless special sessions, repeated threats of government shutdown, increasingly ugly partisanship, and, not surprisingly, low grades on Elway's Legislative Report Cards.
But in 2018 Democrats were returned to the Senate majority, and the difference was immediate, profound, and positive. A few examples:
·         Senate leaders had delayed passage of the capital budget for a year, holding it hostage for their preferred response to the Supreme Court's Hirst decision.  With Democrats in charge this year, the Legislature resolved the Hirst situation and passed the capital budget within the first two weeks of the session, creating thousands of good jobs.
·         Last year those same Senate leaders were prepared to shut down the state government if we didn't accept their massive property tax hike.  We negotiated that down significantly in 2017, and this session crafted a budget that reduces those taxes even further in 2019.
·         Even the most moderate firearms-safety reforms had been non-starters under the Republican Senate majority. But in 2018 we were able to take common-sense steps, banning bump stocks and authorizing persons in the midst of a mental-health crisis to voluntarily and temporarily waive their right to possess firearms.
·         After years of frustration, in this brief, 60-day session the Legislature fully funded basic education, authorizing more than $1 billion in new K-12 investments and fulfilling our obligations under the state Supreme Court's McCleary decision.
·         The Reproductive Parity Act, long delayed by the Senate, passed easily.
·         While some states are enacting laws designed to discourage eligible American citizens from voting, our Access to Democracy package of bills will ensure better and fairer elections in Washington state.
·         And I'm proud to say we did all this and still managed to adjourn on time, something that hadn't happened for several years.
I say this often, but it bears repeating: Working for you in the state Legislature is both an honor and a privilege, and I'm grateful for your allowing me to do so. To do my job more effectively, I need your feedback, questions, comments, and suggestions.
This will be my last Appleton Update of 2018. Incumbent lawmakers are (wisely, in my opinion) prohibited from initiating mass communications from mid-May of an election year until after the November votes have been certified. This is to prevent even the appearance of a lawmaker using public resources for campaign purposes. My legislative assistant and I will remain at your service during this time, however, and will respond promptly to any requests for information or assistance.
---
State capital budget to pump millions into 23rd-district economy
The state capital budget OK'd by the Legislature in just the second week of the session will pay for more than $65 million in construction and renovation projects in here the 23rd legislative district, which includes part of Kitsap County, including Bainbridge Island, Poulsbo, Kingston, Silverdale, Winslow and East Bremerton.
It's a good budget.  The whole 23rd-district delegation fought hard for Kitsap, and  perseverance paid off.  Just in the human-services area, the capital budget invests more than a million dollars in improvements to Mary and Martha Health and Rehab Center. We allocate more than three quarters of a  million to help Morrow Manor in its goal of providing safety and stability to victims of domestic violence.  The C-Stock Staging for Success capital campaign for a new theater and community education center received a key grant of $200,000. And we've set aside more than half a million dollars to help Fishline provide food and emergency services to our neighbors in need.
Not stopping there, the 2017-19 capital budget will pay for work on the district's public schools, area parks, healthcare facilities, the library in Silverdale, and the ARC Community Center, to name a few. And it's important to keep in mind that a University of Washington study found that every million dollars in construction spending produces 18 family-wage jobs.
As pleased as I am by this capital budget, I remain disappointed that Senate leaders last year refused to allow the budget to receive a vote in that chamber. Their decision to hold the capital budget hostage until lawmakers passed an unrelated bill caused the Legislature to adjourn without a construction plan in place for the first time in Washington's history, putting countless jobs in jeopardy and causing us to lose the entire 2017 construction season.
---
Keeping Kitsap Moving
One of the areas the 23rd-district legislative team focuses on every year is being sure our constituents are considered when the state's transportation budget is being crafted. Improving your ability to move about, whether for recreation, for your daily commute, for your safety, or to get your goods to market in a safe and timely manner, requires good roads and bridges and an efficient, affordable ferry system.
I'm happy to report that the mobility needs of our district were well-considered in the biennial transportation budget that passed in 2017, and in this year's supplemental transportation spending plan as well, with nearly $70 million invested in projects that will directly benefit those of us here in the 23rd.
---
Honoring the United States Navy
"It always gives me such pleasure to talk about the Navy.  We salute you, and we thank you."
That's how I concluded my floor speech this past session when the Legislature offered its annual salute to the U.S. Navy personnel, family members, and naval retirees who call Washington home. My late husband was a 32-year Navy man, and I was proud to be the lead-off speaker in favor of House Resolution 4678 — Celebrating the Navy in Washington State.
These men and women work hard to protect our freedoms. They and their families contribute to our communities in so many ways, including the millions of dollars the Navy infuses into our economy. I can't imagine Kitsap without them.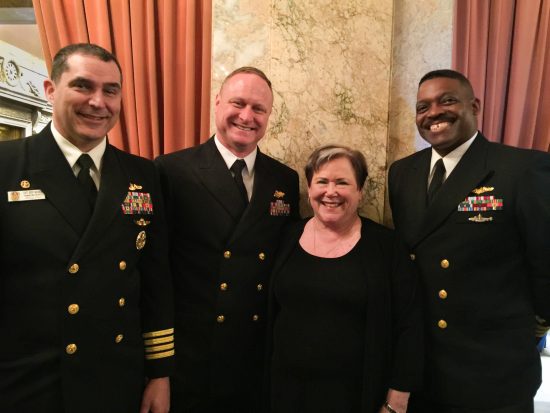 We're in good hands. I was honored to welcome Capt. Jerry Miranda, Capt. Matthew J. Anderson, and Cmdr. Derwin Proby to the House chamber on Navy Day.
---
Smart Public Safety
Reducing Recidivism
Every year, about 8,000 people are released from prison here in Washington, but too many of them end up back behind bars, at least in part because they don't get the help they need to successfully transition back into the community. This obviously has an adverse effect on public safety, with new crimes being committed and increased prison costs that ultimately fall on the taxpayer.
Although it certainly doesn't justify criminal behavior, the fact is that people recently released from prison usually face very high barriers to housing, educational opportunities, and honest employment. This session, the Legislature acted to expand eligibility for work release and allow certain offenders to serve up to six months of the end of their sentence in home detention under electronic home monitoring, easing the transition into the community.
Juvenile Rehabilitation
This session also saw some success in strengthening rehabilitation for young offenders. Those of you who are familiar with my career both before and after I began serving in Olympia know that I have long been involved in juvenile justice reform.
Instead of pushing kids into the revolving door of the adult criminal justice system, genuine juvenile rehabilitation uses proven interventions and strategies to give kids a new opportunity, and a new path. This year the Legislature shortened the list of crimes that cause juveniles to automatically be tried as adults, and we amended current law to make it possible for young offenders to remain in the juvenile rehabilitation system until they turn 25, rather than being transferred to adult prisons when they reach majority.
---
Humane Legislator of the Year Award
I can't tell you how grateful I was this session to have been named 2018 Humane Legislator of the Year by the Humane Society of Washington.  I'm so touched by this award.
Making Kitsap and our whole state a better place to live, work, raise our families, and retire, is my constant priority, but I try never to forget that we're not the only species around. A society, a culture, can be judged by how it treats those with the least power: children, seniors, persons living with disabilities, and yes, our animals. I'm grateful to have colleagues in the Legislature on both sides of the party aisle who recognize this and work with me to make this a better place for all of us.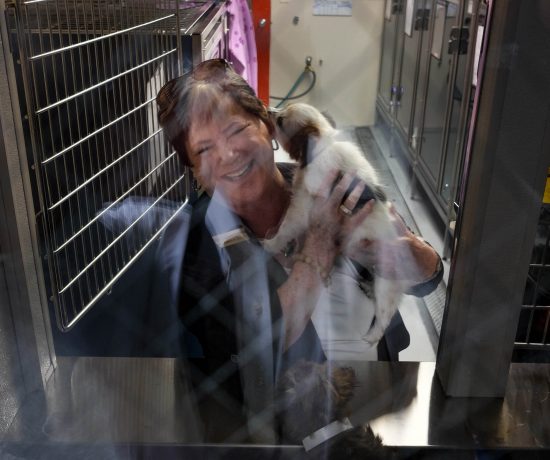 The award was presented in February by Dan Paul, director of the Humane Society for Washington state, and Eric Stevens, executive director of Kitsap Humane Society, was on hand as well. That Silverdale shelter, one of the largest and busiest on the west coast, is in our 23rd legislative district and it is where I discovered and adopted Bear, the 130-pound Rottweiler who now shares our home in Poulsbo.
You might remember that a few years ago, I succeeded in requiring that bittering agents be introduced into antifreeze sold in retail-size containers. The deceptively sweet taste of antifreeze masks the deadly poisonous effects of ingesting even a small amount – a threat to domestic and wild animals, as well as to children, when it pools in driveways and parking lots.

This year, I sponsored House Bill 1095, which will require the bittering agent be placed in wholesale amounts of antifreeze as well, including the 55-gallon drums of the product used by auto dealerships, fleet operations, and many repair shops.  HB 1095 got a strong bipartisan approval in the House and Senate and was signed into law by Gov. Inslee in March.
---
As I said earlier, legislators and other elected officials could not do our jobs without the invaluable input and feedback we receive from the people we represent. Please know that while the legislative session has adjourned for the year, I was elected to serve you year 'round. My contact information is below, and I look forward to hearing from as many of you as possible.
Sincerely,

---