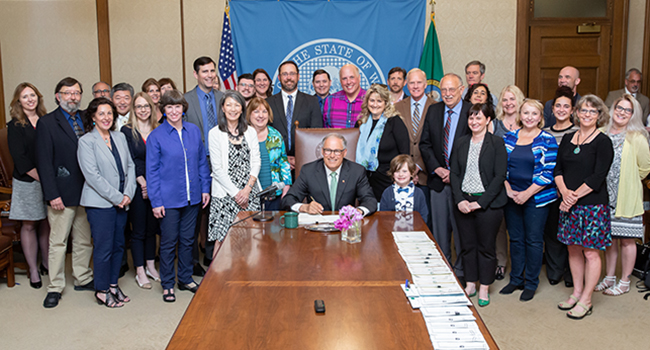 OLYMPIA – Governor Inslee signed a bill last Wednesday aimed at getting more qualified teachers into public school classrooms in an effort to address the growing teacher shortage crisis in Washington.
"For the sake of our 1.1 million students in Washington state, I ask you to support me in making sure that we create a seamless system for creating more, highly-effective educators in Washington state," said Rep. Sharon Tomiko Santos, D-Seattle and chair of the House Education Committee, on the House floor.
Nearly all of Washington state school principals recently surveyed said they are struggling or in "crisis mode" to find qualified teachers to fill their classrooms. And nearly three-quarters said it was harder to find qualified certificated teachers and substitutes compared to the previous school year.
HB 1139 is a comprehensive bill aimed at addressing the teacher shortage crisis from a variety of angles. Teacher recruitment efforts will be enhanced, with a focus on recruiting more teachers of color, bilingual educators, those with occupational industry subject matter expertise, and military personnel and their spouses.
The bill also creates and expands several financial incentive programs, such as expanding the Pipeline for Paraeducators BS Program, creating a new scholarship program to encourage more people to enter the career and technical education (CTE) workforce, and providing more space available tuition waiver opportunities.
Educator retention is another key element of HB 1139. The bill will expand the Beginning Educator Support Team Program to include educational staff associates and state-tribal compact schools. The bill also modifies rules related to certain retirees who want to return to the classroom.
A Professional Educator Collaborative will also be established that will continue to examine issues related to educator recruitment and retention, professional development, leadership, evaluation, and effectiveness, and make recommendations to the Legislature as improvements are needed in these areas to ensure the state maintains a high-quality educator workforce.
Many of the policy changes contained within HB 1139 came from recommendations made by the Educational Opportunity Gap Oversight and Accountability Committee (EOGOAC). Below is an excerpt from their 2018 annual report on the importance of diversifying the educator workforce.
As the student body in Washington grows more diverse, Washington must recruit, hire, and retain more teachers of color and male teachers. The capacity for schools to understand the broad range of experiences that students bring into the classroom and how those experiences impact student learning could be increased by creating an educator workforce that is more representative of the diverse students served. Educators of color can often contribute a deeper cultural understanding of families and students of color. This knowledge can inform practices of their colleagues and address institutionalized racism often overlooked by schools and school districts.
The bill was signed by Governor Inslee on May 8 and takes effect immediately.
---