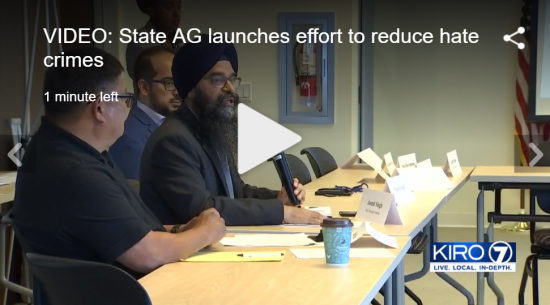 WATCH: New effort by state Attorney General's Office hopes to reduce hate crimes in WA
The state attorney general launched an effort, to not only increase awareness about the growing number of hate-related incidents, but to better prosecute those who commit these crimes. Everyone from law enforcement, prosecutors and community groups throughout Washington are part of this advisory group that will meet about four times, along with members of the public. Read and watch more on KIRO7
---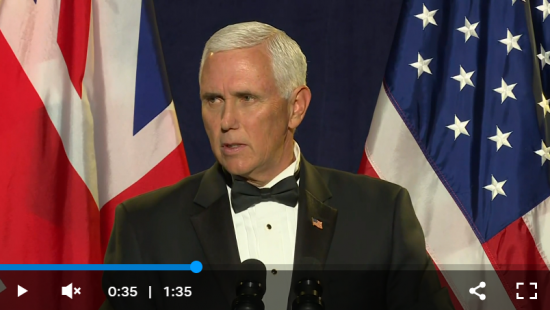 The messy week in Brexit explained for Americans  
The news this week in American politics was focused on Hurricane Dorian, #SharpieGate, climate change and the ongoing debate over gun control in the wake of several recent mass shootings. But things across the pond looked just as messy in the U.K. Read more in USA Today
---
Sound Transit wants to know how you would spend $1.2 billion expanding Sounder service When voters approved the Sound Transit 3 measure in 2016, they green lighted expansions of Sounder, the regional train system. In the South Sound those possible $1 billion plus in improvements include: expanding seven-car trains to 10-car trains, adding additional trains, expanding service to Tillicum and DuPont. Sound Transit wants to hear what the public thinks about those ideas. Read more in the News Tribune
---
Print
Associated Press
Report: No evidence of sexism, racism from Senate Democrats (Das)
Judge reinstates nationwide halt on Trump asylum policy plan
Highway 9 in Lake Stevens strains under a suburban boom (Hobbs)
Judge halts 50% pay hike for blueberry pickers for now
To fill 30,000 jobs, Amazon plans hiring events in 6 cities
Police fatally shoot armed man during traffic stop in Tacoma
Federal judge: Oregon pot racketeering lawsuit can proceed
Search and rescue incidents rise at Olympic National Park   
Aberdeen Daily World
Oped: Rudolph Bush: What we keep getting wrong about mass shootings 
Bellingham Herald (subscription required)
Department of the Interior urges community to protect pollinators during national pollinator week 
The Daily News
Marijuana industry shakes 'Cheech and Chong' stereotype, improves in public eye 
Everett Herald (subscription required)
Monroe School Board to consider moving district headquarters
They voted but their ballots came in too late to be counted
Burke: A 'gun guy's take on rights, a response to shootings
Commentary: Counting the costs of climate-driven disasters
Commentary: Reforms at state prisons protecting lives, safety
Editorial: Kids need more than 13 minutes for lunch 
Journal of the San Juan Islands
Lopez Island School District under fire for discrimination and sexually hostile work environment 
Kitsap Sun (subscription required)
State working on trade of forested Silverdale land with housing developer
Opinion: The trouble with tying all police shootings to racism  
News Tribune (subscription required)
Sound Transit wants to know how you would spend $1.2 billion expanding Sounder service 
Pierce County is a target-rich environment for automation. That should scare us into action 
Editorial: Gov. Jay Inslee gets slapped with a lawsuit, and democracy is better for it (Sullivan, Fey) 
New York Times
Brexit Updates: Speaker Says He Will Step Down How Trump's Plan to Meet With the Taliban Came Together, and Fell Apart
Dozens of Bahamas residents hoping to seek refuge were kicked off a ferry headed for Florida because they had no visas.
Amazon, Apple, Facebook and Google have all drawn the attention of antitrust regulators, but for different reasons.
Juul violated federal regulations by marketing its vaping products as safer than cigarettes, the F.D.A. said.   
Olympian (subscription required)
Lacey site near Cabela's under consideration for temporary overnight parking of RVs 
Higher federal gas taxes? Businesses are pushing the idea 
Editorial: City of Olympia is right to close down Fourth Ave. Bridge camp  
Peninsula Daily News
Funds approved for economic study of murrelet plan
Orca task force meets in Port Angeles on Monday   
Puget Sound Business Journal
Opinion: Hunger exists because our systems have failed, but companies can help
Opinion: Public universities show the power of partnerships   
Seattle Times (subscription required)
At private psychiatric hospitals, a hidden safety record, a human cost
Teachers quit in protest over what they consider anti-gay policy at Christian school in Shoreline  
Amazon employees step up pressure on climate issues, plan walkout Sept. 20 
Why two allies of Washington state Rep. Matt Shea turned on the controversial lawmaker 
Kirkland takes creative approach to help city employees live where they work 
Editorial: Increase Washington vaccination rates (Cody, Stonier) 
Skagit Valley Herald
Festival links rivers, salmon health, orcas
Guemes Island residents asking county for help with water issues
Research looks at machine harvesting of fresh blueberries
Community reacts to museum's publication of KKK materials
Bear spotted in Mount Vernon  
Spokesman Review
Facing turnover, huge caseloads and complaints, Spokane County considers turning Public Defender's Office into nonprofit
Associated Industries settles 'self-dealing' complaint by paying feds $1 million
Editorial: "Curing Spokane" video doesn't have a realistic cure  
Tri-City Herald
Medical marijuana is making its way into Tri-Cities schools. Here's what parents need to know (Blake)
Many Kennewick teachers are now making more than region's $63,000 annual median wage   
USA Today
Lawmakers denounce Trump admin's decision not to give migrant kids flu vaccines
This school was built to thwart active shooters
The messy week in Brexit explained for Americans   
Vancouver Business Journal
Final open house held for A Stronger Vancouver  
Walla Walla Union Bulletin (subscription required)
Editorial: FTC wise to take privacy on internet seriously
Editorial: It's time to take vaping health risks seriously
Editorial: Notoriety should not be brought to mass killers   
Washington Post
Air Force reviewing layover guidelines amid scrutiny of stop at Trump property in Scotland
NOAA's chief scientist will investigate why agency backed Trump over its experts on Dorian, emails show
'I'm watching my daughter cry': Bahamas hurricane survivors are kicked off ferry over U.S. visa demands
Americans of both parties overwhelmingly support 'red flag' laws, expanded background checks for gun buyers, Washington Post-ABC News poll finds
Collapse of Afghanistan peace talks spotlights internal Trump administration divisions   
Whidbey News-Times
Former farm houses moved at night
A first-day high five for the new school year
Suicide prevention focus of VFW forum  
 Yakima Herald Republic
Letter: No one who utilizes Washington's Death with Dignity Act is a coward 
Broadcast
KING5 TV (NBC)
Amazon going on hiring spree in Seattle, across the country
Residential projects drive downtown Seattle development   
KIRO7 TV (CBS)
Deputies now have live access to school surveillance
Looking to hire 30,000, Amazon plans nationwide job fairs
Two-year pilot program to find ways to give students more time to eat lunch
New effort by state Attorney General's Office hopes to reduce hate crimes in WA   
NW Public Radio
Washington ranchers push to create their own fire fighting teams in 'no man's lands'
Will a massive effort to secure the 2020 vote end up superfluous or not enough?   
Web
Civic Skunkworks
Is That Minimum-Wage Story Real, or Is It Bogus?  
Crosscut
Indigenous fire practices once shaped the Northwest — and they might again
How Washington's 'summer of fire' nearly destroyed Seattle, Spokane and Ellensberg
After a national search for a new housing director, Durkan promotes from within   
Seattle P.I.
Seattle to transfer land to build more affordable housing
Washington's special-design license plates, ranked by popularity   
Slog
A Fourth Death Is Connected to Vaping Pot
A Rash of Weed Thefts in Washington State  
---