The search for a second airport to ease crowds at Sea-Tac has kicked off — again. What do you want to know?
Sea-Tac's growing pains are clear to anyone who's recently traveled through the airport. Standstill freeway traffic. Backups at security. Gate shortages. Lines of planes stalled on the tarmac. This spring, state lawmakers decreed that enough is enough. Continue reading in The Seattle Times.
---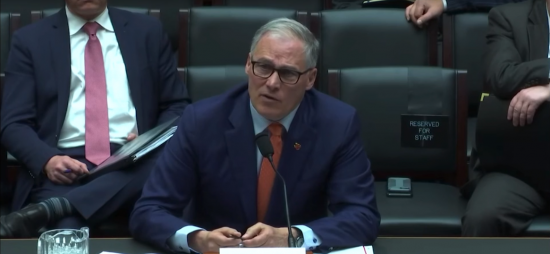 Washington Supreme Court rules effort to recall Gov. Inslee won't fly legally
A Thurston County effort to recall Washington Gov. Jay Inslee from office is legally insufficient, the state's highest court ruled Thursday. The unanimous decision upheld a Thurston County Superior Court ruling. Continue reading in The News Tribune.
---

Workers ready to restart high-risk demolition at Hanford halted after 2017 contamination spread
High risk demolition of a radioactively contaminated plant at Hanford could restart in a week, nearly two years after a stop-work order was issued. It will be the first work on the most contaminated portions remaining of the Plutonium Finishing Plant since particles of plutonium became airborne in December 2017, contaminating workers and the environment. Continue reading in the Tri-City Herald.
Print
Associated Press
Court: State not at fault for Skagit River bridge collapse
Stable costs but more uninsured as 'Obamacare' sign-ups open
US sued over health insurance rule for immigrant families
How daylight saving time affects your health
Demolition of former plutonium plant could resume next week
Inmates file lawsuit alleging poor treatment at Washington State Penitentiary
UW College Republicans deemed 'inappropriate,' unrecognized
Supreme Court rules no "vested right" to public records
Auburn Reporter
City to set hearing on proposal to assume the powers of its independent TBD
Everett Herald (subscription required)
Schools to bar hundreds of unvaccinated students from class
Singletary: Cost of in-home care is getting more expensive
Islands' Weekly
Event to launch Fossil Fuel Free by '33 campaign
Three ferries to turn hybrid
Journal of the San Juan Islands
Neighboring oil refineries eyeing expansions
Kent Reporter
King County seeks to reach 65,000 uninsured eligible for health insurance plans
News Tribune (subscription required)
Washington Supreme Court says effort to recall Gov. Inslee won't fly legally
Density is coming, no matter who wins Tuesday. Can Tacoma neighborhoods keep their charm?
We in Washington pay highest estate tax in the nation. There's a reason, officials say
Tacoma labor fight persists as grocery distributor appeals ruling that went workers' way
Olympian (subscription required)
St. Peter nurses join other Providence bargaining groups in authorizing strike
First flu death in Tri-Cities — and the first for Washington state this season
Puget Sound Business Journal
Google wants safeguards for information in antitrust fight
Seattle Times (subscription required)
The search for a second airport to ease crowds at Sea-Tac has kicked off — again. What do you want to know? (Keiser)
Skagit Valley Herald
Mount Vernon preliminary budget shows need for more revenue
EDASC merger to help with grant opportunities
Comment deadline for steelhead farm proposal extended
Burlington-Edison School District cuts Camp Orkila
Spokesman Review
Inslee can't be recalled for travel, response to homelessness, court says
Tri-City Herald
Workers ready to restart high-risk demolition at Hanford halted after 2017 contamination spread
Yakima Herald Republic
County on track to complete flooding project by 2021 in Shaw Creek area
Broadcast
KING5 TV (NBC)
American Airlines flight attendants won't step foot on Boeing 737 MAX
Aurora Bridge repair work causes major delays during first morning commute
College Republicans boot UW chapter
What would it take to repeal I-1639?
EPA provides $27.5 million to Puget Sound region to fund conservation efforts
Seattle leaders warn city council about public safety, homeless response cutbacks
Look out apples, Washington may become a grape state
KOMO4 TV (ABC)
Tweet on repeat offenders speaks to broader frustration in Seattle 
Q13 TV (Fox)
Washington state reports first flu death of the season
Dramatic decline in SPD use of force since consent decree
Web
B-Town Blog
Talk with local representatives at Community Coffee on Tuesday, Nov. 12 (Keiser, Orwall, Gegerson)
Public meeting about study of impacts of Sea-Tac Airport will be Wed. Nov. 6
---