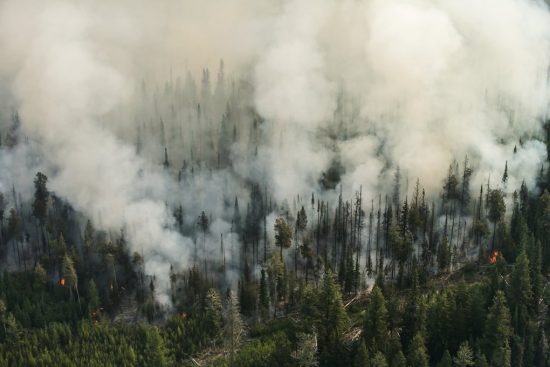 New insurance surcharge to fight wildfires to be proposed by Washington's lands commissioner
Determined to create reliable funding to prevent and fight Washington wildfires, the state commissioner of public lands and some Democratic lawmakers are about to make a new push for revenue. A bill in the spring to hike the insurers' tax rate for property and casualty premiums failed to gain a floor vote. Now, for the legislative session that begins next month, the idea is to add a surcharge of $5 per year to those premiums. Continue reading in The Seattle Times. (Bettina Hansen/The Seattle Times)
---
Sidelined for Months, Judiciary Panel Will Reclaim Impeachment Drive It Once Led
This spring, as President Trump defiantly rejected congressional attempts to investigate his conduct and policies, Representative Jerrold Nadler of New York, the chairman of the Judiciary Committee, asked his Democratic colleagues on his famously voluble panel a loaded question: When all is said and done, given the facts before us, are we heading toward impeaching this president? Continue reading in The New York Times. (Doug Mills/The New York Times)
---
Report recommends centralized gun background check system
A new report recommends Washington create a centralized system for gun-purchase background checks. The state Office of Financial Management report says such a system would increase public safety with more consistent training and oversight and reduce burden on local law enforcement performing more than 440,000 checks annually. Continue reading in The Bellingham Herald.
---
Print
Associated Press
Public Lands commissioner proposes fund to fight wildfires (Fitzgibbon, Van De Wege)
Judiciary panel to take reins on Trump impeachment inquiry
Small earthquake hits area near Mount Rainer National Park
Report recommends centralized gun background check system
Cooke Aquaculture to pay $2.75M over net-pen collapse
Increase in owl collisions with vehicles in Skagit County
Washington plans to spray for gypsy moths
Aberdeen Daily World
Rep. Walsh calls for special legislative session after judge blocks car tab measure
Bellingham Herald (subscription required)
Whose roads get plowed first when the snow falls in the Whatcom lowlands?
Homeless people are living in their cars. Bellingham hopes a neighborhood option will help
BTC students work with famous 'Salmon Cannon' that could help local salmon run
Here's the difference between traffic infractions and traffic crimes in Washington
Initiative 976 passage delays Bellingham's Orchard Drive extension
Bellingham adds 1,000 homes this year, but the city still sees housing shortage
The passage of I-976 will mean delays for two key Bellingham transportation projects
Evergreen sees signs of progress but a long way to go as it looks to stop shrinking
Columbian
In Our View: Woodland measure proves every vote counts
The Daily News
Longview council to meet with Southwest Washington lawmakers Tuesday (Blake, Takko)
Kelso council to welcome new officers, consider budget changes
LCC signs agreement with Japanese high school, creates pathway to exchange
Proposed zoning changes suggest Del Ray plans to redevelop into apartments
Everett Herald (subscription required)
In new budget, Everett police ready to move on body cameras
New berm will offer flood protection, views in Stanwood
You've been hacked! Data breaches in Washington on the rise
State delays funding for local projects in the wake of I-976
Health District to take over naloxone distribution in 2020
EdCC teachers picket for pay raises as negotiations stall
Kitsap Sun (subscription required)
WSDOT delays Bremerton, Poulsbo highway projects after I-976
North Kitsap School District settles suit over sexual assaults on special needs bus
Two Bremerton nursing homes file for Chapter 11 bankruptcy
Students, parents voice concern over changing Central Kitsap school start times
Opinion: What the Trump administration gets right on hospital transparency
News Tribune (subscription required)
Far-right Washington state lawmaker faces backlash against white nationalism
Puyallup, Shaw Road warehouse developer tangle over fees. Next stop: Superior Court
Taxes will play a larger role than usual in 2020 political season. Thanks, Eyman
Ambassador, Seattle hotelier Sondland accused by 3 women of sexual misconduct, report says
A free bus pass for all Tacoma high school students? That's tax money well spent
Pierce County Medical Examiner's Office is a hot mess. New boss, and a million dollars, better fix it
Huskies win seventh-straight Apple Cup against Cougars 31-13
New York Times
The Class of 2000 'Could Have Been Anything'
Trump Says U.S. Will Impose Metal Tariffs on Brazil and Argentina
Second Amendment Case May Fizzle Out at the Supreme Court
Trump's Trade Deal Steals a Page From Democrats' Playbook
Steve Bullock Drops Out of 2020 Presidential Race
Watch 4 Decades of Inequality Drive American Cities Apart
Sidelined for Months, Judiciary Panel Will Reclaim Impeachment Drive It Once Led
Olympian (subscription required)
The Olympian will use grant money to add a reporter to cover housing and homelessness
Here's why state Rep. Jeff Morris resigned suddenly
Evergreen sees signs of progress but a long way to go as it looks to stop shrinking
Peninsula Daily News
Marbled murrelet plan to have huge impact on junior taxing districts, Forks official says
LETTER: It's time to support levies and build the schools our students need
Seattle Times (subscription required)
Who profits from 'crimmigration'? Not America or its ideals | Naomi Ishisaka
The Seattle area just had its fourth-driest November on record. Here's what's in store for us next
Washington's new Cosmic Crisp apple officially launches sales
New insurance surcharge to fight wildfires to be proposed by Washington's lands commissioner (Fitzgibbon)
Calling Seattle families: You have until Dec. 15 to weigh in on this survey about your children's schools
Eagle Village is the first Seattle housing project to address needs of homeless Native adults
Seattle metro area is one of just three in America where marijuana use tops nicotine, data shows
The Seattle area just had its fourth-driest November on record. Here's what's in store for us next.
Seattleite, 92, finally tells story of German who saved more Jews during the Holocaust than Schindler
Washington needs centralized system for gun-buyer background checks, state report says
Three months into Seattle's new $600 million-plus education levy, where has the money been going?
A new type of crab pot could help reduce whale entanglements during Dungeness season
Amazon removes products showing images of Auschwitz after criticism
It's crunch time for Seattle-based photo giant Getty Images, and for photographers
Criticism mounts as 'peak' season for Amazon arrives
We Buy Houses' investors target seniors with below market offers
Seattle Weekly
King County approves roads, bridges funding
What's been happening with safe injection sites?
How will the U.S. respond to climate refugees?
Skagit Valley Herald
Rep. Morris to step down from Legislature
Spokesman Review
Washington public lands commissioner pitching new home, auto insurance charge to pay for wildfire efforts (Ormsby)
Facing looming budget crisis, WDFW asks for $26 million from state
Six feet above ground: Washington begins rulemaking for human compost law
Deb Abrahamson blames mining pollution for her cancer, keeps fighting toxic legacy on Spokane reservation
Spokane landlords would need 'specific cause' to evict renters under City County proposal
Opinion: Governor Inslee should revoke support for smelter project
Tri-City Herald
Fixing dangerous and crowded Tri-Cities roads halted as state fights car tab cut
Special license plate could help police officers' mental health. Signatures are needed
Editorial: Survey on Snake River dams is online. Help protect the region's economy and fill it out
USA Today
Whale found dead with a 220-pound 'huge ball' of garbage in its stomach
'I decided to take my power back': Ex-FBI lawyer Lisa Page speaks out on Trump's 'sickening' attacks
White House will not participate in new House impeachment hearings targeting Trump
Facebook's Mark Zuckerberg says the social network should not be 'censoring politicians'
Supreme Court focuses on repeal of New York City gun restrictions that could moot Second Amendment case
Washington Post
Emails show lobbyists helped craft lawmakers' op-eds attacking Medicare-for-all
Trump's counsel says president won't take part in impeachment hearing Wednesday
Valerie Plame, America's most famous ex-spy, finds her new identity
Yakima Herald Republic
Toppenish vigil urges public to remember missing and murdered Native people
Group recommends state add more funds for school counselors, nurses
Broadcast
KING5 TV (NBC)
Washington state report recommends centralized gun background check system
Boeing is building a taxi to the International Space Station
Tacoma delays tent ban
KIRO7 TV
Tacoma ban on park tents delayed to mid-December
New apple variety Cosmic Crisp hits the shelves
Federal Way creating policy to allow gay pride flag at City Hall
Richard Sherman's foundation donates to Tacoma school district to reduce lunch debt
'60 Minutes' reports on homelessness in Seattle
State pausing some transportation projects because of $30 car tab measure
KOMO4 TV (ABC)
Class action suit to be filed against Seattle Children's Hospital in wake of mold outbreak
Lawmakers from Oregon, Washington working on the future of the I-5 Bridge (Wylie)
KNKX FM
Residents fight displacement from Tacoma RV park, a 'last resort' before homelessness
KUOW FM
1st Supreme Court Gun-Rights Battle In 10 Years May Transform Legal Landscape
Another Settlement Reached Over Columbia And Snake River Dams Leaking Oil
As Climate Warnings Grow Dire, Energy Companies Face A 'New Frontier Of Threats'
White House Says President Trump Won't Participate In Wednesday Impeachment Hearing
Opinion: Emergency Rooms Shouldn't Be Parking Lots For Patients
'We Wanted Our Patrons Back' — Public Libraries Scrap Late Fines To Alleviate Inequity
Trump Announces Resumption Of Talks With Taliban During Surprise Visit To Afghanistan
Trump Angers China By Signing Law Backing Hong Kong Protesters
New Report: U.S. Lacked Technology To Account For Separated Families
Navy Lets Accused SEALs Stay In Elite Unit; Fired Navy Secretary Slams Trump
William Ruckelshaus, Who Defied Nixon In 'Saturday Night Massacre,' Dies At 87
Trump Floating Terrorist Label For Mexican Cartels Brings Fears Of Drone Strikes
Tribe looks to bring back oyster farming to Dungeness Spit
NW Public Radio
White House Says President Trump Won't Participate In Wednesday Impeachment Hearing
Northwest Dam Managers To Increase Columbia River Flows To Help Chum Salmon
Shockingly Chewable: Farmers Are Using Food Waste To Make Electricity
Remembering The Real History About The 1st Thanksgiving — So Educators Can Teach It
Q13 TV (Fox)
Washington-bred Cosmic Crisp apples hit store shelves
Web
Crosscut
GEO Group's Catholic shareholders want to change Tacoma's private prison from within
Will the last person to leave Northgate Mall turn out the lights?
In Seattle's WTO protests, the seeds of today's anti-globalist nationalism
Seattle P.I.
Seattle QFC debuts first apple ever bred in Washington, despite the state being the highest grower
Judiciary panel to take reins on Trump impeachment inquiry
Small 3.6 earthquake hits area near Mount Rainier National Park
'Why are we afraid of our children?': Connelly's account up close at the WTO riots
Slog
Washington's Legal Weed Appears to Be Making Idaho's Roads Safer
---