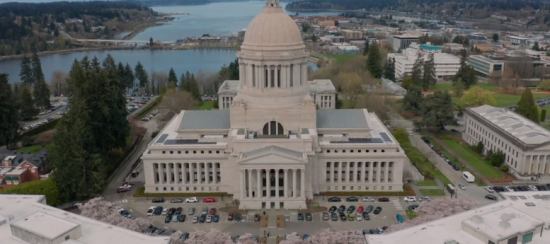 4 things on the Legislature's agenda that could affect your life or your community
The state Legislature's 60-day session begins Monday. Here are four things to look for that could affect your life, based on Thursday's Associated Press Legislative Preview. Continue reading in The Bellingham Herald.
---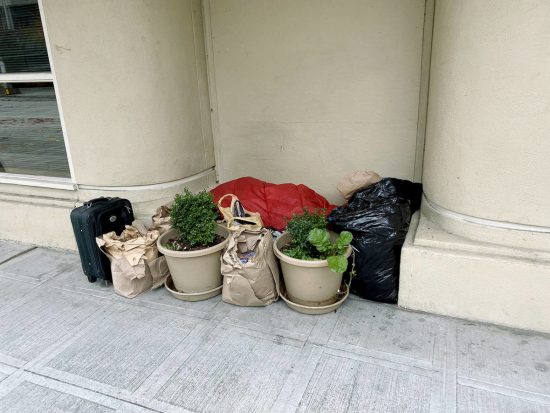 Lawmakers: Inslee's homelessness plan unlikely to pass
Top lawmakers said Thursday that Gov. Jay Inslee's plan to use hundreds of millions of dollars from the state's emergency budget reserve to combat Washington's homelessness crisis was unlikely to pass the Legislature. Last month Inslee said he wants to spend more than $300 million from the state's rainy day fund to add 2,100 shelter beds and provide other help to people without shelter. Continue reading in The Everett Herald. (Sue Misao / Herald file)
---
Washington lawmakers vow to let Supreme Court public-records ruling stand this legislative session
Washington's legislative leaders said Thursday that when they meet for the 2020 legislative session, they won't curtail the state Supreme Court's ruling that lawmakers must disclose documents under the Public Records Act. The statements come after the court last month ruled on a lawsuit brought in 2017 by 10 news organizations — including The Seattle Times and The Associated Press — that challenged the Legislature's self-claimed exemption. That exemption has allowed state lawmakers to withhold documents such as emails, text messages, calendars and investigative reports — even as local and state government routinely release such records. Continue reading in The Seattle Times.
---
Print
Associated Press
Lawmakers: Inslee's homelessness plan unlikely to pass  (Billig, Jinkins, Macri)
List of firearms bills to be proposed at Legislature (Kuderer, Valdez)
US blames Iran for Ukrainian jetliner downing, pledges probe
US dismisses Iraq request to work on a troop withdrawal plan
Boeing papers show employees slid 737 Max problems past FAA
DHS reviewing reports of Iranian-Americans delayed at border
$1.3M air pollution fine issued to Gorge aluminum recycler
Aberdeen Daily World
Poll shows homelessness is the issue Washingtonians most want the Legislature to tackle
City warns that high tides, heavy rain could mean flooding in Aberdeen on Friday
Arlington Times
Marysville sets legislative goals for 2020
Auburn Reporter
New King County Council members sworn in
Bainbridge Island Review
WNPA Olympia News Bureau opens for 2020 Legislative Session
Bellingham Herald (subscription required)
4 things on the Legislature's agenda that could affect your life or your community (Billig, Jinkins)
Forecasters are now saying Whatcom County will see 3 to 5 inches of snow
Hoping to get your Whatcom driveway or neighborhood cleared of snow? It can be tough
Taste of winter delights many Whatcom residents. But will it with sub-zero wind chills?
Here's why three Republicans defied the president and voted to limit his power on Iran
Offshore drilling made easier with Trump's rollback of environmental standards
Capital Press
FDA to shift more livestock antibiotics to prescription-only
Washington lawmaker proposes allowing CBD in food
Aide: Ranchers' wolf woes concern Inslee
Stripe rust expert predicts 'severe epidemic' of disease
The Daily News
Herrera Beutler opposes House vote to curb Trump military action in Iran
Edmonds Beacon
It's the law: What's new in 2020
Op-ed by Rep. Strom Peterson: The 2020 Legislative Session (Ortiz-Self, Liias)
Everett Herald (subscription required)
Mukilteo mayor: It's getting harder to call this place home
Church settles Snohomish priest's sex abuse case for $1.7M
Bloomberg: Commentary: Risks of nuclear proliferation — and war — growing
Editorial: They represent you; tell them what you want
Journal of the San Juan Islands
Environmentalists stop Anacortes xylene proposal
Kitsap Sun (subscription required)
USS Carl Vinson aircraft carrier to change homeports from Bremerton in August
Central Kitsap won't change school start times
Mike Leach leaving Washington State for Mississippi State 
Moscow-Pullman Daily News
Opinion: News Flash: GOP leaders throw the bum out
News Tribune (subscription required)
Editorial: Will 2020 bring a truce in Washington's anti-vax wars? One can hope. But don't bet on it 
New York Times
The Minimum Wage Is Rising, but These Workers Are Being Left Behind
'Chaos Is the Point': Russian Hackers and Trolls Grow Stealthier in 2020
U.S. Added 145,000 Jobs in December; Unemployment at 3.5%
Olympian (subscription required)
Thurston issues 'Hazardous Weather' advisory to expand shelter capacity 
Peninsula Daily News
Marbled murrelet plans spark lawsuits
Save Our Sequim members speak to legislators about MAT concerns (Van De Wege, Tharinger, Chapman)
Puget Sound Business Journal
US mall retailers hit by declining holiday sales
Boeing employees mocked FAA and flouted safety in internal messages
End of cannabis prohibition would open 'a whole new world'
Opinion: Twenty years after Y2K, preparing for the next major disaster takes a backseat
Gov. Jay Inslee: Boeing risks state tax incentives if new NMA jet built elsewhere
Insurance producer hit with record fine by state commissioner
Seattle Times (subscription required)
'Please leave the chair.' Inslee makes Eyman a punchline after anti-tax activist interrupts Q&A.
Boeing internal documents reveal culture of deceit to keep down costs of 737 MAX
Washington lawmakers vow to let Supreme Court public-records ruling stand this legislative session (Billig)
Inslee's budget priorities don't include K-12 education. Can anyone change that? (Billig)
Homelessness is up in U.S., but down in Washington state for first time in 9 years, feds say
Support grows to add a N.E. 130th Street light-rail station in North Seattle quicker than planned
New trial ordered in Woodland Park killing; court says prospective Black juror wrongly dismissed
Police officer sues Seattle, claiming toxic chemicals from homeless-camp cleanup sickened him
Australia braces to relive its 'hotter than hell' wildfire nightmare via Bloomberg
Op-Ed: Temporary assistance for needy families can be a lifeline
Editorial: Halt Seattle's misguided election proposals
Skagit Valley Herald
I-976 puts Sedro-Woolley road funding in jeopardy
Larsen schedules Community Coffee
Snoqualmie Valley Record
New King County Council members sworn in
Landslide at Middle Fork Road presents ongoing danger
South Seattle Emerald
Opinion: Defiance of Sanctuary Law Puts Families and Communities at Risk (Saldaña Op Ed)
Spokesman Review
Calls for Shea resignation continue but House leaders don't have backup plan (Jinkins)
Report: 'Cultural change' needed in enforcement of marijuana laws in Washington state
Shawn Vestal: Racists using technological megaphone to share their small yet dangerous message
City, county prepare for days of plowing ahead of weekend snowstorm in Spokane
East Central Community center undergoing expansion, remodel; dental clinic planned
USA Today
Trump administration hits Iran with new economic sanctions 
Vancouver Business Journal
Watch for gray areas in new state leave law
Annual filers have a new April 15 due date
Vancouver mayor appointed to state Tax Structure Work Group
PeaceHealth SWMC is officially baby-friendly
Minuteman Press partners with WSU Vancouver business students for growth
Vashon-Maury Island Beachcomber
Inslee releases statement over border detainments 
Walla Walla Union Bulletin (subscription required)
Legislator forum draws crowd 
Washington Post
House votes to limit Trump's ability to attack Iran
Boeing documents show staffers discussing ways to manipulate regulators on 737 Max
Editorial: Ben Carson's disturbing retreat on fair housing
Justice Dept. winds down Clinton-related probe sought by Trump after finding nothing of consequence
More than 1 billion animals may have been caught in Australia's fires. Some may go extinct.
Army general declines to reinstate Special Forces tab to officer pardoned by Trump
Video from Jeffrey Epstein's first apparent suicide attempt lost due to 'technical errors,' prosecutors say
CES shows us a future with flying cars — but can't avoid the reality of climate change, pollution and war
Wenatchee World
Homeless emergency grabs the attention of lawmakers (Kuderer) 
Yakima Herald Republic
Sudden shutdown: Secret court motion offers no clues about Astria Regional closure
Wapato pays $7,500 to settle public records claim
Ecology seeking comment on proposal to clean up old Yakima landfill
Astria Regional closure has ripple effects on region's health care providers
Broadcast
KING5 TV (NBC)
Lawmakers: Inslee's homelessness plan unlikely to pass (Jinkins)
'Move along, Tim': Gov. Inslee snubs anti-tax crusader
Looming strike could disrupt garbage collection in parts of King County
Women's salaries in Washington show signs of stalling compared to men
KIRO7 TV (CBS)
Representatives wary of Trump on Iran
WATCH: Inslee to Eyman: Take a seat, just 'don't steal it'
Iran denies missile hit Ukrainian plane, requests data from US, Canada to support claim
Legislature to face challenges with transportation and homelessness
KOMO4 TV (ABC)
Inslee wants to use state's $319M 'rainy day' fund to house homeless (Kuderer)
Drugs, mental health present unique challenges in south King County
'It's concerning:' State Patrol sees wave of incidents involving drivers armed with guns
Commission looks for new commercial airport location in Western Washington
KNKX FM
'Problematic snow' is in the forecast. So are fines if you don't clear the sidewalks 
KUOW FM
U.S. Job Growth Cools In December As Employers Add 145,000 Jobs
Appeals Court Allows Trump To Divert $3.6 Billion In Military Funds For Border Wall
Inslee to Boeing: the next plane gets built in Washington or you lose
We won't build it: Seattle tech workers struggle with their ties to immigration enforcement
Is There Hope For The American Dream? What Americans Think About Income Inequality
GOP Senator Calls White House 'Cavalier' About The Constitution, Backs Curbs on Trump
'We Will Surely Find Out The Truth': Questions Linger About Jet Crash In Iran
NW Public Radio
Boeing Employees Mocked FAA In Internal Messages Before 737 Max Disasters
Disabled Woman Received Vinegar Instead Of Colonoscopy Prep. Secrecy Shrouds Her Death
Q13 TV (Fox)
Boeing releases flood of troubling internal documents related to 737 Max
Increasing the minimum wage by $1 could reduce US suicide rates, study finds
Web 
Crosscut
Report: Washington should have built 225,600 more homes over past 15 years (Kuderer, Macri)
Across the entire state, WA voters rank homelessness as the No. 1 issue lawmakers must address
Law 360
Washington Bill Seeks To Impose Excise Tax On Ammunition (Dhingra)
MyNorthwest.com
WA Policy Center's Mariya Frost: Mileage tax could include variable pricing
Boeing papers show employees slid 737 Max problems past FAA
 Seattle P.I.
Rep. Matt Shea should quit Legislature or be expelled, House Speaker-designate says
House delivers a message: Don't 'stumble into' another Middle East war
Slog
Hundreds of UW Medical Residents Plan to Call in Sick This Friday
Slog PM: What Democrats Aren't Doing in Olympia This Year; Parasite Might Come to HBO as a Limited Series; What's Up, Nancy? (Jinkins, Billig)
Why Are People Worried About Alex Pedersen as Transportation Chair?
---