Governor: Stay at home — and that's now an order
Gov. Jay Inslee on Monday ordered Washington residents to stay at home for the next two weeks in an unprecedented attempt to blunt the spread of COVID-19. The proclamation signed by Inslee aims to aggressively curb movement and interaction of residents by shutting down businesses deemed non-essential and banning public and private gatherings of people. That ban includes "some of the most important gatherings" like weddings, funerals and celebrations of life, the governor said — but also encompasses parties on the beach, pickup basketball at the park or sleepovers. Continue reading at The Everett Herald. (TVW)
---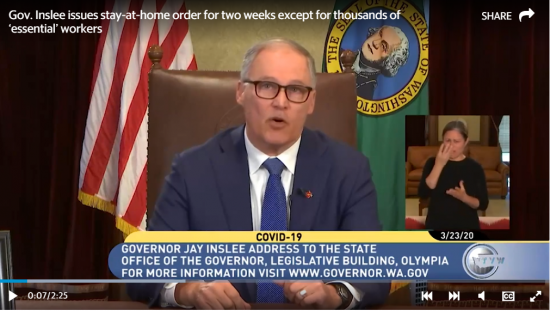 Here are the jobs and businesses Washington state considers essential
Gov. Jay Inslee on Monday evening ordered most of Washington's 7.5 million residents to stay home for at least two weeks as the state tries to slow the growing spread of the novel coronavirus. Inslee announced that non-essential businesses shut down. But which businesses are considered essential? Continue reading at The Olympian. (TVW)
---
Smartphone data reveal which Americans are social distancing (and not)
If you have a smartphone, you're probably contributing to a massive coronavirus surveillance system. And it's revealing where Americans have — and haven't — been practicing social distancing. Continue reading at The Washington Post. (Unacast)
---
Print
Associated Press
Tensions rise as $2 trillion virus aid stalls
On hold: Tokyo Olympics postponed to 2021
Stocks surge 7% on building hopes for US virus stimulus 
Can blood from coronavirus survivors treat the newly ill? 
Teams, toddlers and cabinets: The joys of working from home
Washington Gov. Jay Inslee issues two-week stay-at-home order
Washington governor issues two-week stay-at-home order
Washington state community remembers victims of landslide
Stocks surge 7% on building hopes for US virus stimulus
Asian stocks gain after U.S. Fed promises economic support
Tokyo Olympics postponed, U.S. closes in on relief package
The Latest: NY Gov. Cuomo: Infection rate accelerating
Washington rights groups: coronavirus treatment plan discriminates
Complaint: Triage plan discriminates against disabled people
Police: 6 of 12 Yakima County jail escapees remain on loose
Trump agencies steadily push rollbacks as pandemic rages
Volunteers sew masks for health workers facing shortages
Feds release results of inspection at virus-hit nursing home
Boeing to suspend production in Seattle because of virus
Native Americans put digital spin on traditions amid virus
Monday: Big layoffs, bigger hirings, massive markets swings
Washington Gov. Jay Inslee issues two-week stay-at-home order to fight coronavirus spread
Washington appeals court rejects texts in police conviction
Rights groups: coronavirus treatment plan discriminates
Aberdeen Daily World
Community Hospital seeks protective gear donations
Tips on what to do if you are sick or think you have been exposed to coronavirus
Outdoor crowds test limits of social distancing as leaders weigh 'very strong' emergency powers to fight coronavirus
Commentary: We need food, medicine and safety — not tax cuts and corporate bailouts — to face coronavirus
Bainbridge Island Review
Kitsap Transit makes emergency move to stop collecting passenger fares
Gov. Inslee orders all residents to stay at home
20 cases of coronavirus now confirmed in Kitsap County
Bellingham Herald (subscription required)
Bellingham Council told Whatcom has a week's reserve of personal protective equipment week's reserve of personal protective equipment
32 new coronavirus cases at Shuksan nursing home bumps Whatcom to fourth-highest in state
Coronavirus costs Whatcom County its signature event in 2020
Lummi announces 2 more positive tests for coronavirus, as Whatcom's total rises to 50
Inslee issues stay-at-home order for two weeks except for thousands of 'essential' workers
Here are the jobs and businesses Washington state considers essential
Whatcom law enforcement educating groups they encounter during coronavirus pandemic
Coronavirus update of Bellingham emergency powers stirs fear of martial law online
With a shortage of hand sanitizer, two Whatcom distilleries are making their own
Coronavirus update: Child Study and Treatment Center staff member tests positive
Washington state prisons ripe for COVID-19. Some inmates should get out early, lawsuit says
32 new coronavirus cases at Shuksan nursing home bumps Whatcom to fourth-highest in state
State is preparing for long-term school closures, including 'the rest of the school year'
Video of Milky Way over Outer Banks called a sign of 'hope' amid coronavirus outbreak
NY Gov. Andrew Cuomo warns coronavirus is 'spiking' with 25,000 cases – infections doubling every 3 days as deaths spiral
Philadelphia clears homeless encampment despite CDC guidance not to during coronavirus spread
Why a coronavirus vaccine may take 18 months to reach the public
 
Bothell Reporter
Bothell spirits maker now producing hand sanitizer
Capital Press
Ag exempt from Inslee's 'stay home' order
Pacific Northwest hop stocks rise
The Daily News
Senior shoppers jam Winco early Tuesday morning
County officials aim to lower jail population amid COVID-19 concerns
Cowlitz County sheriff warns of Social Security scam
Everett Herald (subscription required)
Governor: Stay at home — and that's now an order
Watch Gov. Jay Inslee's statewide TV address on Monday here
Temporary site allows 250 more coronavirus tests per day
Snohomish County restaurants struggle to adapt to shutdown
Boeing plants here to close; infected Everett worker dies
Bloomberg: Commentary: Trump's mistrust of experts has diluted response
Editorial: Stay home as much as possible. Please.
Federal Way Mirror
South King Fire board appoints new commissioner
King County jails reducing inmates, prioritizing space for violent offenders to curb COVID-19
Issaquah Reporter
King County COVID-19 death total hits 87
Cities and chambers of commerce provide vital information during the COVID-19 pandemic
King County jails reducing inmates, prioritizing space for violent offenders to curb COVID-19
Grocery stores across King County implementing "senior hours"
Open houses close due to coronavirus concerns
Boeing plants in Puget Sound area to close; infected Everett worker dies
Journal of the San Juan Islands
San Juan County closes overnight lodging
Kitsap Sun (subscription required)
USS Carl Vinson sailor tests positive for novel coronavirus
Kitsap Mall announces closure, latest case count in Kitsap County is 20
As Americans avoid contact, two women charged with spitting on others
What we know: The 2020 Olympics have officially been postponed. What happens next?
How are public agencies in Kitsap holding public meetings during a pandemic?
New York Times
The Fed's message: To counter coronavirus impact, the money-printing presses are fired up and ready to go
Trump Has Given Unusual Leeway to Fauci, but Aides Say He's Losing His Patience
Spit on, yelled at, attacked: Chinese Americans fear for their safety
Virus Brings States to a Standstill: Sessions Halt, Budgets Crater, Plans Wait
Is Marijuana an 'Essential' Like Milk or Bread? Some States Say Yes
Olympian (subscription required)
Here are the jobs and businesses Washington state considers essential
Watch Gov. Inslee's speech about further mitigating the coronavirus outbreak
Coronavirus updates: Disaster aid available to all Washington state small businesses
Thurston County's 11th confirmed case of COVID-19 is a woman in her 20s
SPAM is flying off the shelves at Costcos across America during coronavirus outbreak
Inside the Tumwater clinic that saw Thurston's first positive COVID-19 test
Washington state prisons ripe for COVID-19. Some inmates should get out early, lawsuit says
Peninsula Daily News
Washington residents ordered to stay at home
Virus prompts cancellations on Peninsula
NOLS offers expanded access to online resources
Feds release results of inspection at virus-hit nursing home
Puget Sound Business Journal
The coronavirus revives Facebook as a news powerhouse
Doctors, bud tenders among now 'essential' jobs in Washington state
Bankers pledge mortgage help, but want billions
Coronavirus lay-offs split corporate America
Trump considers reopening economy, over health experts' objections
Inslee issues two-week stay home order
The Reflector
Bill signing: Local legislators have laws approved (Cleveland)
Renton Reporter
King County COVID-19 death total hits 87
King County jails reducing inmates, prioritizing space for violent offenders to curb COVID-19
King County reduces district court operations
Seattle Times (subscription required)
Here's what Gov. Inslee's new 'stay-at-home' order does and doesn't restrict
As social distancing measures hit the Seattle area's parks and outdoor spaces, here's what's open and what's closed
Which food-related industries can stay open under Gov. Jay Inslee's 'stay-at-home' order?
Experts say Inslee's stay-at-home order will add to Seattle economy's coronavirus-induced pain
New drive-thru coronavirus testing site launches in Everett
As a coronavirus pandemic sweeps the world, American Indian communities turn to one another, teachings
How to grocery shop smartly for the coronavirus pandemic
Alaska Airlines is cutting 200 flights a day, parking 30 jets, as coronavirus reduces air travel
Federal regulators find Kirkland nursing home failed to quickly respond to coronavirus outbreak
Washington education officials: school must continue, even during coronavirus closures
Coronavirus concerns turning Washington's tourist destinations into ghost towns
Boeing to halt work at Puget Sound factories amid coronavirus pandemic
Zillow home-flipping service will stop buying new homes over coronavirus uncertainty
From whiskey, gin and vodka to … hand sanitizer? Seattle-area distilleries pivot to fight coronavirus.
Editorial: Government transparency is critical during coronavirus pandemic
Op-Ed: Coronavirus: Now more than ever, we need to channel our historic 'Seattle Spirit'
Seattle Weekly
King County calls on faith leaders for message of unity
King County reduces district court operations
King County Metro reduces services as a result of coronavirus
Playgrounds, sports courts closed in King County to encourage social distancing
CDC: Life Care staff worked in multiple facilities and while symptomatic for COVID-19
Skagit Valley Herald
Using Skagit Valley grains, local mills step up to feed community
Social distancing doesn't stop at the trailhead
New water source available to property owners in Skagit, Snohomish counties
Getting outdoors still an option
First Skagit County COVID-19 death reported
Guemes ferry trips may be cut back
Snoqualmie Valley Record
Cities and chambers of commerce provide vital information during the COVID-19 pandemic
King County jails reducing inmates, prioritizing space for violent offenders to curb COVID-19
Spokesman Review
Inslee issues 'stay home' order for state
Safe house: Self-isolation can spell increased danger for DV victims
Washington legislative leaders in both parties back Inslee's 'stay home' order (Billig, Jinkins)
More than 400 masks donated to police department by Spokane Chinese community
More than 2,000 COVID-19 cases reported statewide, 3 Spokane County residents hospitalized
Long list of jobs deemed essential in 'stay home' order
City of Spokane halts all foreclosures, evictions
Opinion: Beth Pellicciotti: A time of counting for Eastern Washington
Opinion: Jessica Lucht: Sex education is education
Tri-City Herald
Employee at Richland elementary school tests positive for coronavirus, parents told
2 more Bonaventure seniors in Tri-Cities test positive for coronavirus. Others tested
4 new coronavirus cases reported in Tri-Cities area, bringing total to 16
'Unbelievable.' Tri-Citians call out 100s gathered in parking lots during coronavirus pandemic
USA Today
Congressional leaders say deal on massive coronavirus stimulus close, could be finalized within next few hours – live updates
Vancouver Business Journal
Strategies for businesses amid the coronavirus outbreak
Vashon-Maury Island Beachcomber
King County Metro Reduces Services As A Result of Coronavirus
Walla Walla Union Bulletin (subscription required)
Trump suspends federal student loan payments for 60 days
Washington Post
Japan, Olympic committee agree to hold Games by summer 2021
'Stay on the mainland': Tensions grow as affluent city dwellers retreat to second homes
White House agrees to allow oversight of loan program as Senate deal nears
India declares lockdown as WHO warns U.S. could be next virus epicenter
Opinion: What my family learned after a year of social distancing
Opinion: We need smart solutions to mitigate the coronavirus's impact. Here are eight.
Election officials in both parties call for emergency funding to expand voting by mail before November
U.S. news publishers band together to urge China not to expel their journalists
Real ID deadline extended amid coronavirus crisis
NRA to cut salaries, brace for layoffs as coronavirus disrupts fundraising, internal memo states
Power Up: What to know about the two massive coronavirus stimulus proposals
Japan's social distancing is shrinking as coronavirus fears ease. Too soon?
Dialysis patients are at high risk during covid-19 outbreak
Facebook sent home thousands of human moderators due to the coronavirus. Now the algorithms are in charge
Our iPhone weekly screen time reports are through the roof, and people are 'horrified'
Smartphone data reveal which Americans are social distancing (and not)
The Finance 202: Wall Street to Trump: Don't restart economy before stopping coronavirus spread
West Seattle Herald
West Seattle Covid Recovers is launched to coordinate local assistance efforts
KCSO Response to stay at home order
Yakima Herald Republic
One person dead from COVID-19 in Yakima County
14 escape Yakima County jail; six remain at large
Local officials on Yakima County stay-at-home order: 'This is new territory for us'
Trump's National Guard announcement pertained only to funding
Yakima Health District issues stay-at-home-order
Letter: Our Washington handling things a lot better than the other one
Broadcast
KING5 TV (NBC)
Real-time updates: 110 coronavirus deaths among 2,221 cases in Washington
Gov. Inslee issues stay-at-home order for Washington residents
These essential businesses can stay open during Washington's stay-at-home order
West Seattle Bridge closed until further notice due to cracks
'Stay-at-home' violators face $500 maximum fine in Edmonds
Boeing suspends production in Puget Sound region as pandemic continues
'All in Seattle' group raises $27 million for people and businesses impact by coronavirus
Seattle Flu Study adapted for coronavirus pandemic
KIRO7 TV (CBS)
Inslee announces mandatory statewide stay-at-home order
'Indefinite shutdown': Stress cracks endanger West Seattle Bridge
2020 Olympics to be delayed for 1 year
90-year-old Kirkland woman survives coronavirus, reunites with family
Boeing temporarily shutting down Puget Sound production operations due to coronavirus outbreak
Local manufacturing company steps up to help hospitals in need of supplies
Westport halts tourism by blocking beach roads, closing hotels
Everett opens appointment only drive-through testing site
Unlike Everett's directive, violating Edmonds' 'stay at home' order is a misdemeanor
Second patient has coronavirus at Western State Hospital
Domino's pizza to hire 1,000 people across greater Seattle area
FBI warns parents, teachers about increased risks of online child exploitation
KOMO4 TV (ABC)
Gov. Inslee issues statewide stay-home order to slow coronavirus spread
List of jobs, businesses considered essential during Washington's stay-at-home order
West Seattle Bridge closes indefinitely for repairs
Young coronavirus survivor shares battle with disease that almost killed him
Gov. Brown issues 'stay at home' order, closes many non-essential businesses 
KNKX FM
Bellingham nursing home takes steps to prevent another COVID-19 disaster, officials say
Coronavirus outbreak poses challenges for international students at Pacific Northwest colleges
Tacoma homeless shelter sees more coronavirus cases as staff works to halt spread
Canadian border closure affects commerce on macro and micro scale
Is it safe to buy and sell homes during a pandemic? Local real estate agents disagree.
Tight labor threatens produce supply chain as concerns about new coronavirus spread
KUOW FM
HERE'S WHAT WASHINGTON'S ORDER TO STAY HOME MEANS TO YOU AMID THE CORONAVIRUS CRISIS
Why so hard to be tested for coronavirus? Not enough swabs and confusing government guidelines
Live coverage: Coronavirus in Seattle and Washington state
Washington hospitals are hoping for the best, preparing for the worst
Dow Up 1,300 Points As Stimulus Deal Awaited
Coronavirus Forces 2020 Tokyo Olympics To Be Delayed Until 2021
Virus Puts Democracy On Hold For First-Time Voters
The Unlikely Story Behind Japanese Americans' Campaign For Reparations
The Debate Over Money For Everybody
Finding support and kindness in the Coronavirus neighborhood
Coronavirus hits close to home for this Seattle community
Coronavirus Task Force Doctor Did Not Meet Guidelines For Test, But Got One Anyway
'Stay at home' to fight coronavirus decreed in Washington state after sunny weekend
The Trump Administration Says Self Swabs Are Coming Soon. Is That A Good Idea?
Coronavirus impact and response ramps up: Monday edition
FACT CHECK: Trump Says 50,000 Could Die From Flu. So Far, It's Half That
West Seattle Bridge to close after cracks discovered
People With Disabilities Say Rationing Care Policies Violate Civil Rights
Coronavirus: 2 Key Questions For The Head Of The National Guard
March 23rd | A virologist answers your questions about coronavirus
Boeing shuts down production in Seattle area
Supreme Court Allows States To Virtually Eliminate The Insanity Defense
Olympics Official Says He Would 'Mortgage The Farm' That Games Will Be Postponed
Education Dept. Says Disability Laws Shouldn't Get In The Way Of Online Learning
Bipartisan Coronavirus Financial Rescue Deal Eludes Congress
White House Not Using Defense Powers To Boost Medical Supplies
Cuomo Orders All Hospitals To Add Beds As New York Confirms 20,000 Coronavirus Cases
Nail Salons, Body Shops: These Kinds Of Companies Could Donate Masks And Save Lives
READ: House Democrats Release 3rd Coronavirus Response Bill
NW Public Radio
Washington Gov. Jay Inslee Announces Statewide 'Stay-At-Home' Order To Address Coronavirus
Q13 TV (Fox)
Washington governor issues 2-week 'stay-at-home' order amid coronavirus outbreak
Washington hospitals in dire need of protective equipment: 'This is a war'
Boeing to suspend production in Puget Sound area amid coronavirus outbreak
Feds release results of inspection at virus-hit Kirkland nursing home
Boy, 7, uses $600 of savings to make coronavirus care packages for seniors, feed 90 students
Furniture maker is mass-producing face masks and shields in Mukilteo
Edmonds, Everett issue stay-at-home order as precautionary measure for COVID-19
Web
Civic Skunkworks
The Seattle Stimulus
Crosscut
Rural tribes finally have a shot at faster internet
Opinion: Coronavirus is not our first apocalypse
Here's what Washington's new 'stay-at-home' order means for you
Seattleites ignore social distancing as coronavirus spreads
My Ballard
Gov. Inslee orders 'stay at home' for minimum of two weeks
Seattle P.I.
Amazon Care to deliver and pickup at-home test kits for coronavirus in Seattle
Inslee issues 'stay home' order due to Wash. state coronavirus outbreak; what does that mean?
Coronavirus updates: King County reaches 1,170, Inslee issues stay-at-home order, Boeing shuts down
Boeing to shut down all Puget Sound factories for 2 weeks following worker's COVID-19 death
US deal may be at hand to ease economic pain of coronavirus
Slog
More Calls to Open Seattle's Empty Streets to People, Not Cars
Breaking Coronavirus Updates: WHO Warns Coronavirus Pandemic Is Accelerating, Trump Suggests People Stop Being Racist
Governor Inslee Issues "Stay at Home" Order for Washington State
The Stock Market Will Not Roar Back to Life When the Crisis Is Over
Cracks Force Shutdown of the West Seattle High-Rise Bridge, Effective Tonight
Did You Get Denied Unemployment? It Could Have Been a Glitch
To Promote Social Distancing, Some Cities Are Giving Roadways Over to Cyclists. Should Seattle?
---