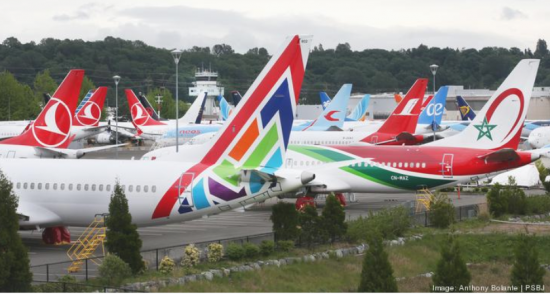 Boeing job cuts expected to hit the Puget Sound region this week
Boeing's major job cuts will be felt in the Puget Sound region later his week when the company hands out pink slips to thousands of engineers and machinists after completing earlier rounds of voluntary layoffs. Commercial aircraft workers with the Chicago-based jet maker will be informed Friday if they are laid off. The move is part of the 16,100 worldwide workforce reductions that CEO David Calhoun announced after first-quarter results on April 29. Continue reading at Puget Sound Business Journal. (Anthony Bolante)
---
Swift firings for Minneapolis officers in death of black man
To the general public, the video of a white police officer pressing his knee into the neck of a black man prone on the street, crying out for help until he finally stopped moving, was horrifying. Four officers were fired a day after George Floyd's death, a stunning and swift move by the Minneapolis chief with the mayor's full backing. Continue reading at The Seattle Times. (Richard Tsong-Taatarii)
---
How do you fight the epidemic of racism within a pandemic?
How Asian-Americans are responding to bigotry pushed into the light by COVID-19. This week's chat with county executive Dow Constantine. A chat with a disability rights activist, and a Voice of the Pandemic. Continue reading at KUOW. (Martin Sanchez)
---
Print
Associated Press
Study: King County needs to do more with testing, tracing
Virus outbreak targeted in agricultural Washington county
69 fruit plant employees, 15 close contacts test positive
State to try nonlethal measures after wolves attack cattle
Task force on missing Native Americans resumes sessions
Judge won't dismiss order tossing out virus restrictions
Wall Street turns mixed as leaderboard flips upside down
What you need to know today about the virus outbreak
NASA astronauts 'itching to fly' as SpaceX counts down to today's historic launch
Trump threatens social media after Twitter fact-checks him
Swift firings for Minneapolis officers in death of Black man
State to try nonlethal measures after wolves attack cattle
Trump threatens to shut social media companies after Twitter fact check
Virus outbreak targeted in agricultural Washington county
More employees of fruit processing plant test positive
Huge Washington unemployment fraud warning to other states
Dozen inmates positive for coronavirus at prison in Connell
Mount Hood National Forest to reopen most trailheads Friday
New details released about Kitsap County Jail inmate death
Aberdeen Daily World
Westport charter boat operations to resume Thursday, with restrictions
Cuts, uncertainty cause a storm in Aberdeen schools
Pacific County approved for Phase 2 variance
Commentary: A fight over unemployment benefits is brewing as businesses reopen
Bellingham Herald (subscription required)
As Whatcom tries to reopen the economy, these businesses won't be returning
Here's what Whatcom Unified Command has spent on coronavirus pandemic response
Here's what's keeping Whatcom County from moving to Phase 2 of coronavirus' Safe Start
Healthcare workers make up majority of COVID-19 workers' comp claims in Whatcom, Skagit
Latest Whatcom jobless numbers show tourism taking the biggest hit in April
Whatcom's COVID-19 numbers rise Tuesday with another death reported and 12 new cases
Coronavirus updates: Businesses ignoring closure orders can be cited, fined; universities brace for budget hit
Whatcom prosecutor warns fentanyl is in the area after more fake pill drug arrests
Puddles the mussel detection dog is Washington's new defense against invasive species
Washington state reports 116 new COVID-19 cases and 8 deaths Tuesday
Cherry trees slammed by virus in Oregon, Washington this year. Is the harvest ruined?
Capital Press
Apple exports down due to COVID-19
Everett Herald (subscription required)
Worst jobless rate in the state: Snohomish County at 20.2%
Hundreds of masked guests line up as Tulalip casinos reopen
Texan comes to defend Snohomish outlaw barber cutting hair
WaPo Commentary: More action needed to bolster economy — and quickly
Letter: Constitution not a suicide pact, allowing us to ignore duties
Letter: We don't want a resurgence of COVID-19
Federal Way Mirror
FW Farmers Market carries on in 18th season
YMCA dishes up its summer meal program
 
Islands' Weekly
Green boating in the San Juan Islands
Issaquah Reporter
State loosens cougar hunting restrictions
Local musicians hold virtual benefit concert for mental health
Journal of the San Juan Islands
How to reduce your waste impact during COVID-19 times
SBA and Treasury Release Paycheck Protection Program loan forgiveness application
This week in San Juan County | A COVID update
Kitsap Sun (subscription required)
With health officer's planned approval, Kitsap County slated to apply for early reopening
Pope Resources, with roots stretching back to 1853, is no more following Rayonier acquisition
News Tribune (subscription required)
Pierce County adds just three new COVID-19 cases, one death
Coronavirus updates: Businesses ignoring closure orders can be cited, fined; universities brace for budget hit
Pac-12 to allow voluntary workouts starting June 15
New York Times
An 'Avalanche of Evictions' Could Be Bearing Down on America's Renters
Should the Child Care Industry Get a Bailout?
Big Pharmacy Chains Also Fed the Opioid Epidemic, Court Filing Says
E.U. and Japan Push Coronavirus Stimulus Packages: Live Coverage
House to Vote on Limiting F.B.I. Power to Collect Americans' Internet Data
Olympian (subscription required)
Sidewalk dining, street closures proposed for downtown Olympia
Woman shot while exchanging gunfire with state trooper on I-5 in Chehalis
Washington state reports 116 new COVID-19 cases and 8 deaths Tuesday
Coronavirus updates: Relief concert to feature Seattle stars; Dislocated Worker Grants awarded
Thurston County submits application to move to Phase 2 of re-opening
Capital Lakefair postponed because of COVID-19; no food row or parade this year, organizer says
Thurston County unemployment soars to 14.9 percent in April
Peninsula Daily News
Sen. Murray calls for more testing, small business help
Potatoes, onions distributed for free in Port Angeles, Forks
7 Cedars Casino to reopen June 1
Clallam officials to talk modified Phase 2 request
Jefferson County expects face mask order
Mask Fairies give away more face coverings in Port Angeles
Port Angeles School Board to discuss remote learning plans
Record unemployment on North Olympic Peninsula
Puget Sound Business Journal
Covid-19 data from long-term care facilities is lacking. Here's how King County pieces it together.
Port of Seattle accelerates Sea-Tac Airport building expansion
Inslee adviser floats idea of boosting construction spending to juice economy
Boeing job cuts expected to hit the Puget Sound region this week
UW Medicine furloughs thousands of unionized staff due to Covid-19 shortfall
SBA officially weighs in on using PPP for bonuses. Here's what it says.
Renton Reporter
State loosens cougar hunting restrictions
Seattle Times (subscription required)
Crowds, fears in Skamania County: This is life in Phase 2 of coronavirus reopening
Boeing to cut nearly 10,000 jobs in Washington, more than 12,000 overall
Westneat: 'I'm hiding from the bank': How the bottom may be falling out of the coronavirus response
New analysis may rewrite the history of Washington state's coronavirus outbreak
Kirkland master of the electron microscope wins one of science's biggest prizes
Coronavirus will come roaring back in King County without contact tracing, other measures, report finds
Sea-Tac air traffic has a long way to climb to prior levels
Will you go back to the gym when coronavirus shutdown ends? Here's what you need to consider
Why you need to continue to social distance even as your community opens up
Lawsuit alleges chase that ended when Kent police killed a 20-year-old man violated department policy
Bellevue College close to choosing a new interim president, but still no clarity on mural defacement that led to former leader's resignation
Editorial: New UW consortium will lead to a broader, deeper study of ocean health
Op-Ed: Allowing homeless camping almost everywhere in Seattle is a bad idea
Skagit Valley Herald
Land purchased for homeless housing development
Sedro-Woolley School District trims teaching staff
Inslee declines to consider county's move into Phase 2
Comment period opens for salmon seasons
Two arrested for allegedly selling fentanyl
Spokesman Review
Nearly half of Spokane pasta factory employees have tested positive for COVID-19, many with no symptoms
12 inmates, 4 employees at Coyote Ridge prison test positive for COVID-19
State health department issues new safety measures for agricultural workers after strikes, CDC visit
Tri-City Herald
101 new Tri-Cities COVID cases over the holiday weekend. Strike team sent to Yakima Valley
Op-Ed: Americans fight over everything else — why not add religious services to the list?
USA Today
Use of survivor plasma is considered safe, but two new tests will see if it combats COVID-19
Walla Walla Union Bulletin (subscription required)
Editorial: Calling Legislature into session makes sense
Walla Walla County meets Phase 2 entry criteria
As restaurants brace for opening, city looks at building their capacity outdoors
Steep drop in children's vaccinations worries Washington health officials
Washington Post
A third of Americans now show signs of clinical anxiety or depression, Census Bureau finds
$825 billion rescue plan would expand power of E.U.
Millennials experiencing slower economic growth than any other generation in U.S. history
Coronavirus on the border: California hospitals overwhelmed by U.S. citizens and residents coming from Mexico
Trump lashes out at social media companies after Twitter labels his tweets with fact checks
Trump doubles down on conspiracy theory about woman's death, ignoring grieving widower's plea for peace
Op-Ed: I'm a public defender in Manhattan. The Central Park video is all too familiar.
Weather forecast for historic SpaceX launch of NASA astronauts worsens
The White House thumbs its nose at GOP critics of inspectors general purge
'Murder hornet' panic drives a surge in insecticide interest — and fears for bees
Whidbey News-Times
Jury trials will resume after pandemic delay
Island County employees targets of employment benefits fraud
Sand build-up leads to closure of Mutiny Bay boat ramp
Yakima Herald Republic
COVID-19 update: Strike team helps in Yakima County; 57 new cases and no new deaths
State to release new COVID-19 guidance for ag operations. Meanwhile, 3 Yakima Valley strikes continue
Yakima School District calls off school-specific drive-in commencement ceremonies
Editorial: Return of elective medical procedures is good for all
Letter: Masks are worn to keep wearers from spreading disease
Broadcast
KING5 TV (NBC)
Real-time updates: Boeing to distribute layoff notices later this week
Striking workers and a strike team: Yakima Valley's rise in coronavirus cases garners attention
Pierce County executive: 'Unrealistic' benchmarks will delay Phase 2 approval
All Washington counties 'will probably not' reopen on June 1, state says
King County's health officer expresses hesitation about moving to Phase 2
Snohomish County needs to see drastic decrease in COVID-19 cases to head to Phase 2
KIRO7 TV (CBS)
Researchers say testing, contact tracing and effective quarantines will be needed more than ever
Team of state, CDC specialists focuses on hard-hit Yakima County
Seattle COVID-19 vaccine volunteer given high dose, discusses side effects
Suspect arrested in Ballard bias incident, police say
Meat shortage creates challenge for restaurants
The Washington State Fair will go on as planned – or maybe not
KOMO4 TV (ABC)
Businesses ignoring pandemic closure orders could be fined $10,000
New COVID-19 model shows slim room for error in reopening King Co., but provides roadmap
'Mind-bogglingly frustrating': U.S. says red flags missed in bogus state jobless claims
COVID-19 transmission increasing in Eastern Wash., dropping in Western Wash., report says
Washington's largest casino re-opens Tuesday with new social distancing rules
KNKX FM
Tacoma leaders grapple with $40 million shortfall in city budget
Clogged sewer problems made worse by coronavirus pandemic
KUOW FM
'IT'S NO GET OUT OF JAIL FREE CARD.' INMATES STRUGGLE AS THEY REJOIN A SOCIETY DEEPLY CHANGED BY COVID-19
'It was bad.' Three hours on the Covid ICU in Seattle
Seattle Now: Covid, racism, and you
A Bold Pitch To Boost School Funding For The Nation's Most Vulnerable Students
'I can't foresee that happening': King County not expecting non-essential reopening by June 1
Updates on the coronavirus pandemic in Washington state
In The Battle Against COVID-19, A Risk Of 'Vaccine Nationalism'
Novel virus could spread rapidly among endangered orcas
May 26th | How do you fight the epidemic of racism within a pandemic?
On Eve Of Historic Remote Votes In The House, Republicans Sue To Block The Move
Justice Department Closes Investigations Of 3 Senators; Burr Inquiry Continues
Trump Team Killed Rule Designed To Protect Health Workers From Pandemic Like COVID-19
Getting on the ballot still requires human touch for Washington state initiatives
Q13 TV (Fox)
State considers contact-tracing app to combat COVID-19
Reports: Boeing workers in western Washington bracing for big job cuts
Several more casinos reopen in Western Washington
Study: King County needs to do more with testing, tracing before reopening
Parents urged to keep up with immunizations amid coronavirus pandemic
Business owner says Phase 2 does not make running his restaurant easier
Web
Crosscut
Reopening WA: Ask Gov. Inslee about our pandemic response
Opinion: Washington's uphill battle to get back to work
Slog
Councilmember Lewis Just Tried to Subpoena Another Government Entity
Opinion: Washington's Plan to Re-Open Tattoo Studios Is Flawed
---