'We Are All George Floyd': Global Anger Grows Over a Death in Minneapolis
In many parts of the world, the death of yet another black man at the hands of the police in the United States is setting off mass protests against police brutality and reviving concerns that America is abandoning its traditional role as a defender of human rights. Continue reading at The New York Times. (Sean Gallup)
---
Inslee announces stay-home order will be replaced with new, more flexible plan for reopening
Washington will enter a new phase in the state government's efforts to control the COVID-19 pandemic, replacing a stay-home order with a new program that will allow counties to have different amounts of business and recreational activity. "We plan to move Washington forward on a county-by-county basis," Gov. Jay Inslee said in announcing the change this afternoon. Continue reading at The Spokesman-Review. (Jim Camden)
---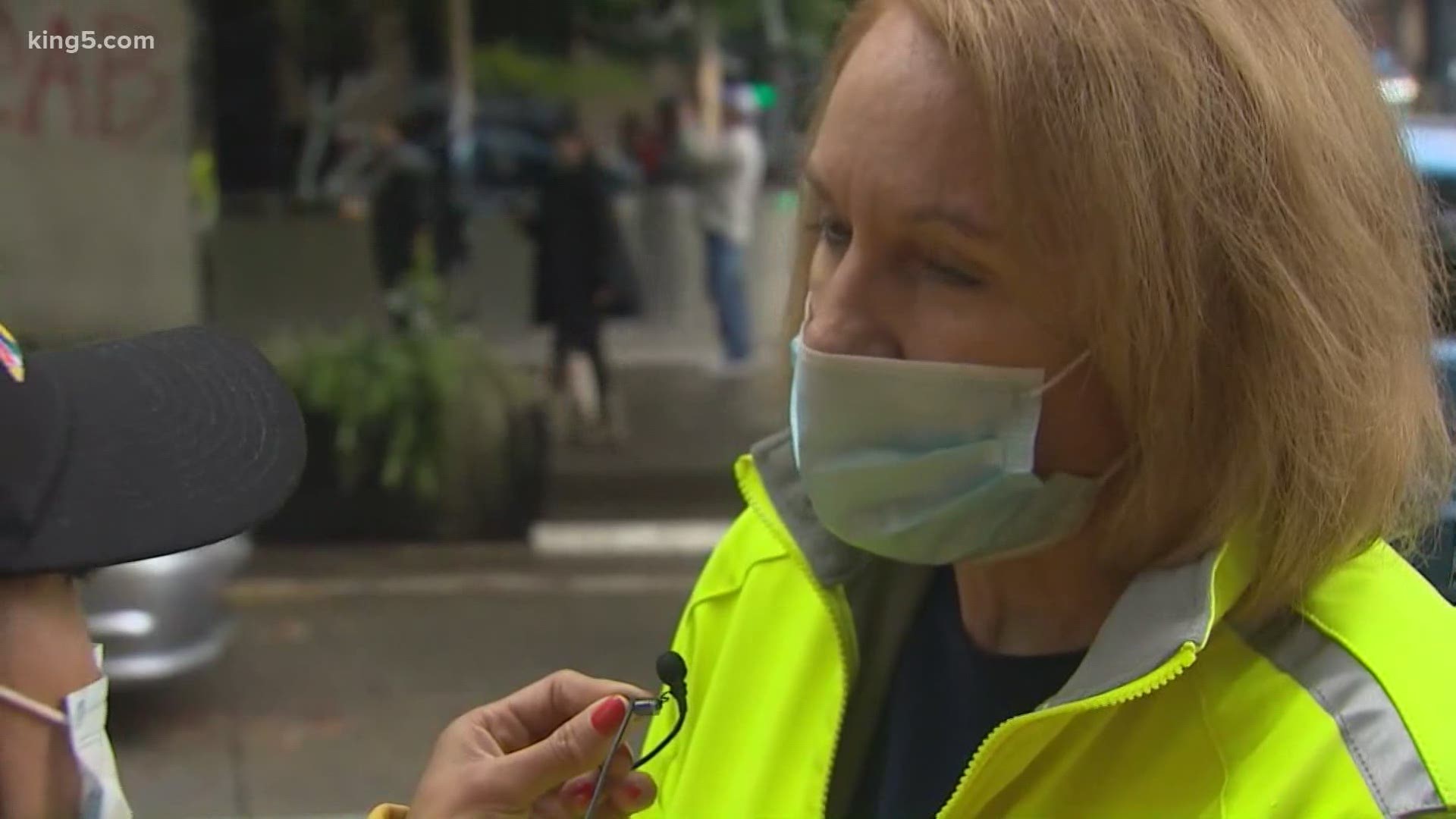 'Not the acts of allies:' Seattle officials discuss the emotional aftermath of violent protest
Seattle Mayor Jenny Durkan and fire and police chiefs say those who looted and caused fires were not from the group who were peacefully protesting. Thousands hit the downtown streets in a peaceful rally honoring George Floyd, a Black man killed in police custody in Minneapolis. Continue reading at King 5 News.
---
Print
Associated Press
COVID-19 outbreak hits fruit-packing company in Oregon's Hood River Valley
Convulsing in protest, US cities brace for more unrest
Semi driver arrested after rolling into Minneapolis protest
SpaceX's historic encore: Astronauts arrive at space station
Trump took shelter in White House bunker as protests raged
Inslee activates National Guard in the wake of protests in Seattle
Inslee sending more National Guard troops to Seattle as curfews continue
Bellevue College names former governor as interim president
Curfews, confrontations follow police brutality protests
Protests again close I-5; Bellevue hit by vandalism, looting
Rioting after protest leads to curfews for Seattle, Portland
King County seeks further easing of COVID-19 restrictions
Hood River COVID-19 outbreak linked to Duckwall Fruit
Floyd protesters set fires in Portland, police declare riot
Downtown storefront smashed in Seattle George Floyd protest
WA virus order expiring, counties get more flexibility
Large cruises banned in Canada at least until Oct. 31
Another Asian giant hornet found in northwestern Washington
Virus ignited in US no earlier than mid-January, study says
Aberdeen Daily World
'A promise to our citizens' from Hoquiam Police Chief Jeff Myers
State public lands managers to reopen campgrounds in 22 counties
Aberdeen approves $200,000 in small business grants
Friends Landing camp site to reopen no later than June 1
Commentary: George Floyd, killed in Minneapolis, is why Amy Cooper's Central Park call was so repugnant
Auburn Reporter
Inslee wants nursing home residents and staff tested by June 12
New guidelines for Phase 2 reopenings in King County
Campgrounds to reopen in 22 Washington counties
Bainbridge Island Review
Sound Publishing launches grant program for local businesses
Kitsap County releases 'playbook' for reopening, details four phases
Bellingham Herald (subscription required)
Do people at huge protests risk catching coronavirus? Here's what to know
Whatcom guide to gathering now that it's OK: From bring-your-own food to staying outside
Here's when Whatcom will apply for Phase 2 opening for businesses
Lessons from Wenatchee as Whatcom's Intalco curtailment approaches, costing 700 jobs
Inslee orders statewide Guard activation following unrest
Bellingham Phase 2 could mean more sidewalk sales, dining outside on closed streets
Washington State Patrol reports 21 troopers trained to draw blood to help reduce DUIs
Here's what Bellingham will do as renter protections are set to expire
Workers will be required to wear masks to protect others from COVID-19 starting June 8
Capital Press
Washington governor supersedes L&I's farm-safety rules
Columbian
In Our View: Outbreak at Firestone a learning opportunity
In Our View: Cheers & Jeers: Ups, downs in great outdoors
In Our View: School in fall still a bit of a multiple-choice test
Everett Herald (subscription required)
Edmonds mayor removes finance director with no cause given
Neighbors oppose Everett's possible sale of 92.5 wooded acres
County staff urges 'no' on Point Wells development proposal
Warning: Getting too COVID clean can be poisonous to health
New guidelines ease the path to Phase 2 for Snohomish County
People descend upon Snohomish reportedly over rumor Sunday
Please stop killing bumble bees: They're not 'murder hornets'
Seniors from Marysville schools mark accomplishment with parade
Ask Dr. Paul: Adjusting to the new normal with COVID-19
Alderwood mall is ready for the governor's green light
Snohomish County seeks to enter second phase of reopening
Commentary: When job is still hazardous, why end hazard pay?
Editorial: Work ahead even if county can move to Phase 2
Federal Way Mirror
New guidelines for Phase 2 reopenings in King County
 
Islands' Weekly
Statement from sheriff regarding protest
Community Conversations, week seven
Issaquah Reporter
How is COVID-19 affecting Issaquah?
Inslee wants nursing home residents and staff tested by June 12
New guidelines for Phase 2 reopenings in King County
Campgrounds to reopen in 22 Washington counties
New protocols set for Sea-Tac Airport
King County sheriff releases message about Minneapolis Police officer
Journal of the San Juan Islands
Phased reopenings continue county-by-county
Residential and commercial burning closed
Kitsap Sun (subscription required)
Kitsap joins nationwide 'call for justice' on police killings
Back to the bus? What public transportation will look like in the pandemic era
Rebuilding America: Will grocery shopping ever be the same after the pandemic?
Bremerton to reopen more parks, reinstate parking enforcement starting Monday
Rodeo Drive-In to re-open with restrictions on June 5
Will restaurants feel like hospital cafeterias in the future? Chefs struggle to bring dining out back
New firefighter training facility planned for West Hills area of Bremerton
The pandemic means a new normal. Here are the weird things you miss.
News Tribune (subscription required)
Coronavirus updates: Inslee issues Safe Start proclamation for re-opening
Pierce County reports 19 new COVID-19 cases
DK Metcalf, Duane Brown, leading Seahawks speak out in aftermath of George Floyd's death
Opinion: Could I be hashtag like #GeorgeFloyd? Black people live this reality, even in Tacoma
Hundreds march through downtown Tacoma to protest the killing of George Floyd
Puyallup to close temporary homeless encampment set up for COVID-19 response
Pierce County moves forward to apply for Phase 2 of the state's COVID-19 recovery plan
Tacoma's micro business owners will reopen to a frustrating world of masks and back rent
Sisterly love: Tacoma's ties to Chinese city help counter COVID-19 distrust
Editorial: Relaxing COVID-19 religious restrictions is good news. But keep staying home anyway
New York Times
Live Updates on George Floyd Protests: Trump Lashes Out at Governors Over Response
Facing Protests Over Use of Force, Police Respond With More Force
'We Are All George Floyd': Global Anger Grows Over a Death in Minneapolis
Coronavirus Live Updates: Infections Spike and Wane Unevenly Across the U.S.
Grateful for Aid, but Worried About What Comes Next
Olympian (subscription required)
Thurston County ends week with 23 COVID-19 cases after 6 more announced Sunday
Washington state reports 353 new COVID-19 cases, no deaths
Coronavirus updates: State reaches 21,349 cases; fraudulent unemployment claims recovered
Over 150 honor George Floyd at vigil in downtown Olympia, march to Capitol
Olympia area businesses scramble to adapt to Phase 2 reopening
Workers will be required to wear masks to protect others from COVID-19 starting June 8
Olympia area businesses scramble to adapt to Phase 2 reopening
Phase 1 counties can apply Monday to reopen more businesses under revised phasing plan
Now you can get rid of the good stuff you've cleaned out. Goodwill reopens this week
A national home goods retailer is closing 132 stores, including in Washington state
Peninsula Daily News
What the 'Safe Start' plan looks like
Olympic Peninsula protests peaceful
Peninsula prepares for Phase 2
Stay-home order expires tonight; counties get more flexibility
Unemployment fraud hits Peninsula residents
Clallam County approved to enter Phase 2 on Monday
New free WiFi site offered in Port Angeles
Puget Sound Business Journal
Fed-backed Main Street Lending program preparing to launch
Facebook employees revolt over Zuckerberg's stance on Trump
Corporate voices get behind 'Black Lives Matter' cause
Target temporarily closing or shortening hours at 200 stores
Protests spread to Bellevue as cleanup begins in downtown Seattle
US pension plans warned they will run out of money by 2028
Renton Reporter
New guidelines for Phase 2 reopenings in King County
Campgrounds to reopen in 22 Washington counties
South King County area police respond to Seattle protests
New protocols set for Sea-Tac Airport
As sales tax plummets in King County, mental health and drug program funding dries up
Seattle Times (subscription required)
Seattle demonstrations vent anguish at death of George Floyd and more, for a 'grieving nation'
Near Bellevue protests against police misconduct, looting prompts a curfew and request for National Guard
Seattle area protest updates: City reacts to George Floyd killing, Bellevue imposes curfew amid protests
Downtown businesses assess damage, weigh reopening after nights of riots, looting and chaos
Big downtown protests might complicate Seattle's coronavirus recovery
American Seafoods factory trawler returns to Seattle after 85 crew members test positive for COVID-19
Seattle-area cities facing cleanups and expiring curfews after weekend protests, looting
King County will apply to enter a modified Phase 1 of coronavirus recovery today. Here's what that means.
Lakewood officer who fatally shot driver in May was involved in 2013 shooting that led to record wrongful-death verdict
Ishisaka: George Floyd protests spotlight need for police reform, even in times of coronavirus
Seattle mayor, police face questions over response to George Floyd protests, downtown turmoil
Will orcas thrive in the coronavirus pandemic's quieter waters? Scientists aim to find out
Washington's DACA recipients on the coronavirus front line await Supreme Court ruling
Photos: Seattle-area residents pitch in to clean up damage after downtown unrest
Big developer backs out of $25M South Lake Union land deal, blaming coronavirus downturn
West Seattle Bridge is a surprise crisis, but plenty of other aging Seattle bridges are also vulnerable
Costly electric vehicles confront a harsh coronavirus reality
Bloomberg: Amazon-backed voice AI startup DefinedCrowd raises $50.5 million
Editorial: Floyd protest message must not be lost
Sen. Murray: COVID-19 testing plan puts White House leadership crisis on display
Op-Ed: When memorializing George Floyd, Trump makes clear he doesn't understand the protests
Editorial: Push forward with regional homelessness response
Seattle Weekly
Rural King County mayors want state to let them enter Phase 2
New dashboard shows how far along King County is to meeting Phase II metrics
New protocols set for Sea-Tac Airport
State Parks offers three free days in June
Skagit Valley Herald
Businesses preparing for Phase 2 with different strategies
Education Focus: Marine science education program undergoes changes
Nonprofits feeling pinch of pandemic
Spokesman Review
Inslee announces stay-home order will be replaced with new, more flexible plan for reopening
Devoted volunteers keep track of Spokane's homeless community to prevent major outbreak
Does a recent surge in cases mean more spread of the coronavirus in Spokane County? The answer could determine how the county moves forward in reopening
Protesters gather in Spokane following the death of George Floyd
Will the Spokane housing market weather the storm? Homebuying during the pandemic remains competitive and continues to favor the seller
A visit to the salon now includes masks, social distancing, patience, local stylists say
Opinion: Best path forward will be a data-driven, collective effort
Tri-City Herald
Downed trees, a mudflow and a semi rollover. Storms bring 'mild chaos' to Tri-Cities
Tri-Cities businesses face $10,000 fines, closure for not following coronavirus rules
Tri-Cities Black Lives Matter protesters rally outside Pasco police station
Tri-Cities must do this to reopen under state's newly eased targets
'Honestly outraged.' 200 Tri-Citians protest in Richland over Minnesota death
Hanford workers raise $50,000 to feed the hungry. Plus other pandemic generosity
Editorial: Are Phase 2 reopening goals set too high? Not if we want to slow COVID-19 
Op-Ed: Virtual discussion of suicide prevention set for Badger Club 
USA Today
'Most of you are weak': Trump rails at the nation's governors, urges crackdown on violence
Walla Walla Union Bulletin (subscription required)
Editorial: State universities need help through pandemic
Editorial: Vaccines for childhood diseases can't be put off
Op-ed: Child-care providers are necessary for local economic recovery
Washington Post
Dissonant images: Some officers march and kneel with protesters
Police injure, arrest reporters covering unrest
Mayhem, clashes with police mark sixth night of protests
George Floyd's sibling on violent protests: 'That's not what my brother was about'
As cities burn, Trump stays silent — other than tweeting fuel on the fire
Trump's warning that 'vicious dogs' would attack conjured centuries of racial terror
Retailers, restaurants shut their doors amid protests just as many were reopening from pandemic
Officials warn that protests could set off second wave of infections
Poll: Most Americans still favor controlling outbreak over restarting economy
The pandemic is making people reconsider city living, trading traffic for chickens
Op-Ed: Antifa isn't the problem. Trump's bluster is a distraction from police violence.
Op-Ed: Trump's lie about Bowser was exposed as soon as it left his mouth
New Ebola outbreak declared in Congo city
The death of George Floyd: What video and other records show about his final minutes
As hair salons reopen, less pampering and more efficiency
West Seattle Herald
City Council briefed on West Seattle bridge closure, repair plans and timing
Yakima Herald Republic
Yakima County churches consider questions of faith, safety as they decide on reopening
Coronavirus Q&A: Where things stand in Yakima County
Comprehensive Health gets $2 million to expand services, including to Yakama Nation
Yakima Council to discuss extending state of emergency Tuesday
Broadcast
KING5 TV (NBC)
Video sparks concerns about police use of force during Seattle protest
Coronavirus updates: Pierce County health officials recommend entering Phase 2
Seattle Chinese restaurant re-victimized in burglary during weekend protest
Washington's stay-home order ends as more counties gradually reopen
'Not the acts of allies:' Seattle officials discuss the emotional aftermath of violent protest
Some Washington state campgrounds will start reopening June 1
Community rallies to cleanup downtown Seattle after Saturday's violent protests, looting
Seattle epidemiologist finds spike of coronavirus cases in those under age 40
Violent protests and looting in Seattle Saturday leads to at least 55 arrests
KIRO7 TV (CBS)
Cleanup begins after Bellevue protests lead to violence, vandalism
Traffic barriers erected in Downtown Seattle after third day of protests
Gov. Inslee orders statewide activation of National Guard amid protests
Peaceful protests held in Capitol Hill, downtown Seattle
"It was not a downtown I recognized:" Mayor Durkan becomes emotional while speaking
looting, destruction
Bellevue mayor declares civil emergency as demonstrators protest, says curfew will be enforced
Volunteers band together to clean up Seattle streets following riot
Dozens of Seattle businesses damaged during riots
Tukwila curfew in place until Monday morning
Auburn implements curfew in response to looting
Protester says he captured video of instigators' intent that incited violence Saturday night
Protesters who were peaceful worry message clouded by violence
Coronavirus: King County to apply for modified phase 1 of state's 'Safe Start' plan
Evergreen Medical Center nurse who treated COVID-19 patients dies
Synagogues, restaurants react to first weekend in Phase 2
Advocates call for extension on utility cutoffs, eviction bans
KOMO4 TV (ABC)
Civil unrest, looting flares anew in Seattle area for third day
Bellevue looks to clean up after protests, looting
'Determined to wreak havoc': Bellevue looting was organized event, police say
Mayor Durkan denounces violence in downtown Seattle
Photos: Powerful scenes as protests erupt again across Puget Sound region
'A team of angels': Volunteers roll up their sleeves, clean up downtown Seattle
Gov. Inslee sending more National Guard troops to Seattle
No new COVID-19 deaths in Wash., but new cases hit highest level in a month
Watch: Bellevue police chief takes knee amid open dialogue with protesters
KNKX FM
Seattle mayor orders emergency curfew, calls upon National Guard after protests escalate
'1 in 3' people could face food insecurity as peak unemployment looms
Pierce County prepares to reopen businesses, as state updates rules in response to COVID-19
KUOW FM
In Seattle, a protest for George Floyd, and for Black America
A Peaceful Protest In Bellevue Alongside Looting and Destruction
Violence Escalates As Protests Over George Floyd Death Continue
A peaceful protest in Bellevue alongside looting and destruction
WA adult family homes fear being forgotten during pandemic
Trump Lays Blame For Clashes On 'Radical-Left Anarchists'
Q13 TV (Fox)
National Guard arrives in Bellevue, looting cleanup begins across King County
Peaceful protests in Seattle as widespread looting happens in Bellevue, Tukwila, Renton
Bellevue declares civil emergency, police chief says gang members responsible for looting
More than 60 Seattle businesses picking up the pieces after rioters wreak havoc on city
'Stay focused': Seattle protest organizer says outside extremist groups use pain to cause destruction
The aftermath: Cleanup begins after rioters loot, destroy downtown Seattle businesses
Video shows milk poured over face of child pepper-sprayed in Seattle protest
Brandi Kruse: Why Governor Inslee is a master at the non-answer
Web
Crosscut
Seattle mayor imposes curfew after George Floyd protests escalate
Some WA wildfires may be left to burn this summer
Opinion: Don't bail out the new Washington State Convention Center
Unemployment in King County hits communities of color hardest
Opinion: White innocence is a fantasy. Here's how I'm confronting it
Are we in Phase 2 yet? Reopening Washington, explained
What does it take to reopen Washington's wilderness?
My Ballard
King County to apply for modified Phase 1 to allow some businesses to reopen
Seattle mayor enacts immediate curfew in wake of downtown protests
Slog
Thousands Gather for a Third Day of Protests in Seattle
Mayor's Office Releases Statement Regarding "Use of Mace by SPD"
Kid at Seattle Protest Was Allegedly Maced by Cop
Seattle Protests for George Floyd Shut Down I-5, Durkan Announces Curfew, Inslee Activates National Guard
Washington Re-Opens Gradually, Seattleites Can Get Haircuts
West Seattle Blog
CORONAVIRUS: Sundy 5/31 roundup
---