Police brutality, voting rights, racial justice: Echoes from 1963′s March on Washington
On Friday, legions of Americans will descend on the nation's capital resolved to take advantage of "the fierce urgency of now," a phrase coined by Martin Luther King Jr. on the very same day in 1963. The full name of that historic gathering on Aug. 28 was called the March on Washington for Jobs and Freedom. This time, it's the Get Your Knee Off Our Necks March on Washington. Continue reading at The Washington Post. (Corbis/Getty Images)
---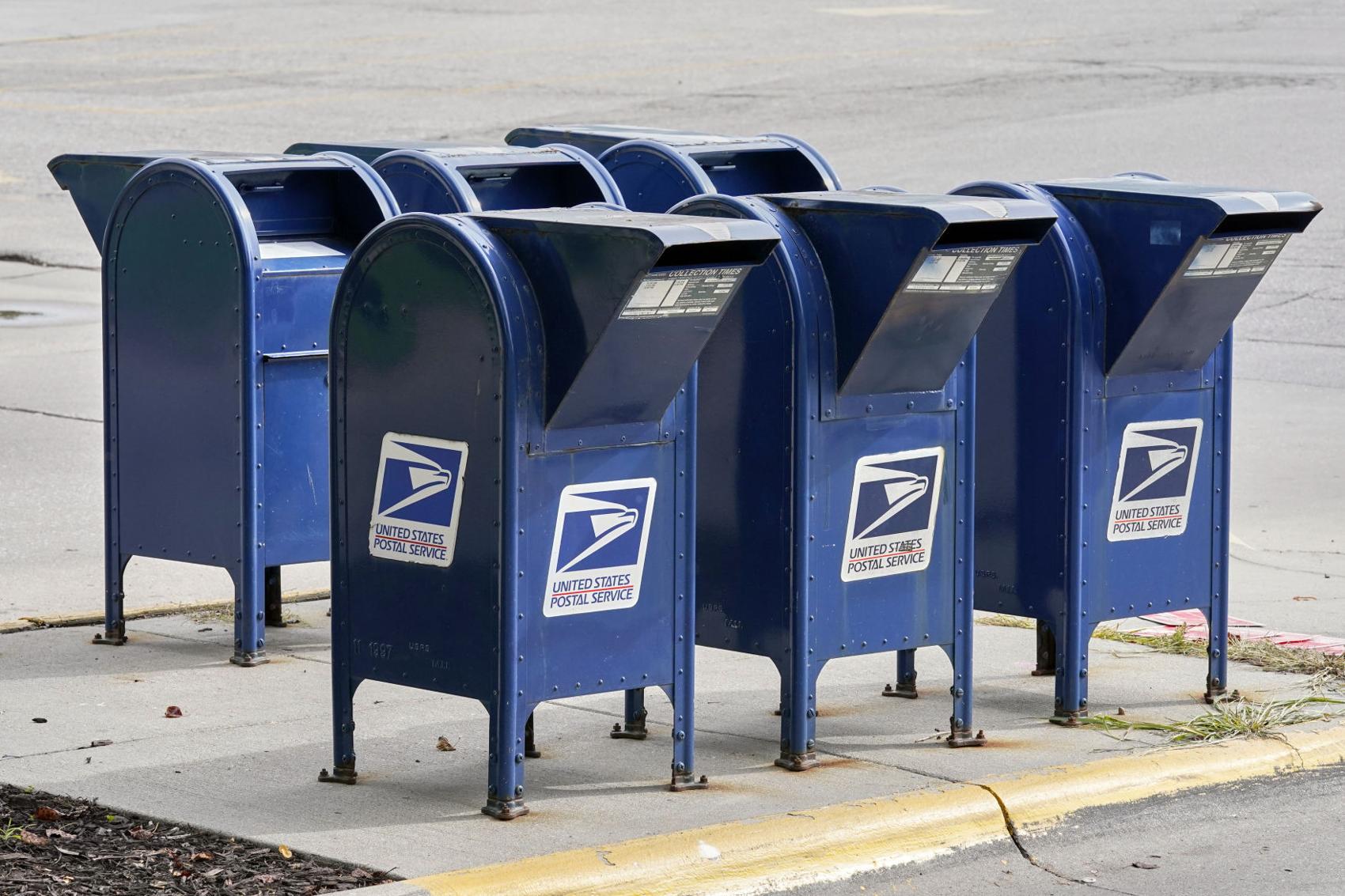 Judge orders Postal Service to give details to Washington and other states over changes in mail delivery ahead of election
A federal judge has ordered the U.S. Postal Service to detail the number of mail-sorting machines and blue collection boxes that it slated for removal and provide other information about its recent changes to delivery in the run-up to a presidential election that will depend heavily on voting by mail. Thursday's order by U.S. District Court of Eastern Washington Judge Stanley Bastian kicks into high gear the lawsuit filed last week by Washington Attorney General Bob Ferguson and 13 other states against the Trump administration. Continue reading at the Walla Walla Union Bulletin. (AP/Nati Harnik)
---
Health agencies' credibility at risk after week of blunders
The credibility of two of the nation's leading public health agencies is under fire this week after controversial decisions that outside experts say smack of political pressure from President Donald Trump as he attempts to move past the devastating toll of the coronavirus ahead of the November election. The head of the Food and Drug Administration grossly misstated, then corrected, claims about the life-saving power of a plasma therapy for COVID-19 authorized by his agency last Sunday. Then the Centers for Disease Control and Prevention quietly updated its guidelines to suggest fewer Americans need to get tested for coronavirus, sparking outrage and confusion from scientists. Continue reading at The Seattle Times. (AP Photo/Alex Brandon, File)
---
Print
Associated Press
State continues to see decline in new, total jobless claims
Judge orders USPS to provide info on service changes
Pullman police will issue tickets for large gatherings
Manufacturing defect leads Boeing to ground several 787 jets
Court: Portland crowd control covers journalists, observers
Seventy-four face federal charges from Portland protests
Judge blocks rule that moves relief funds to private schools
Father of teen killed near protest zone files $3B claims
Judge orders Postal Service to give details to Washington and other states over changes in mail delivery ahead of election
More than 1 million Americans file for unemployment, again
Fed: Rates to stay ultra-low even after inflation picks up
Aberdeen Daily World
GH and Pacific counties each report another Covid death
Pacific Care and Rehabilitation contains COVID-19 "outbreak" to one
Bellingham Herald (subscription required)
What's on tap for construction in Bellingham? More residential housing
Whatcom sees three more COVID-19 cases, state says Thursday
This is what Ecology plans for the Whatcom Waterway cleanup site through September
More than 250 gather at Whatcom courthouse after march for an end to systemic racism
Here's how Blaine schools started remote learning Wednesday. More schools follow next week
With funding questions and virtual classes, this Whatcom district lays off its bus drivers
Washington state reports 542 new COVID-19 cases and 10 deaths on Thursday
WA school districts won't be denied transportation funding for delivery of meals, materials
Racism is a public health crisis, Bellingham marchers told
Reindeer, dolphins most at risk for COVID-19, study finds. What about other animals?
Capital Press
Dam repairs come as big wheat crop heads downriver
WDFW still trying to remove Leadpoint pack wolves
Everett Herald (subscription required)
What we know: Washington coronavirus outbreak at a glance
Edmonds teachers and district at odds over school schedule
Working parents' dream: Care and schooling, all in one place
Editorial: Masks, distance drive down infections; keep at it
Islands' Weekly
Skagit STEM Network expands in San Juan County
A conversation with local elected officials (Lekanoff, Lovelett)
Issaquah Reporter
$1.47 million grant will support students at Bellevue college
News Tribune (subscription required)
Why Black Lives Matter protests in Tacoma don't look anything like Seattle, Portland
Pierce County reports 45 new COVID-19 cases, one new death
CHI Franciscan limiting procedures temporarily at St. Michael amid COVID-19 outbreak
Editorial: High-speed Amtrak route still stalled in Pierce County. But in a pandemic, who cares? 
Pierce County movie theaters prepare for eventual reopening during COVID-19 pandemic
New York Times
Month by month, new virus clusters have emerged. From church services, college parties, business meetings and more. Some drew public attention. Others went largely unnoticed.
Black Lives Matter Grows as Movement While Facing New Challenges
Olympian (subscription required)
Coronavirus updates: Limited procedures at St. Michael following outbreak; Tacoma bars and restaurants opt outside
Thurston County COVID-19 cases rise to 962 after county announces 10 more on Thursday
Washington state reports 542 new COVID-19 cases and 10 deaths on Thursday
An RV resort and boutique hotels? Olympia port seeks proposals for waterfront destination plan
Here's how to comment on the city's proposed AirBnB-type rental regulations
WA school districts won't be denied transportation funding for delivery of meals, materials
Puget Sound Business Journal
King County exec's new climate plan proposes building code updates
Will workplace diversity initiatives survive in a post-Covid era?
White House wants companies to foot payroll tax bill for workers
Pandemic puts UW Medicine in the national spotlight
Fed chair sets stage for longer periods of lower rates
Unemployment claims are 'stubbornly high' as layoffs persist
Editor's notebook: Seattle is a city without a plan
Seattle Times (subscription required)
Thousands gather at March on Washington commemorations
Alaska man, 19, charged with arson for fire set at East Precinct
Police, federal agents arrest Seattle-based Riot Kitchen crew that stopped in Kenosha to serve free food
Losing 787 would be major headwind for region's economy
Judge orders Postal Service to give details to Washington and other states over changes in mail delivery ahead of election
Washington students surveyed their peers. Here's what their answers tell us about online learning, socializing and mental health
Stevens Pass owner announces plans for 2020-21 ski and snowboard season
Sound Transit workers had to leap off a runaway work truck
New King County climate plan calls for 50% cut in emissions by 2030, 80% by 2050
First day of full instruction in Seattle schools set for a week after classes resume, according to draft bargaining agreement
Jobless claims in Washington fall for sixth straight week as state gets new money
Boeing Grounds Eight Dreamliners After Finding Fuselage Flaws
South Dakota governor slams 'Democrat-run' Seattle in RNC speech; Mayor Durkan responds
The University of Arizona says it caught a dorm's COVID-19 outbreak before it started. Its potent weapon: poop.
Russian navy conducts major maneuvers near Alaska
NBA playoffs resume Saturday as sides detail new commitments
Health agencies' credibility at risk after week of blunders
Skagit Valley Herald
Fiber network soon to reach Sedro-Woolley
Spokesman Review
County treasurer extends property tax deadline, calls for teacher pay cuts
Eager bowlers return to lanes in north Spokane as other alleys work to reopen soon
Brush fire near Fairchild burns structures, forces evacuations before crews stop its growth
Washington health department enlists private firms to aid state's contact-tracing efforts
Spokane urges residents, businesses to tap into utility bill assistance
Initial jobless claims down in Spokane
USA Today
Chaos reigns in some schools with in-person learning. Many kids are learning at home.
'We cannot stop. We cannot quit': Thousands rally for racial justice at March on Washington
Walla Walla Union Bulletin (subscription required)
Umatilla County reports COVID-19 deaths; Walla Walla case count rises by 5
Yakima School District's 16,000 students welcomed back to school – virtually
COVID restrictions lifted on Tri-Cities indoor dining, church services, more
Washington state health officials disagree with CDC guidance on asymptomatic testing
Regional wildfires still burn, but weather expected to cooperate
Washington Post
Police brutality, voting rights, racial justice: Echoes from 1963′s March on Washington
March on Washington updates: Thousands rally at Lincoln Memorial to demand racial equality
Pentagon poised to award Medal of Honor to Alwyn Cashe, who died after saving fellow soldiers in Iraq
Yakima Herald Republic
Yakima County's new COVID-19 cases at 46 on Thursday as more things reopen
La Salle High School first to test in-person learning in Yakima County
Local environmental group remains at odds with Ecology over Lower Valley groundwater cleanup plan
It's not too late to register kindergartners; Yakima Valley districts share meal distribution plans
Broadcast
KING5 TV (NBC)
Boeing finds manufacturing flaw in some 787 Dreamliners
'It gives me chills': Seattle athletes react to pro sports demonstrations against racism
Seattle Public Schools announce remote learning schedule, resources for families
Live updates: Speakers take the stage at 2020 March on Washington
Father of man killed inside Seattle's CHOP zone files $3 billion in claims against city, county, state
Long-standing Pierce County veterans' charity VIEW may be forced to close due to coronavirus pandemic
I-5 closed overnight this weekend between Fife, Federal Way for bridge work
KOMO4 TV (ABC)
Jacob Blake shooting: Wisconsin man's aunt delivers fiery rebuke from Seattle City Hall
Thousands expected for March on Washington
Boeing pulls 8 Dreamliners from service over possible structural issue
New COVID-19 testing site opening in West Seattle
Janitors list demands at vigil for co-workers who died from COVID-19
Driver flees after stolen car crashes on Mercer Island; woman detained
$5 dollar, 15-minute rapid response COVID-19 test by Abbott Labs called a 'game changer'
Man charged with arson in attack on Seattle Police Department's East Precinct
Study: Fewer renters are looking for homes in Seattle amid coronavirus pandemic
Washington sees decline in new, total weekly jobless claims
KNKX FM
Professor: Transparency will be key as four regional police agencies get new leaders
Razor clam count shows surging population, but digging season could be derailed by COVID-19
Apartment rental ads encourage segregation, according to UW study
Thiel: Sports action for racial justice this week 'first of many things potentially happening'
King County's proposed Climate Action Plan highlights equity for frontline communities
KUOW FM
A New March On Washington, 57 Years After MLK Jr.'s 'I Have A Dream' Speech
Civil Rights Lawyer Ben Crump Discusses The Ongoing Racial Tensions In The Country
How Universities Are Tackling The Spread Of COVID-19
Seeking a foundation for change at the crossroads of homelessness and Covid-19
'We hope for change:' Relatives of Jacob Blake rally at Seattle City Hall
Postmaster General Vows To Election Officials He'll Treat Ballots 'Like Gold'
Bremerton hospital workers: St. Michael, protect us from Covid-19
Q13 TV (Fox)
Parents with back-to-school questions get answers from Washington state's top educator
Seattle sports fans respond to second day of sports boycott
Seattle teacher's union claims SPS has not hired enough special needs instructors
Delta bans nearly 250 people from flying on its planes for refusing to wear masks
Web
Crosscut
Why WA leaders aren't rushing to address state's budget shortfall (Billig, Rolfes, Pederson, Sullivan)
Here's what pregnant orcas are up against in Puget Sound
For people in crisis, Seattle defaults to police
Slog
Federal Charges Start Stacking Up for Protesters in Seattle
Mother Nature Needs $140 Million
Seattle Restaurants and Bars Should Conduct Temperature Checks
---
---