WA pushes beyond clearing sexual assault evidence kits
Turned away at the hospital, all but ignored at the police station and her case ultimately dismissed despite internal injuries and evidence of drugs in her system, Seattle resident Leah Griffin felt she had nowhere to turn for justice after being raped in 2014. "When it happened to me, I was so shocked at how bad it was," Griffin said. "Every single part of the system was broken — nothing worked." Continue reading at Crosscut. (Matt M. McKnight)
---
Clock ticking as Washington state lawmakers consider new drug-possession law
Like elsewhere in America, debates have percolated at the Washington Capitol over the years about shifting the response to drug use toward treatment and away from criminal punishments. But the state Supreme Court's decision in February striking down Washington's drug possession statute — essentially invalidating decades of felony convictions — changed the discussion overnight. Continue reading at The Seattle Times. (Ted S. Warren)
---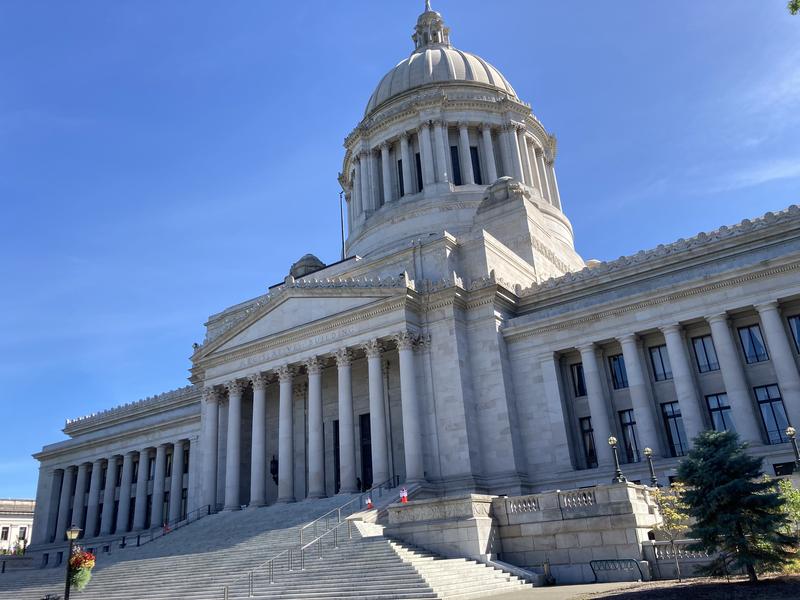 While Oregon's Legislature Feuds, Washington Lawmakers Find A Way To Work Together
Washington and Oregon are both handily controlled by Democrats, contain many of the same persistent concerns over an urban-rural divide, and frequently take up similar legislation. So how is it that one legislature is in a state of perpetual dysfunction, and the other is, by comparison, a model of respectful bipartisanship? Continue reading at Northwest Public Broadcasting. (Austin Jenkins)
---
Print
Associated Press
Activists want change to debt-based license suspension bills (Salomon, Cleveland, Pedersen)
Aberdeen Daily World
Troubling trend: some who receive first vaccine dose not scheduling their second
Hoquiam School District moving to five days a week of in-person learning after spring break
Commentary: FDR had the Great Depression, but Biden has Big Data 
Auburn Reporter
Auburn police lift pandemic-related booking restrictions
Homeless encampments on the rise in Auburn Environmental Park
Rep. Schrier visits Auburn school's rapid testing pilot site
Editorial: Lawmakers test public's patience on gun laws
Violence Against Women Act becomes political victim | Roegner
Bainbridge Island Review
How your state leaders voted (Hansen, Simmons, Rolfes)
Answer on guns staring us in the face
State of the nation could include D.C.
Bellingham Herald (subscription required)
After 2020's destructive wildfire season, infusion of state funding on the horizon (Springer)
As staff are vaccinated, students return, Whatcom schools adjust to this COVID safety rule
Whatcom County sees 31 new COVID cases Saturday
Broadband, affordable housing and more for Whatcom. Here's what's in state capital budgets (Tharinger, Frockt)
Here are the latest COVID-19 case numbers confirmed Friday in Washington state
State Patrol increases presence at Capitol in Olympia Friday after D.C. tragedy
Have an idea to improve masks? Biden administration holds $500K 'innovation' contest
Capital Press
'I'M STILL HERE': Agriculture breathes a sigh of relief after a year of pandemic
Republican hopeful talks to produce WA overtime deal (Springer)
Columbian
Cheers & Jeers: Sharing meals, virus cases
The Daily News
Local health, social service organizations plan COVID-19 vaccines for the homeless
County health department urges caution over spring break amid rising COVID-19 cases
El Sol De Yakima (available in English via Google Translate)
People over 18 Can Get Vaccinated Saturday at Yakima Vaccination Clinic
Low-cost dental care offered at Yakima Valley College
1,200 daily vaccines will be administered at the Community Vaccination Center
The importance of the Spanish language in Yakima County, in the world
Everett Herald (subscription required)
Cornfield Report: Could a carbon tax find its way into a grand bargain? (Mullet, Dhingra, Ortiz-Self)
'Tempers have consequences': Everett road-rage trial begins
Passenger service at Paine Field is gradually bouncing back
'Enough is enough,' Marysville father says of racist threats
Snohomish Education Foundation awards grants
What we know: Washington coronavirus outbreak at a glance
Comment: Moms call shots on kids' vaccines; for some it's a no
How to get vaccinated in Snohomish County
Bloomberg Comment: Building back better means new green jobs
Editorial: Help map county's internet dead spots
Letter: GOP needs to reject Trump's lies
Letter: Addressing global poverty addresses many problems
Federal Way Mirror
Federal Way says no to county's needle exchange program
Kitsap Sun (subscription required)
Port Orchard residents parade their support for Asian American neighbors
Black woman says Bremerton police dismissive of her report of a man spitting at her
Kitsap Rescue Mission to open 24/7 shelter in former fitness club building in South Kitsap
Demo hydrogen fuel cell electric bus hits the road at Kitsap Transit
Leftover doses? Standby lists? Looking for a COVID-19 shot? Here's where to look.
News Tribune (subscription required)
To the bank! Suggs hits the winner, Zags top UCLA 93-90
Puyallup Tribe plans large warehouse project. City of Fife is concerned about traffic
East Pierce County food banks merge in effort to better serve those in need
New YWCA apartments a crowning achievement for one woman, a godsend for many others
A new state park, affordable housing, and more for Pierce County in capital budget (Tharinger, Frockt)
Will paying homeless people to spruce up Tacoma help them and city? Program begins soon
Big changes coming to Tacoma neighborhoods as city moves to rework single-family zoning
Arrest made in filmed attack on Asian couple in Tacoma
Editorial: 'Frustrating as hell' – Democrats' plan to shake up Washington public health can wait (Rolfes, Riccelli)
New York Times
Amazon's Clashes With Labor: Days of Conflict and Control
Yellen Pushes for Global Minimum Tax Rate on Companies: Live Updates
No Address, No ID, and Struggling to Get Their Stimulus Checks
How White Evangelicals' Vaccine Refusal Could Prolong the Pandemic
Inside Corporate America's Frantic Response to the Georgia Voting Law
Amazon Illegally Fired Activist Workers, Labor Board Finds
The Supreme Court vacates ruling that Trump violated the First Amendment by blocking people on Twitter.
An Extraordinary Winning Streak for Religion at the Supreme Court
North American Post
JOURNEY TO THE EAST~The COVID-19 Freshman Experience
Olympian (subscription required)
A new state park, affordable housing, and more for Olympia area in state's capital budget (Tharinger, Frockt)
Olympia Planning Commission looking for 3 new members, and they will earn a stipend
The Evergreen State College's board extends presidential search to do more background checks
Here's how long it may take to find a COVID-19 vaccine appointment after April 15
Olympia announces plan to clean up camps along Deschutes Parkway this week
Peninsula Daily News
WHAT WE KNOW: Coronavirus outbreak at a glance
Fourth wave coming — but so is more vaccine
Peninsula in a race against variants
EYE ON CLALLAM: Port Angeles council to consider grocery worker hazard pay
Port Townsend Leader
Another COVID-19 infection found in mid-county
Puget Sound Business Journal
Study: Here's where King County ranks among the best places for small businesses
Seattle charter amendment would require city action on homelessness
Seattle Times (subscription required)
Controversy reignites over past rape allegation after Washington GOP leader picks former Sen. Joe Fain for panel
For many Seattle elementary students, Monday marks the first day back to school in person
'Vax Day' and a possible fourth wave of COVID: Washington state's pandemic outlook
Recent bombshell Washington state Supreme Court decision an opportunity to address failed war on drugs (Dhingra, Simmons)
Clock ticking as Washington state lawmakers consider new drug-possession law (Davis, Dhingra, Taylor)
Something just shifted in Seattle's stuck homelessness debate 
Editorial: 'Cap and invest' proposal carries promise for emissions and economy (Carlyle, Hobbs)
Skagit Valley Herald
Study plan for Skagit River dam relicensing expected this week
Providers prepare for expanded COVID-19 vaccine eligibility
South Seattle Emerald
Opinion: Let's call it what it is — pollute and trade
Legislation eliminates one objection to Sound Transit fare enforcement reform
Award-winning Page Ahead project keeps kids reading in book deserts
Weekend Long Reads: The leading causes of death in 2020
Group seeks amendment to charter requiring homeless services and clearing of parks
New COVID cases outpacing vaccinations, highest among 18 to 24-year-olds
Spokesman Review
Getting There: Airway Heights could finally get a downtown as major changes to Highway 2 are considered
If Spokane has a housing crisis, why isn't it being more urgently addressed?
Tri-City Herald
Tri-Citians slower than others to get the COVID vaccine. What's the hesitancy?
Richland motel robbery turned deadly after girlfriend found in bed with another man
13-year-old driver falls asleep in rollover crash along Columbia River
New hospice house, drug rehab center and more for Tri-Cities area in WA capital budget
'Cradle to grave.' Tri-Cities project's townhouses, homes, apartments for all phases of life
100+ COVID variant cases found in Tri-Cities. They're more contagious
Woman fleeing police crashes SUV through the walls of two Tri-Cities apartments
Peace-loving gunman robs Tri-Cities convenience store yards from a police station
Curbside shingles vaccines offered in Tri-Cities starting April 5
42-year-old volunteer firefighter and former Prosser school bus driver dies of COVID
Tri-Cities area man in his 20s dies of COVID. Spike in new local cases
Pasco mayor addresses challenges of COVID in community
Variety of house sizes planned at this West Richland development
WA Republicans want to rein in governor's emergency powers
Tri-Cities driver arrested for intentionally hitting motorcyclist, knocking him unconscious
Pasco homeowner hurt in a struggle when he surprised a burglar with a knife
Health district hopeful as Tri-Cities vaccine eligibility increases, cases go down
Vancouver Business Journal
'Savor The Couve' local takeout program wraps up successful four-month run
Developer sought for prime opportunity to shape the heart of downtown Vancouver
Walla Walla Union Bulletin (subscription required)
Vanishing vacancies: Walla Walla isn't experiencing housing inventory issues, sales are just fast, experts say
Washington entrepreneurs invited to pitch products to Walmart
Ammunition at Walla Walla Valley stores scarce as demand climbs
College Place School District to return all students to full-day in-person instruction
Man pleads guilty to attempting to elude Walla Walla police
Teen charged with first-degree assault in Walla Walla fight, stabbing
Walla Walla man, Paul Lightner, appears in court for violations related to assault case
Walla Walla elementary and middle schools will resume full days, high schoolers will wait until fall
Washington Post
Second week of witness testimony begins, with more police expected to take the stand
Yellen warns that slow vaccine rollout in poor countries poses threat to U.S., global economies
Fauci pushes back on GOP criticisms, calling claims 'bizarre'
Yakima Herald Republic
With state funds on the line, Selah, Toppenish ask voters to approve school operations levies
Washington State Patrol updates list of missing and murdered Indigenous people, adds 4 names from Yakama Nation
Pacific Power customers with past-due balances might qualify for help
Broadcast
KING5 TV (NBC)
'This disease is alive and well': Health officials urge caution as COVID-19 cases surge in King County
SDOT to limit vehicle traffic around Seattle schools as in-person learning returns Monday
US hits new vaccination record as COVID cases, hospitalizations rise
KIRO7 TV (CBS)
Will paying homeless people to spruce up Tacoma help them and city? Program begins soon
East Precinct barricade to come down very slowly
KOMO4 TV (ABC)
Thousands of students heading back to classroom across Seattle
Marysville parents, community angry about suspected hate crimes, demand action
KNKX FM
Cut And Fried: Northwest Spud Farmers Take A Deep Hit On Their Contracts
KUOW FM
Older Washingtonians should get Covid vaccinations before all adults are eligible, health officials urge
Pandemic blog: Covid-19 news for the NW
Senator Murray sees light at the end of the dark Covid tunnel
Washington state is in danger of breaking its own climate laws, Inslee says
KXLY (ABC)
Study finds T cell that recognizes COVID variants
NW Public Radio
While Oregon's Legislature Feuds, Washington Lawmakers Find A Way To Work Together (Liias)
'It's Irreversible': Goldendale Green Energy Project Highlights A History Of Native Dispossession
Q13 TV (Fox)
Seattle Public Schools welcomes students back to in-person learning Monday
King County official: COVID-19 case surge could lead to rollback
Father wants change in Marysville School District administration after daughter's life threatened
Web
Crosscut
WA moves forward to clear backlog of sexual assault evidence kits (Orwall)
MyNorthwest
Officials investigating string of fires in Renton
King County opens new film production facility on Harbor Island
COVID updates: Seattle Public Schools K-5 students return to classrooms
Streets to close for walkers, bikers as Seattle students return to schools
Hate crime charges recommended for Marysville threat against student
Police: Teen arrested in connection with attack on Asian man in Tacoma
Skagit Valley welcomes visitors to Tulip Festival
County health officer says COVID-19 cases are increasing across retail, youth sports, travel
New image of Green River Killer victim 'Bones-17' could lead to her identification
SPD announces plans to remove concrete wall surrounding Capitol Hill's East Precinct
Seattle's two new hotel homeless shelters are now officially open
Unlikely alliance hopes to force Seattle to take compassionate action on homelessness
Seattle Public Schools, teachers union reach tentative deal to get grades 6-12 back in classroom
Slog
Washington State Senate Moves Toward a "Grand Bargain" on Climate and Transportation Bills (Carlyle, Hobbs, Fitzgibbon, Billig)
Guest Editorial: We Must Change the Culture of the Seattle Police Department
West Seattle Blog
WATER TAXI: Doc Maynard's return to West Seattle run
---