Bill to honor Billy Frank Jr. with statue in D.C. heads to Gov. Inslee's desk
The full Washington state Legislature has now approved a bill to honor the late Billy Frank Jr., a history-making treaty rights advocate and Nisqually tribal member, with a statue in the National Statuary Hall Collection in Washington, D.C. Continue reading at The Bellingham Herald. (Tony Overman)
---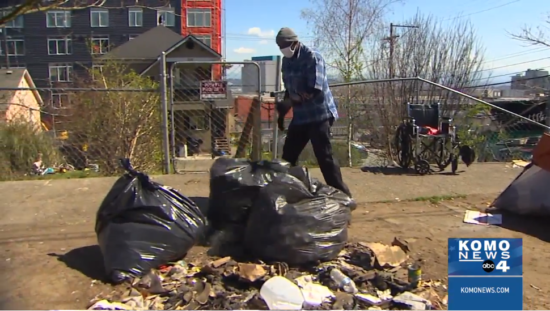 Tacoma launches program to pay homeless people to pick up trash, debris
Tacoma has launched a pilot program that will pay homeless people to collect trash and debris from public streets, an effort to remove garbage from city streets while providing jobs to the unsheltered. The initiative is the result of an effort by Tacoma City Councilman Robert Thoms, who thinks the effort will play big dividends. Continue reading at KOMO News.
---
Lawmakers move to outlaw fake ballot collection containers
It could soon be a crime to set up a fake ballot drop box in Washington. A bill making it a gross misdemeanor to misrepresent "an unofficial ballot collection site or device as an official ballot drop box" set up by a county auditor cleared the state House on Monday. A conviction can result in a maximum fine of $5,000 and 364 days in jail, or both. Continue reading at The Everett Herald. (Sue Misao)
---
Print
Associated Press
As states expand vaccines, prisoners still lack access
Legislature approves bill seeking Billy Frank Jr. statue
Washington state apple exports drop substantially in 2020-21
6 in Washington sickened by Salmonella linked to songbirds
Replacing Marcus Whitman statue in DC with Billy Frank Jr. approved by state Legislature
Official: Biden moving vaccine eligibility date to April 19
Aberdeen Daily World
Confused about the new unemployment tax break? Here are some answers.
Walsh explains decision not to vote on gun legislation (Jinkins, Kuderer)
Commentary: Biden's plan to upgrade almost everything — we're worth it
Commentary: Seen through the eyes of others, George Floyd's death, even more despairing
Gonzaga's pursuit of perfection ends in out-of-synch showing
Bellingham Herald (subscription required)
As staff are vaccinated, students return, Whatcom schools adjust to this COVID safety rule
Whatcom County sees 37 new COVID cases Monday, still within state's Phase 3 goals
Bill to honor Billy Frank Jr. with statue in D.C. heads to Gov. Inslee's desk (Hunt)
PeaceHealth COVID vaccine doses double this week and Skagit offers these unclaimed doses
WA state reports more than 700 new COVID-19 cases on Monday
Summer can't 'bail us out' of the COVID pandemic, Fauci says. Here's why
Do you need all those disinfectant wipes? CDC issues new COVID cleaning guidelines
Latest batch of stimulus checks going out includes 'plus-up' payments. Who's eligible?
A million Americans owed $1.3 billion by IRS in delayed tax refund. What to know
Cancer diagnoses see a huge spike at age 65, study finds. Doctors speculate why
Capital Press
Wash. farm groups: Low-carbon fuel bill better, still bad (Van De Wege, Carlyle)
Ag groups say Simpson dam plan poses threat
Chinook Observer
Springing back to life: Signs 'normal' is returning
Editorial: State making a muddle of saving salmon
Columbian
Clark County sees 141 new COVID-19 cases, 1 death as numbers creep up
In Our View: Fair elections must be a bipartisan goal
The Daily News
Columbia County Second Amendment Sanctuary ordinance to get legal review by local court
Woodland officials pitch Interstate 5 offramp intersection improvement project to Rep. Herrera Beutler
Everett Herald (subscription required)
County's sixth mass vaccination site to open in Tulalip
It has been one volatile year in the county's job market
Lawmakers move to outlaw fake ballot collection containers (Hunt)
What we know: Washington coronavirus outbreak at a glance
Comment: Protect state's new long-term care trust program
Editorial: Help map county's internet dead spots
Kitsap Sun (subscription required)
COVID-19 cases surge 15.1% in Washington state
News Tribune (subscription required)
WA state reports more than 700 new COVID-19 cases on Monday
Pierce County sees more than 300 new COVID-19 cases over weekend; 80 on Monday
New York Times
As Variants Have Spread, Progress Against the Virus in U.S. Has Stalled
Covid-19 Live Updates: U.S. Vaccinations Accelerate as Variants Linger
Fears of White People Losing Out Permeate Capitol Rioters' Towns, Study Finds
Biden Plan Spurs Fight Over What 'Infrastructure' Really Means
Vaccine Passports, Covid's Next Political Flash Point
America Has Long Favored Cars Over Trains and Buses. Can Biden Change That?
If You Build It, They Will Bike: Pop-Up  Lanes Increased Cycling During Pandemic
Test Flight for Sunlight-Blocking Research Is Canceled
Opinion: How Lower-Income Americans Get Cheated on Property Taxes
Olympian (subscription required)
Bill to honor Billy Frank Jr. with statue in D.C. heads to Gov. Inslee's desk (Hunt)
Thurston County reports 39 new COVID-19 cases from weekend
Yelm police arrest man after high speed chase Monday morning
Food insecurity a problem within the U.S. military. 'It's a bit of a touchy subject'
Volunteers needed for Thurston County vaccination clinics through April 12
Latest batch of stimulus checks going out includes 'plus-up' payments. Who's eligible?
Peninsula Daily News
Letter supports breaching dams
WHAT WE KNOW: Coronavirus outbreak at a glance
Puget Sound Business Journal
Seattle monorail station upgrades begin in preparation for Kraken fans
Opinion: How women entrepreneurs can turn road blocks into building blocks
Seattle Times (subscription required)
Allen Foundation grant boosts COVID-19 vaccination in vulnerable Seattle-area communities
Appeals court upholds firing of Adley Shepherd, former SPD officer who punched a handcuffed suspect
King County's 30-year forest plan eyes growth of the canopy with nods toward climate change, timber industry
No regrets from Gonzaga, which gets pummeled by Baylor in the men's NCAA title game
Editorial: Next Corrections leader must repair prison health care
Skagit Valley Herald
Pushing Past the Pandemic: Skagit County school districts continue to adapt
Sedro-Woolley schools to return to full-time in-person learning
Spokesman Review
Residents at Spokane assisted living facility bond through Gonzaga basketball
Sadness in Bubbleville: Strange setting had strange, unsettling ending for Gonzaga
Spokane Police officers train to provide critical first aid as they increasingly arrive before medical personnel
Religious services in Spokane cautiously expand in time for Easter and other holidays. But is online worship here to stay?
Tri-City Herald
Ki-Be schools try 3rd time to pass levy — or face more budget cuts
'Serious disappointment.' WA state is politicizing massive Hanford cleanup, Newhouse says
Not eligible for COVID vaccine yet? Not too early to book Tri-Cities appointments
Tri-Citians slower than others to get the COVID vaccine. What's the holdup?
Walla Walla Union Bulletin (subscription required)
Walla Walla weather experts look to a more typical April after 2 months of cooler temps
Walla Walla residents raise $20,000 to fund new police K-9
Walla Walla County business, residential leaders oppose environmental House Bill 1091
COVID-19 variants found in Walla Walla County, health officer says.
Former Trilogy Recovery Community director charged with voyeurism
Washington entrepreneurs invited to pitch products to Walmart
Ammunition at Walla Walla Valley stores scarce as demand climbs
Washington Post
In key showdown, U.S. judge tests prosecutors' claims that Proud Boys leaders planned Jan. 6 Capitol breach
'This is environmental racism' How a protest in a North Carolina farming town sparked a national movement
The U.S. government approved trillions in aid. Many hard-hit families have yet to receive it.
Yakima Herald Republic
As eviction moratorium nears end, Yakima advocates brace for surge in homelessness
Union Gap library and community center moving ahead, with groundbreaking anticipated this spring
Officials: 6 sickened by Salmonella linked to songbirds
Labor board says Amazon illegally fired outspoken workers
Legislature approves bill seeking Billy Frank Jr. statue (Lekanoff)
Broadcast
KING5 TV (NBC)
Bodycam video shows police response after Pierce County Sheriff accused newspaper carrier of threats
2 Seattle retirement community employees fired for faking positive COVID-19 tests
New program aims to help Washington homeowners be ready for wildfire season
'Remain vigilant': UW experts urge caution this summer as COVID-19 numbers change
KIRO7 TV (CBS)
Seattle's cruise season could see revival this summer
Concerns rise as more children contract COVID-19 variant
Why anti-Asian hate crimes go unreported
Infections linked to raw milk consumption in multiple Washington counties
Washington state apple exports drop substantially in 2020-21
Facebook data on more than 500M accounts found online
KOMO4 TV (ABC)
Time running out as lawmakers race to fix drug possession law tossed by state high court (Dhingra)
New bodycam footage shows news carrier denying he threatened Pierce Co. sheriff
Court upholds firing of Seattle ex-cop who punched handcuffed woman
As Seattle students return to class, homeless encampments at 2 schools stir concerns
Health experts anticipating possible fourth COVID-19 surge in Washington state
Tacoma launches program to pay homeless people to pick up trash, debris
Grassroots efforts helping Washingtonians find COVID-19 vaccine appointments
KNKX FM
Legislature approves bill seeking Billy Frank Jr. statue at U.S. Capitol
State urges spring boaters to take advantage of safety courses (and wear a life vest)
KUOW FM
'Kind of excited, kind of nervous.' Seattle elementary students return to the classroom
Biden Envoy To Iran On What To Expect In Renewed Nuclear Talks
NW Public Radio
Paint A 'Happy Little Tree' Or Your Backyard Fence With Washington's New Recycling Program (Peterson)
Family Attorney Questions Police Narrative In Shooting Of Antifa Supporter Near Olympia
Q13 TV (Fox)
Biden moving COVID-19 vaccine eligibility date for all US adults to April 19, official says
'We're all living in fear:' Federal Way community members say they're fed up about crime
Web
Crosscut
From art to infrastructure, the New Deal shaped Seattle's future
MyNorthwest
Federal labor board: Amazon illegally fired pair of Seattle workers over activism
Seattle Sounders to play in front of fans at Lumen Field to kick off 2021 MLS season
With All-Star Game pulled out of Georgia over voting law, Rep. Jayapal suggests Seattle step in
Appeals court upholds firing of SPD officer who punched handcuffed suspect
Construction begins on Seattle's Westlake Monorail station
Annual clearing of North Cascades Highway begins this week
Infections linked to raw milk consumption in multiple Washington counties
Officials investigating string of fires in Renton, asking public for help
King County opens new film production facility on Harbor Island
COVID updates: Snohomish County opens sixth mass vaccination site
Streets to close for walkers, bikers as Seattle students return to schools
Hate crime charges recommended for Marysville threat against student
Slog
Decriminalizing Drugs Is Popular in Washington
King County Hopes to Woo Hollywood with New Film Production Facility on Harbor Island
West Seattle Blog
West Seattle Food Bank's history @ Words, Writers, Southwest Stories this Thursday
FAUNTLEROY FERRY TERMINAL: Application time for project advisory group
---