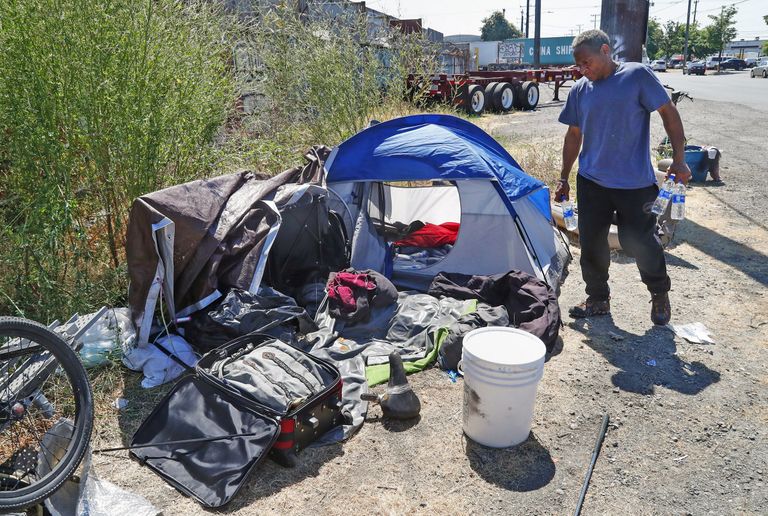 Consistently hot temperatures take toll on Seattle's most vulnerable people
"It's stifling," said Maurice Lavon Jones, 51, a resident of affordable housing building Pacific Apartments in Pioneer Square operated by Plymouth Housing. Much of the low-income and public housing in Seattle is older, made of concrete or brick, and lacks air conditioning. After four days of temperatures reaching 90-plus degrees, some people who live in these buildings and outdoors are feeling the impact. They have fewer means to escape the effects of extreme heat and are more likely to have weakened immune systems. Continue reading at The Seattle Times. (Greg Gilbert)
---
State expands telehealth options to improve access to COVID-19 treatment
Washington residents who test positive for COVID-19 can now get a free telehealth appointment for treatment consultation, regardless of their insurance coverage. Late last week, the state Department of Health launched the new telehealth option as an expansion of the federal government's initiative to increase access to COVID treatments. Antiviral pills authorized to treat COVID-19 — Pfizer's Paxlovid and Merck's molnupiravir — are available by prescription only and should be started within five days of when symptoms begin, according to the Food and Drug Administration. Continue reading at The Daily News.
---
BP profits highest in 14 years, raking in $8.5B amid gas pump pinch
BP reported a profit of $8.5 billion for its second quarter on Tuesday, its biggest windfall in 14 years, making it the latest oil giant to cash in on higher crude prices as Russia's war in Ukraine disrupts global energy markets. Just days earlier, the two largest U.S. oil companies ― ExxonMobil and Chevron ― reported that their profits had roughly tripled in the second quarter, while London-based Shell and France's TotalEnergies also reported blockbuster results. The windfall comes as consumers around the world are feeling the sting of the highest inflation in decades and a cost-of-living crisis that is particularly painful at the gas pump. Continue reading at The Washington Post. (Caroline Spiezio)
---
Print
Aberdeen Daily World
Recruitment and retention plague Grays Harbor
Bellevue Reporter
DOH launches new telehealth option to expand COVID-19 treatment access
Bellingham Herald
Single-use plastics now fully banned in Bellingham. These are the rules
This is how much you need to make to afford rent in Washington and Bellingham
Two years ago a Nooksack dam was destroyed. Now, where are the salmon?
Capital Press
Feds defend dropping plan to bring grizzlies to North Cascades
The Daily News
State expands telehealth options to improve access to COVID-19 treatment
Everett Herald
What we know: Washington coronavirus outbreak at a glance
Comment: FDA finally has a simple, well-timed booster plan
Comment: Fed may have no choice on higher unemployment
Indian Country Today
Editorial: Castro-Huerta decision 'flips federal Indian law on its head'
The Inlander
Camp Hope cooling shelter remains standing as city's deadline for takedown passes
The public and private perils of writing while Native
Kitsap Sun
WSF: Captain during ferry crash resigns; crew tests come back clean
South Kitsap landowner renews interest in tiny house village for homeless
News Tribune
Bicycling in Tacoma can be dangerous. Here are some of the worst spots in the city
Olympian
Task force issues new recommendations to address missing, murdered Indigenous people (Lekanoff)
As lawmakers consider 'bill of rights' for seniors, some share stories of care (Dolan, Hunt, Bateman)
1st West Nile virus of 2022 in WA found in Tri-Cities. What it means for you
Puget Sound Business Journal
Harrell expands effort to fill empty Seattle storefronts
After legal battle, contractor embraces running Point Ruston market
SBA head says businesses were not unfairly shut out of EIDL
The job market is still hot, but there are some emerging exceptions
Seattle Times
Upcoming Seattle City Council votes signal end of COVID emergency measures
Captain of wrecked WA ferry resigns (Rolfes, Nguyen, Fitzgibbon, Paul)
To help WA kids get ahead, schools must spend more pandemic aid now, experts say
WA task force urges new cold case unit for missing, murdered Indigenous people
Consistently hot temperatures take toll on Seattle's most vulnerable people
Skagit Valley Herald
Helping Hands food bank reopens grocery-style program
Spokesman-Review
Three Patriot Front members plead not guilty in first court appearance
Tri-City Herald
Tri-Cities hospitals treating more patients for COVID. What experts say about masks
Invasive bug found in Tri-Cities. Why rose gardeners to local farmers should be worried
Walla Walla Union Bulletin
Summer harvest delayed but robust in Walla Walla, Touchet valleys
BMAC receives $25,000 from Tyson Foods in Hunger Relief program
Washington Post
U.S. kills al-Qaeda leader Ayman al-Zawahiri in drone strike in Kabul
BP profits highest in 14 years, raking in $8.5B amid gas pump pinch
Credit card debt surged as inflation forced Americans to borrow more
Democrats race to ready Inflation Reduction Act for vote this week
Opinion: Why I'm leading a congressional delegation to Taiwan
Yakima Herald-Republic
Program offers low-income households in Yakima County financial aid to keep houses cool
Community Q&A: Meet the new president of the Filipino-American Community of Yakima Valley
Job recovery from pandemic continues in Yakima County; agriculture playing a bigger role
Broadcast
KING 5 TV (NBC)
Ferry captain resigns after 'hard landing' that damaged vessel at West Seattle dock
Puget Sound Energy, Avista request electricity and gas rate increases; state attorney general opposes
KIRO 7 TV (CBS)
Concrete truck drivers a no-show to work after failed negotiations with concrete companies
NLRB dismisses Starbucks charge against union organizers
Cold case unit proposed in AG's office to investigate missing and murdered indigenous people
State reps demand answers after reports of 'mountain' of undelivered packages, mail in North Sound
KOMO 4 TV (ABC)
Captain of ferry who crashed into West Seattle dock resigns from job
Concrete drivers back on picket lines after rejecting latest contract proposal
Officials release task force plan to help protect indigenous families (Dhingra)
KNKX Public Radio
Tacoma's uphill battle to grow its urban tree canopy by 2030
KUOW Public Radio
Monkeypox cases are doubling in Washington, but more vaccines are on the way
Monkeypox outbreak in Washington state 'is not under control'
Covid testing company with Washington outlets is under investigation

KXLY (ABC)
Spokane City Council delays vote on ordinance establishing criteria for siting essential facilities
Q13 TV (FOX)
Vantage wildfire 10% contained; Level 2 evacuation orders issued
Volunteers prove critical in the fight against invasive green crabs
Web
MyNorthwest
Ferry captain resigns after last week's crash at West Seattle dock
Inslee to rescind 12 emergency decrees related to COVID-19
Congress responds to 'all-time high' number of threats against representatives with increased personal security
West Seattle Blog
FERRY CRASH: Cathlamet captain has resigned
---