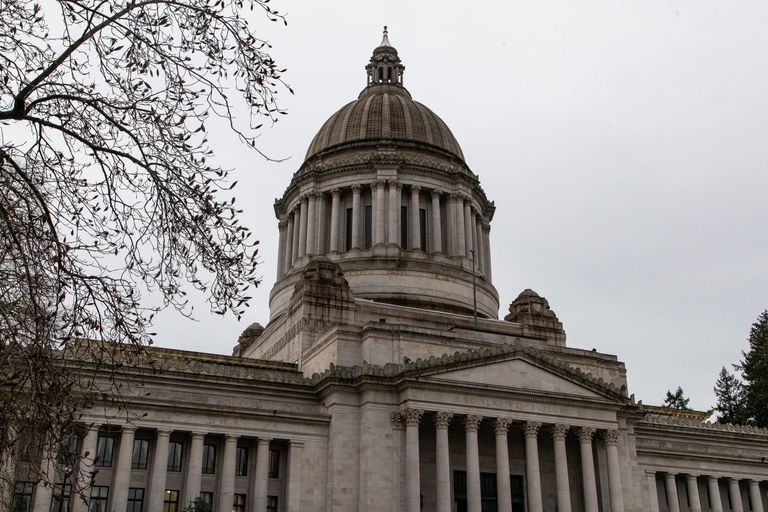 WA lawmakers trying again to tax wealth, as part of nationwide effort
Democrats in the Washington Legislature introduced a measure Thursday to tax Washingtonians who have more than $250 million. The state would tax 1% of the fair market share of a Washington resident's wealth like stocks, bonds or other assets, but the first $250 million would be exempt. The move is part of a nationwide campaign, unveiled this week, to tax wealthy residents. Washington is joining state legislatures in California, Connecticut, Hawaii, Illinois, Maryland, Minnesota and New York in similar efforts. "We are here to put billionaires and ultramillionaires on notice that it is time that they pay what they owe and that state legislators are the ones to make them do it," said Sen. Noel Frame, D-Seattle, who is sponsoring the bill. Continue reading at Seattle Times. (Kylie Cooper)
---
Middle housing bill begins with more support in WA Legislature than last time
Experts say Washington needs to triple the number of homes being built in order to keep up with the housing shortage, which drives up prices. The Washington State Legislature has around 16 bills in progress that would create more housing. On Tuesday, House Bill 1110 got its first hearing. "As you know, Washington is experiencing a housing shortage, which is culminating in a housing crisis," said Representative Jessica Bateman (D-Olympia), the bill's main sponsor, at the hearing. "This supply imbalance is creating increasingly expensive homes, and increasingly expensive rents that's impacting our constituents in every corner of the state." The bill would remove bans on denser forms of housing like duplexes and fourplexes in cities across the state. Continue reading at KUOW. (Joshua McNichols)
---
A new study found WA is one of the worst states to drive in. Just how low do we rank?
WalletHub found Washington to be the second-worst state to drive in, ranking low for the cost of ownership and maintenance of a vehicle, and traffic and infrastructure. The Evergreen State is only beaten out for worse driving conditions by Hawaii. Washington's neighboring states also fared much better, with Idaho ranked 6th and Oregon 24th.To determine the best and worst states to drive in, WalletHub used four key dimensions to formulate the rankings: Cost of ownership and maintenance, traffic and infrastructure, safety, and access to vehicles and maintenance. Under those four dimensions are 31 relevant metrics, such as average gas prices (cost of ownership and maintenance), average commute time by car (traffic and infrastructure) and traffic fatality rate (safety). Continue reading at News Tribune.
---
Print
Aberdeen Daily World
School board votes against allowing state funding of Ocean Shores tsunami tower
Axios
Washington state marks three years of COVID
Wealth tax prospects doubtful — but tax reform isn't dead (Frame, Fitzgibbon)
Bellingham Herald
State Democrats join multi-state effort to tax the ultra-wealthy (Frame, Thai, Hunt)
Update: Albertsons to pay stockholders $4b dividend. Grocer announces when it will happen
Capital Press
Farm Bureau, others go to court over new WOTUS rule
Columbian
State offering $35M in grants for solar power
The Daily News
Kelso reviews plan to house library, senior center and affordable housing in one building
Everett Herald
Meadowdale Beach updates give fish, hikers more room to roam
Police: Man pointed realistic BB gun at Everett elementary students
The Inlander
A string of attacks on Pacific Northwest power stations reignites concerns about grid security
News Tribune
A new study found WA is one of the worst states to drive in. Just how low do we rank?
Seafood processor fined after Tacoma ship fire leads to oil spill at Port of Tacoma
New York Times
The U.S. Hit Its Debt Limit. What Happens Next?
Olympian
Lewis County police arrest Green Hill incarcerated students in fentanyl bust
Puget Sound Business Journal
Here's how jet makers are responding to labor, supply chain crises
WA hospital leaders sound alarm about 'catastrophic' financial losses
Seattle Times
Asian Americans in Seattle use Lunar New Year traditions as connection to heritage, family
WA lawmakers trying again to tax wealth, as part of nationwide effort (Frame)
Spokesman Review
Bill to ease Washington's housing crisis would allow up to fourplex on all residential lots (Bateman)
Tri-City Herald
Could Tri-Cities become home to an aerospace industrial center? 
Walla Walla Union Bulletin
MLK monument made at Walla Walla Foundry soon to be unveiled in Boston
Yakima Herald-Republic
Hop Hill solar farm proposed just east of Sunnyside in Benton County
Broadcast
KING 5 TV (NBC)
Tacoma community groups call for more action after teen shootings
Boeing ordered to be arraigned on charge in Max crashes
KIRO 7 TV (CBS)
Washington lawmakers considering new approach to drug possession law
KOMO 4 TV (ABC)
Washington lawmakers look to strengthen laws against 'revenge porn' (Orwall)
KNKX Public Radio
WA grapples with seals, sea lions preying on endangered salmon
KUOW Public Radio
WA Democrats join nationwide rollout of 'wealth tax' proposals (Frame, Thai)
WA lawmakers are subject to public disclosure law on paper. But are they in practice?
Middle housing bill begins with more support in WA Legislature than last time (Bateman)
KXLY (ABC)
WSDOT: Camp Hope down to around 138 people
Q13 TV (FOX)
Gov. Inslee endorses bill to lower blood alcohol level in Washington (Lovick)
Web
Land Line 
Washington state bill covers restroom access for truck drivers  (Stanford)
MyNorthwest
String of WA gun laws heard by House Judiciary Committee
---