Dear Friends and Neighbors,
The legislative session ended nearly two months ago, and soon new laws, programs and services passed this session will begin going into effect. I hope you had a chance to read my read my session recap or join our virtual town hall last month. If not, please consider joining this upcoming opportunity to connect with my 28th District seatmates and me so we can hear your thoughts, concerns and questions about the legislative session, and any additional issues related to state government and our community. I am honored to serve as your representative in Olympia and value these opportunities to connect with neighbors in our corner of Pierce County.
Click here or on the image below to register for our Coffee Conversations with Your Legislators event on June 28 from 5:30-6:30 p.m.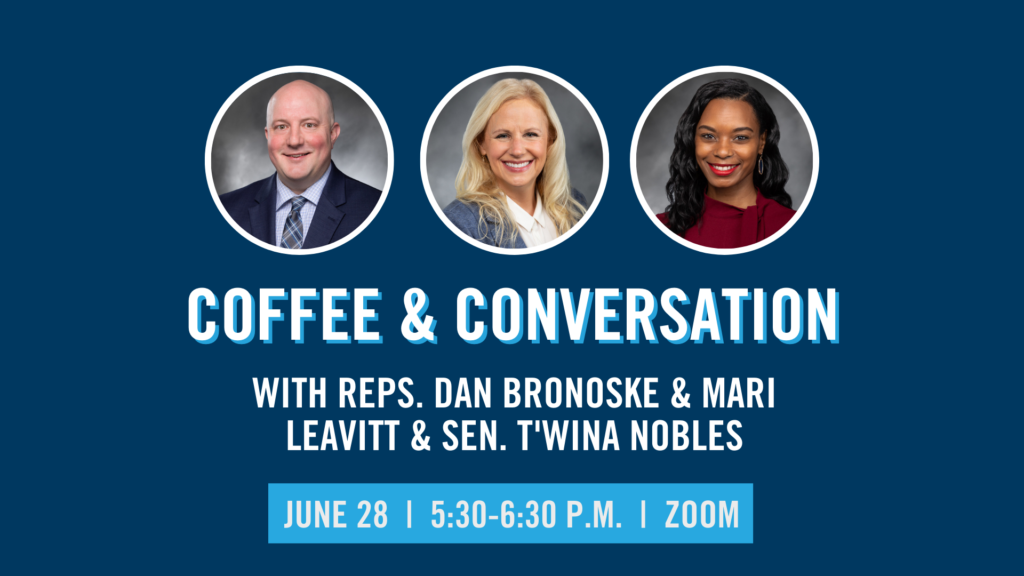 ---
Your COVID-19 vaccine could be the 'shot of a lifetime'
We are all looking forward to our state's reopening on June 30th—and each of us plays a role to make sure that can happen. I do not ask anyone to do anything I would not do myself. As a healthcare worker, I received my second dose of vaccine in January. 97% of new COVID-19 cases are among the unvaccinated and we are still taking some of these people to the hospital. Please get vaccinated against COVID-19 as soon as possible—you might not even need an appointment. Plus, you will be automatically entered into the Washington Lottery's 'Shot of a Lifetime' drawing for four prizes of $250,000, a grand prize of $1 million, and prizes like Mariners, Seahawks, Storm or Reign tickets, gaming systems and much, much more. Kids 12-17 could even win college tuition.
You are automatically entered into the contests if you already received your vaccine.
I am also pleased to share that military members, veterans and their families who are vaccinated through the National Guard, U.S. Department of Defense or U.S. Department of Veterans Affairs will get a vaccine lottery beginning July 20. The military and veteran's lottery requires you to opt-in. Watch for information from the U.S. Department of Defense.
Use the Department of Health Vaccine Locator to find a vaccination location near you.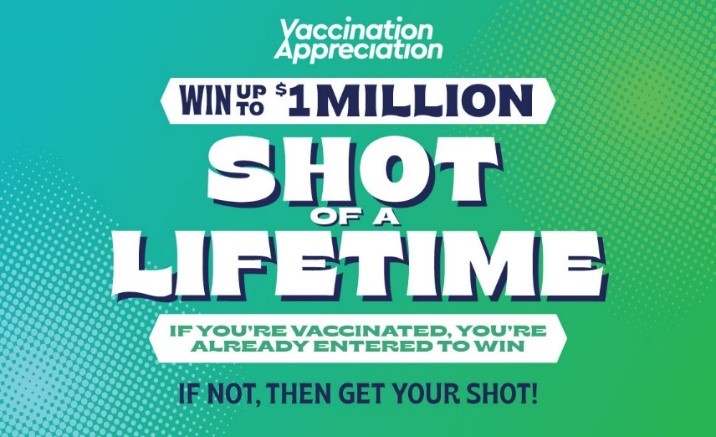 ---
Out and about in our community
The Curran House Museum will receive $85,000 in funds from the Local Community Project grant for the second phase of creating a history museum for the community of University Place. The Curran House is listed on both state and national heritage registers and is a prime example of mid-century modern architecture. Together with University Place Council Member Denise McCluskey and Representative Mari Leavitt, I was thrilled to visit the Curran Apple Orchard and gardens to see the work done in phase one and the upcoming plans.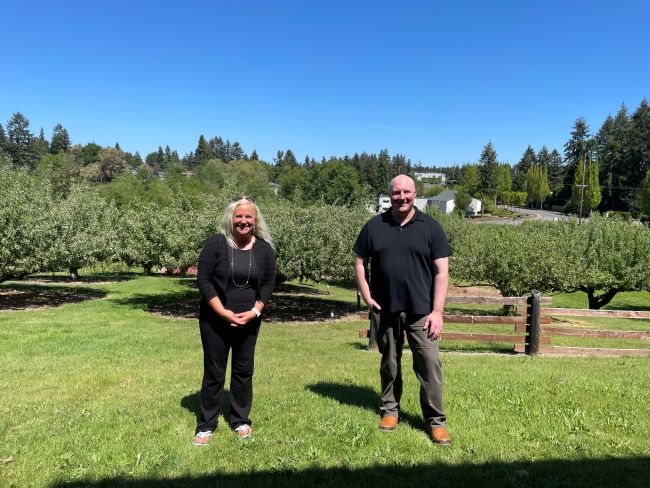 I also had the opportunity to visit a Sea Mar Community Health Center that administers COVID-19 vaccines in Pierce County with Congresswoman Marilyn Strickland. If you or someone you know needs help finding a vaccine clinic near you, visit the Tacoma-Pierce County Health Department for their calendar of vaccine events.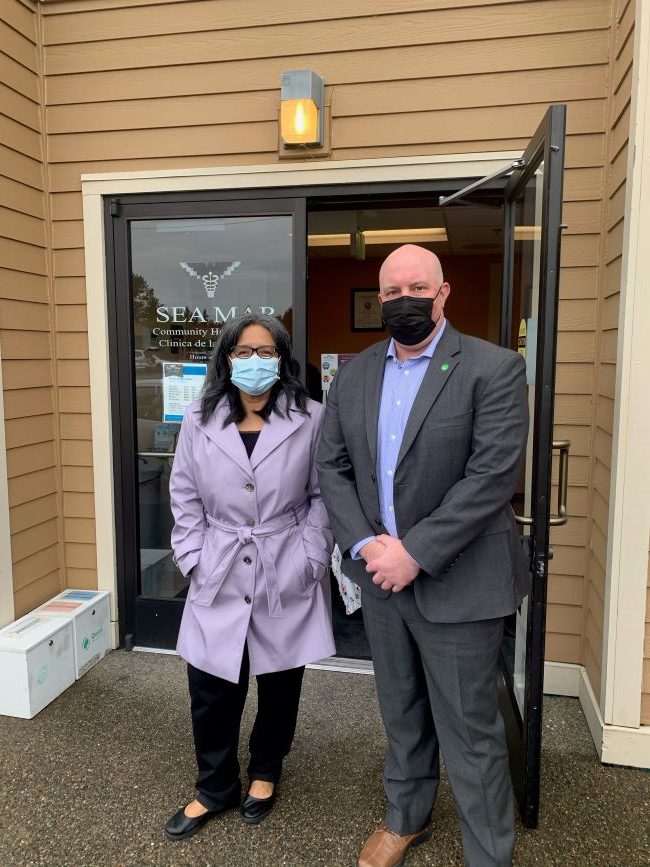 On May 30, I visited the open house of the new Edwards Family Aquatic Center in Fircrest. The community pool, a gathering place for all, received $1,000,000 in funding from the previous legislative session through the competitive Local Community Project grant. Alongside Senator T'wina Nobles, Representative Mari Leavitt and Fircrest Mayor Hunter George, we had the great pleasure to help open the pool just in time for safe summer fun.
---
School district summer meal programs
Summer meals programs are a lifeline for fighting hunger and food insecurity for many families in our area. This summer, thanks to federal action allowing summer meal programs no matter the economic conditions in the area, it should be easier to find a summer meals site near you.
To find a Summer Meals site near you:
Text "Summer Meals" to 97779
Call 1-866-3-HUNGRY (1-866-348-6479).
For Spanish, families can call 1-877-8-HAMBRE (1-877-842-6273)
For more information, please contact the Child Nutrition Services department within the Office of Superintendent of Public Instruction at 360–725–6200.
---
Redistricting Commission public outreach meetings
Every ten years, the Washington Redistricting Commission has the important task of redrawing legislative and congressional district boundaries to make sure each district represents an equal number of residents.
You play an important role in that process, and I want to make sure you do not miss out on opportunities to make your voice heard in the Commission's public outreach meetings. These meetings are scheduled throughout the summer by congressional district, and residents of the 28th Legislative district may be represented by the 6th, 8th or 10th congressional district depending on where you live.
Learn more about all the ways to participate here, and visit this link if you need to verify which congressional district you live in.
Public outreach meeting schedule:
---
You may have unclaimed property
The State's Department of Revenue is the custodian for unclaimed property belonging to Washington residents, and you can search their database to see if you have unclaimed property to recover. Banks, retailers, credit unions, utilities, corporations, insurance companies, and governmental entities are some of the many sources of unclaimed property. It does not include property like real estate, vehicles, and most other physical property.