Click on the image to watch Speaker Frank Chopp deliver his Opening Day remarks: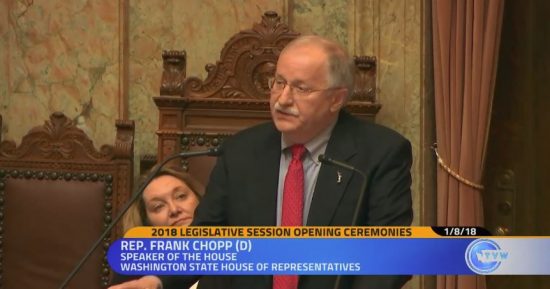 For many years, we have focused on the idea of One Washington.
Where we bring folks together for common purpose. Where we look out for communities all across our state. Where we give everyone a fair shake. And where we act by putting people first.
With these values in mind, this House provided the leadership, the vision, and the policies to better the lives of the people we serve. It's worth taking inventory of what we've accomplished the last few years.
By carrying out our paramount duty, we provided the greatest increase in basic education funding in state history.
By expanding and improving early learning, we made the wisest investment in a generation.
By building on our Apple Health program, we created the greatest extension of health care in decades.
By introducing paid family leave, we enacted the largest expansion of social security in generations.
By enacting the Dream Act and Marriage Equality, we again confirmed our belief in basic human rights.
By passing innovative legislation such as Joel's Law, Ricky's Law, and Sheena's Law, and by making strong investments, we are improving mental health care for our friends and family members.
And by investing in transportation and infrastructure, we are creating the greatest number of public works projects and jobs in state history.
This House led the way on each of these achievements, For example, we created the framework for greater funding of basic education years before the Supreme Court issued the McCleary decision.
I want to congratulate you for demonstrating that the Washington State Legislature is dedicated to improving the lives of the people of our state.
We do this work not for the glory, not for the money, not for the courts. We do this work for the people.
Using common sense, we work together for the common good.
Many advances have been made, but there is much more to do.
This year we have 60 days. Am I right to assume you want to finish on time? Well then, we need to move fast to address key priorities:
Equal pay for women.
Voting rights for all our citizens.
Jobs for folks in rural areas.
A capital budget for school construction and infrastructure.
Homes and hope for those with mental illness.
Care and treatment for people fighting drug addictions.
"Breakfast after the Bell" to help students do well in school.
A new vision for education beyond high school, with better opportunities for apprenticeships, certificates and degrees.
Accountability in government functions and transparency in campaign contributions.
In the State Capitol community, we can confirm our commitment to freedom from harassment and misconduct by anyone, no matter their position or power.
And regardless of what happens in the other Washington, we must continue health care for our children. Our Apple Health for All Kids program is one of the best in the nation, with 97 percent of our young people covered. We all know that in order to do well in school, students should be healthy and ready to learn.
In view of recent news from DC, we must be ever-vigilant in protecting our shores from oil spills. After all, we are the Evergreen State. We must ensure a legacy of clean air and water, and healthy forests for the next generation.
This is the promise of One Washington.
Working together in good faith, our accomplishments will continue as long as there are people like you willing to make that happen.
We have a lot to do. Let's get to work!
---