Dear Friends and Neighbors,
The legislative session began last week, and we are back to work full time as your state representatives. In our first e-newsletter of the year, we will highlight just a few of the many issues before us this session, but we really want to hear from you. What are your priorities for us as your representatives? How can we make the 22nd Legislative District an even better place to live, work, and raise a family? 
Please take a few minutes to complete this brief survey about your priorities for this legislative session.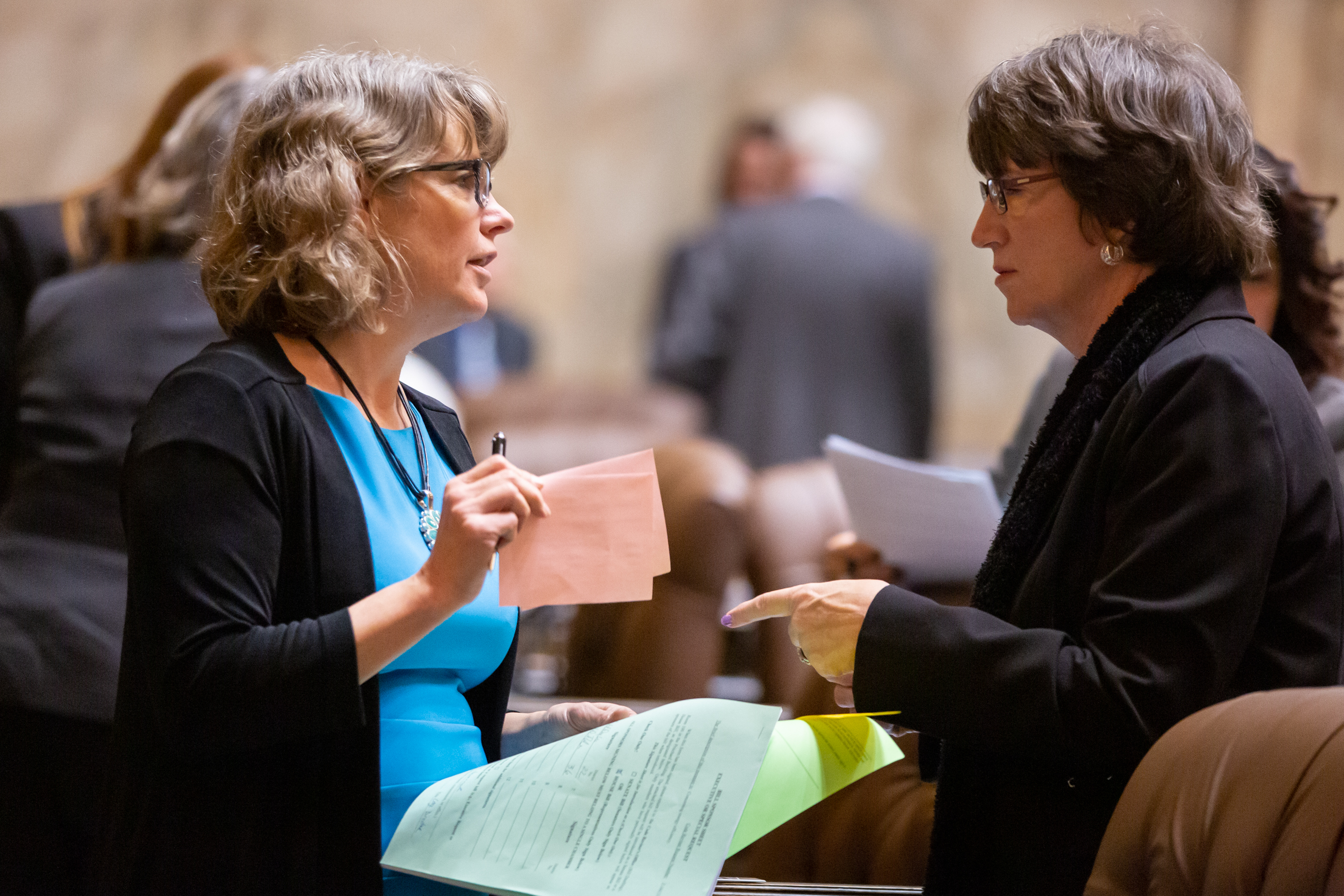 Rep. Laurie Dolan
Welcome to the 2019 legislative session! Over the next two years, I will continue to serve as Vice-Chair of the Education Committee, and on the State Government & Tribal Relations. I am delighted to now serve on the Appropriations Committee too.
As a parent, grandparent, and longtime school leader school safety is of critical importance to me. After the 2018 legislative session ended, I led a 10-month stakeholder process with parents, teachers, students, school leaders, and community safety experts to create a robust plan for school safety and student well-being. After much collaboration and hard work by all involved, we came up with a plan, HB 1216, to establish Regional Safety Centers across the state to provide training, support, and coordination to educators and students.
On January 29th we will hold a press conference to launch the school safety initiative. I will be chairing the K-12 Education Committee meeting from 3:30-5:30pm on that same day, and I would like to extend an invitation to each of you to attend the meeting. You will have the opportunity to hear two outstanding speakers who will highlight the importance of our school safety bills:
 Alissa Parker is the mother of Emilie Parker, one of the 20 children who died tragically in the Sandy Hook School Shooting. In the wake of the tragedy, Alissa become passionate about school security and safety, traveling, listening and learning in school communities across the United States.
 Eric Madfis, Ph.D. is an Associate Professor of Criminal Justice at the University of Washington Tacoma, where his research focuses on the causes and prevention of school violence, hate crime, and mass murder. Dr. Madfis is a national expert on threat assessment and restorative discipline in schools. 
Thank you for hiring me to do this important work on your behalf. I never take that for granted.
Rep. Beth Doglio
As a second-term legislator, I am inspired by the wave of enthusiasm that swept stronger Democratic majorities into both chambers of our Legislature. We have many opportunities to create good policy this year, and I will advocate for climate action, housing affordability, quality education, a more robust and accessible mental health system, gun responsibility measures and ensuring good contracts for our state employees. I want to highlight a couple of those issues here in this brief update.
This session's climate agenda is robust. In total, our combined policy objectives—100 percent clean electricity, clean buildings, eliminating hydrofluorocarbon super-pollutants, clean transportation, and a clean fuel standard, among others—will reduce emissions by 16 million metric tons by 2035. I am excited to join the Transportation Committee this year and will focus my work on a green transportation package. With strong incentives to build out an electric vehicle charging network, sale of EVs, and conversion of large vehicle fleets, establishing a clean fuels standard and expanding transit options, we will be on our way to much a cleaner transportation sector.
Another challenge facing us is the crisis of housing security. I am centering my work on solutions to provide local governments more tools and flexibility to address the situation. As vice-chair of the Capital Budget Committee, I will work to strengthen the Housing Trust Fund and provide targeted low-cost loans for housing infrastructure through the Public Works Assistance Account.
These are just a few ways I hope my colleagues and I can use our Democratic legislative majorities this year. I encourage you to keep in touch with me and share your priorities, questions, and concerns. As your state representative, I am at your service. Thank you for putting your trust in me.
Thanks very much for taking the time to read our first update of the 2019 legislative session. Again, we hope you will take a few minutes to complete our survey about your priorities for us as your representatives.
Thank you,


---