Washington is facing an affordable housing and homelessness crisis—every district, every county, every community is experiencing this crisis. Despite efforts and resources to date, we simply do not have adequate housing options across income levels and across specialized needs in order to keep Washingtonians housed.
This crisis also impacts people differently. Renters, LGBTQ people, and people of color are more likely to be overburdened by housing costs and/or other barriers, and are at greater risk for displacement.
Increasing affordable housing stock and mitigating the factors that lead to homelessness are top priorities for House Democrats in the 2019 session.
Here in our communities in Thurston County, homelessness is acute. We see it every day. The problem is clearly defined, but communities here and across our state need solutions. We're supporting a number of bills and budget priorities that would help achieve the goals of improving housing affordability, reducing homelessness, and fixing our broken eviction system.
House Democrats' blueprint for improving housing affordability and reducing homelessness:
Build More—We need affordable housing in ALL parts of the state. A LOT more. One of the ways we can build more is by making additional investments in programs we know work well, like the Housing Trust Fund, sales tax credits, and public works loans.
Build Up—We need more density around transit centers. Affordable housing and public transit go hand-in-hand.
Build Better—There's too much red tape that gets in the way of addressing community needs quickly and efficiently. There's still work lawmakers can do to streamline environmental permitting, make better use of available public land, and expedite lending procedures.
Build Stability—Our communities are unstable because our broken eviction system imposes life-shattering consequences in a very short amount of time. We are proposing bold reforms aimed at truly and justly balancing the relationship between tenants and landlords. We also seek to better support students and children experiencing homelessness, and provide targeted property tax reductions for seniors and veterans.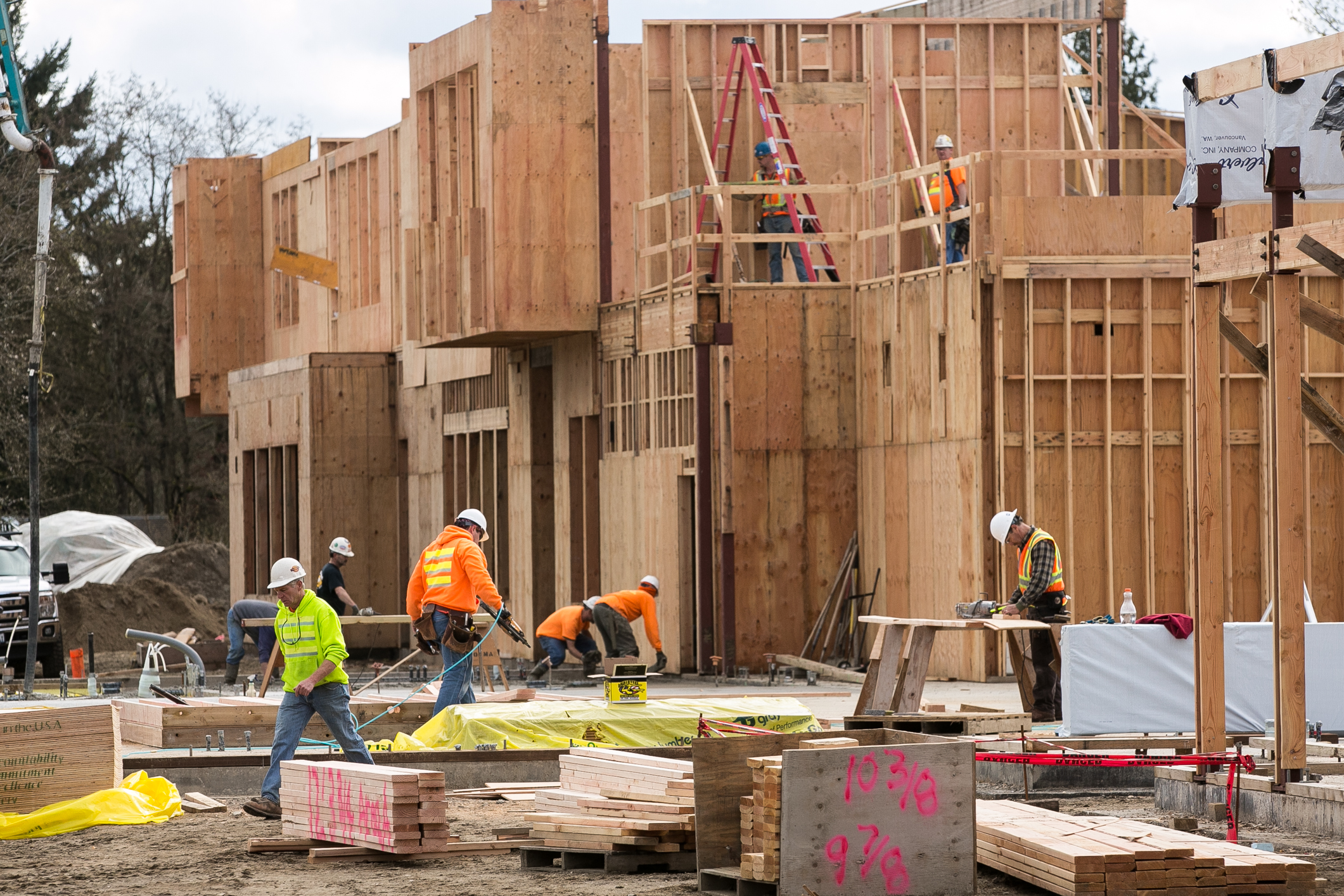 House Democrats have introduced nearly 40 bills to these ends, and here is an update on a few key pieces of legislation:
HB 1406–Bonding against sales tax to encourage investments in affordable and supportive housing
HB 1406 allows counties or cities to use a portion of the sales tax for affordable housing or to back bonds dedicated to affordable housing. Such bonds would come at no cost to homeowners, renters, property owners, or developers—an all-around win. The bill would allow for nearly $400m of bonding capacity in affordable housing.
In House Rules Committee; awaiting final passage
HB 1453–Eviction reform
This bill extends the 3-day notice to pay or vacate to 14 days, and provides judges with discretion to act in the interest of justice. There is no other situation where a person or family could lose something so critical, so quickly, and evidence shows that evictions are a leading cause of homelessness. 90% of evictions are for nonpayment of rent, so this bill is needed to end the cycle of evictions leading to homelessness.
In House Rules Committee; awaiting final passage
HB 1590–Allowing local sales and use tax for affordable housing to be imposed by councilmanic authority
This bill by Rep. Doglio empowers local councilmembers and commission members with more tools to address the housing and homelessness crisis in their local communities. Due to this crisis, there is insufficient time to send these matters to the ballot. We need action now, not delays. It can take multiple years to build a campaign for a vote. In the meantime, people are sleeping and dying outside.
Scheduled for public hearing and vote in the Finance Committee on Feb. 26 and 27 respectively
HB 1656–Requiring cause for lease termination/eviction
Landlords cite a legitimate business reason for terminating a tenancy (nonpayment of rent, waste or nuisance and rule violation) under this legislation. Under current law, a landlord may decide that they no longer want to continue renting to a tenant and simply issue a 20-day notice to terminate the tenancy without citing any reason whatsoever. Once the notice has been delivered, the tenant has no legal recourse to remain in their home. This is a glaring loophole for discrimination and retaliation against renters who assert their rights, and it is being used that way.
In House Rules Committee; awaiting final passage
HB 1680–Local government infrastructure funding
Also by Rep. Doglio, this bill requires prioritization of housing development for the portion of REET collected and deposited into the Public Works Assistance Account.
Scheduled for public hearing and vote in the Capital Budget Committee on Feb. 26 and 27 respectively
HB 1923–Increasing density around transit oriented development
Affordable housing and transit go hand-in-hand. This bill requires certain cities to authorize certain tools for affordable housing based on population including greater density and development of housing, reducing parking requirements, authorizing accessory dwelling units, adopting inclusionary zoning policies, preserving existing affordable housing, minimizing displacement, and easing permitting for emergency shelters.
Scheduled for public hearing in the Appropriations Committee on Feb. 26
HB 2004–Property tax exemption for nonprofits providing rental housing or mobile home park spaces to very-low income households
Rep. Doglio's third housing bill, this legislation adds mobile home park and manufactured housing coops to the property tax exemption for nonprofits providing rental housing for very low-income households.
Scheduled for public hearing and vote in the Finance Committee on Feb. 26 and 27 respectively
Dolan's Corner
As you know, I'm now serving on the House Appropriations Committee, which writes that state operating budget. Many programs related to housing and homelessness are funded directly in the operating budget, including the Housing and Essential Needs and the Aged, Blind, and Disabled programs. These programs serve very low income disabled residents who are at severe risk of losing their homes. I'm strongly supporting additional funding for these programs in order to keep people housed. I'm also advocating for funding for additional housing services including permanent supportive housing (PSH). PSH exists at the intersection of homelessness and behavioral health. Substance use disorder and mental illness rates are high among unsheltered people, and both remain a major barrier to exiting homelessness. I'm supporting a $16.471 million appropriation that will fund 500 units of PSH over the next two years.
Doglio's Corner
We're getting closer to finalizing the House Democrat's initial capital budget proposal. I'm again serving as vice chair of the Capital Budget Committee, a position I am using to advocate for robust funding for the Housing Trust Fund (HTF). The HTF is one of the state's most important funding sources for affordable and low-income housing construction. It has been used to build thousands of homes across the state, but the need only continues increasing. I am working hard to find dollars int he capital budget in pursuit of a $200 million funding infusion for the HTF. This would be the single largest funding level ever for the program. We face many additional budgetary constraints, so it will require a great amount of advocacy to build support for this funding.
---