105 days of "putting people first"
The legislative session adjourned for the year just in the nick of time late Sunday night. One of our House Democratic Caucus guiding principles is the idea of "putting people first." After 105 days of doing just that, I wanted to provide a brief update on some of the issues I led on this session.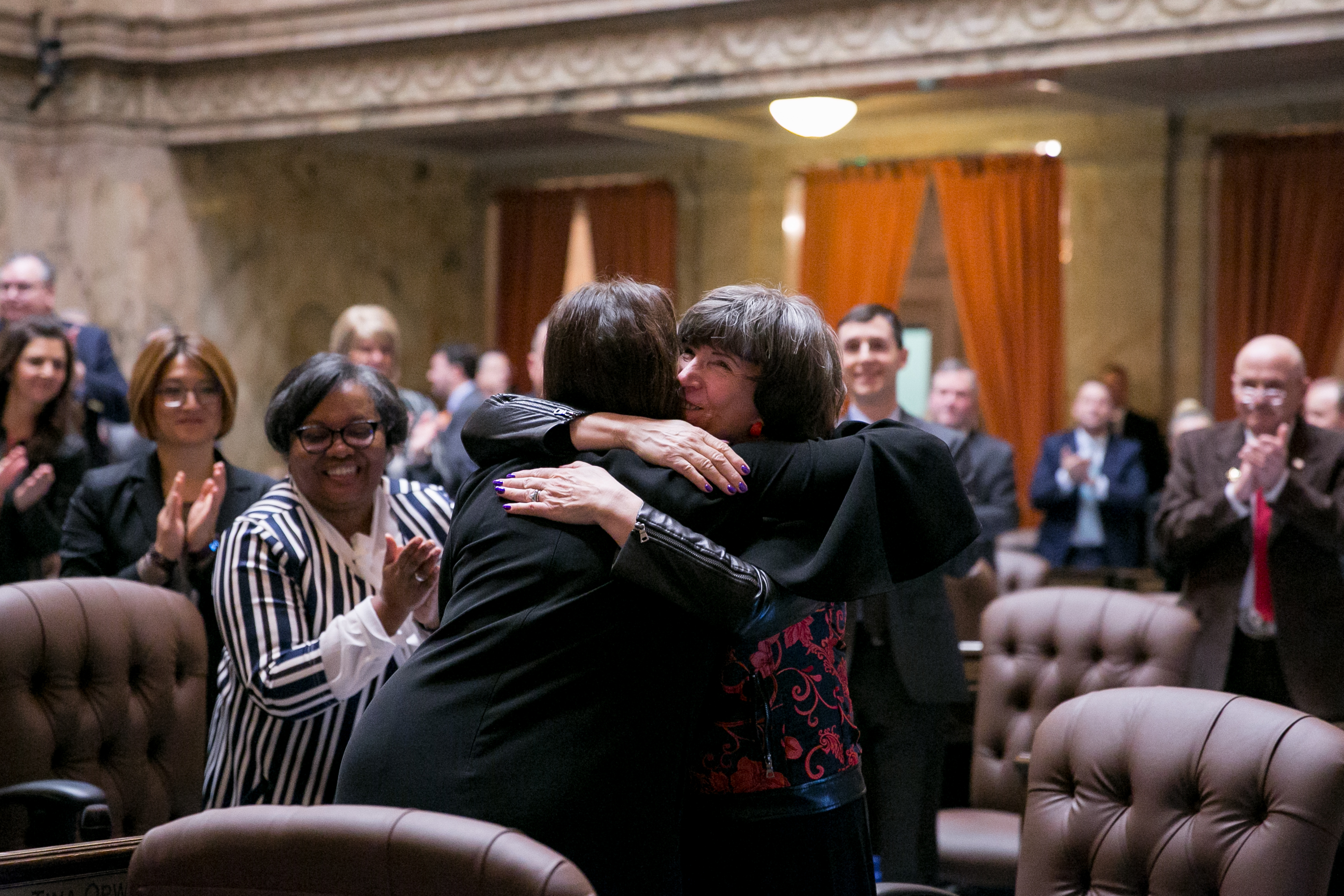 K-12 Education Funding
One of the main reasons that I came to the legislature was to fix the funding mechanisms for K-12 education that were damaged during the McCleary lawsuit fix. Washington became a state in 1889, and the "Paramount Duty " of the state to fund the basic education of our students was written into the state constitution. Forty years earlier, in 1849, citizens in the Oregon Territory (in what would become Washington), elected the first school board members to make educational decisions. For 130 years, the juxtaposition between state funding and local decision-making has been our legacy.
During the McCleary fix, the legislature was so concerned about fully funding basic education (the prototypical model) that we locked down local levies way too tightly.  The truth is, parents and community members expect far more from their public schools than just the "basics of the prototypical model." They expect after-school activities, sports, music and even additional staffing beyond what the prototypical model provides. On the final day of the 2019 session, the legislature was able to pass a new levy bill. The new levy lid will allow local communities to determine what "enhancements" they want for their children. The state will pay for the prototypical basic education while individual districts will pay for the enhancements to basic education.
School Safety (HB 1216)
The education of our 1.1 million students is the paramount duty of the state, and within that responsibility, there is nothing more important than our children's safety. Our children not only need to BE safe, but they need to FEEL safe. HB 1216 was written with this in mind. The research for this bill evolved out of the work done last summer by the Mass Shootings Task Force as well as our own House Education Committee, the Office of the Superintendent of Public Instruction, a number of professional teacher, school director, school administrator, and parent organizations, plus our Educational Service Districts.
What we learned is that mass shootings, God forbid, are more likely to take place in white suburban communities than large cities. Knowing that any school safety bill would need to encompass our smallest towns as well as our largest districts, HB 1216 sets up school safety centers in each of our nine Educational Service Districts to focus on threat assessment (training to recognize when a student might be a danger to himself or others), and suicide prevention/mental health. We know that our safest schools are those with caring adults who regularly check in with their students. HB 1216 will give those caring adults a new set of skills, building the capacity to offer a whole new level of school safety for our students.
I appeared on "Inside Olympia" to discuss our school safety plan. Check it out here!
Salary History (HB 1696)
Women and people of color face steep challenges in negotiating pay. HB 1696 enacts the strongest-in-the-nation pay transparency protections. It prohibits an employer from seeking the wage or salary history of an applicant in most circumstances.  It also requires an employer to provide the wage or salary range for the job title to a job applicant or employee both upon hire and annually, upon request. Washington will be the first state to extend this right to job applicants. Women in our state have regularly experienced pay discrimination based on salary history. Furthermore, women are regularly offered lower initial pay for the same jobs, even when education and experience are comparable. This results in lower lifetime pay, less family income, and more children and families in poverty.
Sexual Harassment Investigations (HB 2020)
Sexual harassment and assault are not crimes of passion, but rather crimes of power of one person over another. There is little as sacred as our own emotional and physical safety, control of our own bodies and personal choice. HB 2020 was brought to me by survivors of sexual assault from our own state agencies who know that as long as sexual harassment and assault can remain hidden, it will flourish. HB 2020 creates a process that protects all parties and their identities during an investigation. Prior to an investigation being made public, the victims and witnesses have the opportunity to choose to be identified in the report. If you have been harassed or assaulted, and made to feel powerless, there is probably no greater catharsis than the ability to tell your own story in your own voice.
AAG Bargaining (HB 1299/SB 5297)
Senator Hunt and I were the prime sponsors of the bills to extend collective bargaining rights to our assistant attorneys general (AAGs). The state of Washington does a excellent job of hiring and training the best AAGs, but their salaries are so low that they too often leave for higher paying jobs in other state agencies and private practice. Over a recent two-year period, 18 % of our AAGs have left for higher paying jobs. Constantly training new AAGs is highly expensive. SB 5297 will extend CB rights to our AAGs with the goal of turning their work into a career instead of a training ground.
Hearing Aides (HB 1078/SB 5210)
Although it was SB 5210 that became the vehicle for this legislation, it began it's life as HB 1078 when one of my constituents came to me with this important idea. This bill requires persons who dispense hearing instruments to notify potential purchasers of the uses, benefits, and limitations of the technology (such as telecoil-enabled and bluetooth devices). Buying hearing aides is an expensive purchase that is rarely covered by health insurance. This new legislation will make sure that purchasers remain happy with their hearing aides once they get them home.
It has been my honor to serve you this session!
Thanks for taking the time to read this update,

---