Dear neighbors,
I hope this newsletter finds you and your family well during these difficult times.
Keeping you informed is a large part of my job as your representative. This update touches on a large number of issues because there's a tremendous amount of activity right now as we prepare for the 2021 session of the Legislature.
---
Addressing food insecurity in our state
The Washington State Food Security Survey, aimed at understanding the impacts of the coronavirus pandemic on economic security and food access, was carried out over the summer and included 2,621 residents across the state. It found that 30 percent of households were food insecure, almost 60 percent of them included children, and 33 percent received some kind of food assistance. It also found that people of color are 1.5 times more likely than white people to be food insecure.
While the pandemic may not have created the issues of hunger, poverty and racial inequality in our state, it has only made these realities starker and more urgent. We also know many people are experiencing crises of hunger for the first time.
This coming session, I will support measures to secure food access, a keystone to building a healthier, more equitable Washington. We will look at any and all ways to support existing programs that are already getting food to those in need. But we will also explore new approaches and ideas to help:
Address the changing landscape for farmers and school kids during the pandemic; and
Address the systemic or historic gaps that have left communities of color and tribal communities without adequate access or infrastructure to meet their nutritional needs.
These policies will provide some solutions for our state's food insecurity problems, but they won't happen overnight. The holidays are just around the corner and many Washington families are hurting and need help. If yours is among them, or if you know someone who is struggling, please visit the Washington Coronavirus Response food assistance web page.
---
New guidance released to bring more kids back into classrooms safely
Governor Inslee and State Schools Superintendent Chris Reykdal announced updated guidance for getting students back into classrooms in a phased approach. The guidance includes state Department of Health suggested categories for re-introducing in-person learning: one approach for counties with a "low" number of COVID-19 cases, another for counties with a "moderate" number of cases, and a third for counties with a "high" number of cases. This guidance reflects the latest research indicating in-person learning can be phased in while also protecting the health and safety of students, staff, and their communities.
As always, the decision to begin or expand in-person learning will be made by the school districts themselves. In addition to announcing the new guidance, Governor Inslee also announced $3 million  from set aside funds that will be directed to the Office of the Superintendent of Public Instruction to support health and safety work in our state's schools.
With careful planning, preparation, and precautions, in-person learning can happen safely. The new guidance and directed funds will hopefully help more districts start to transition kids back into classrooms.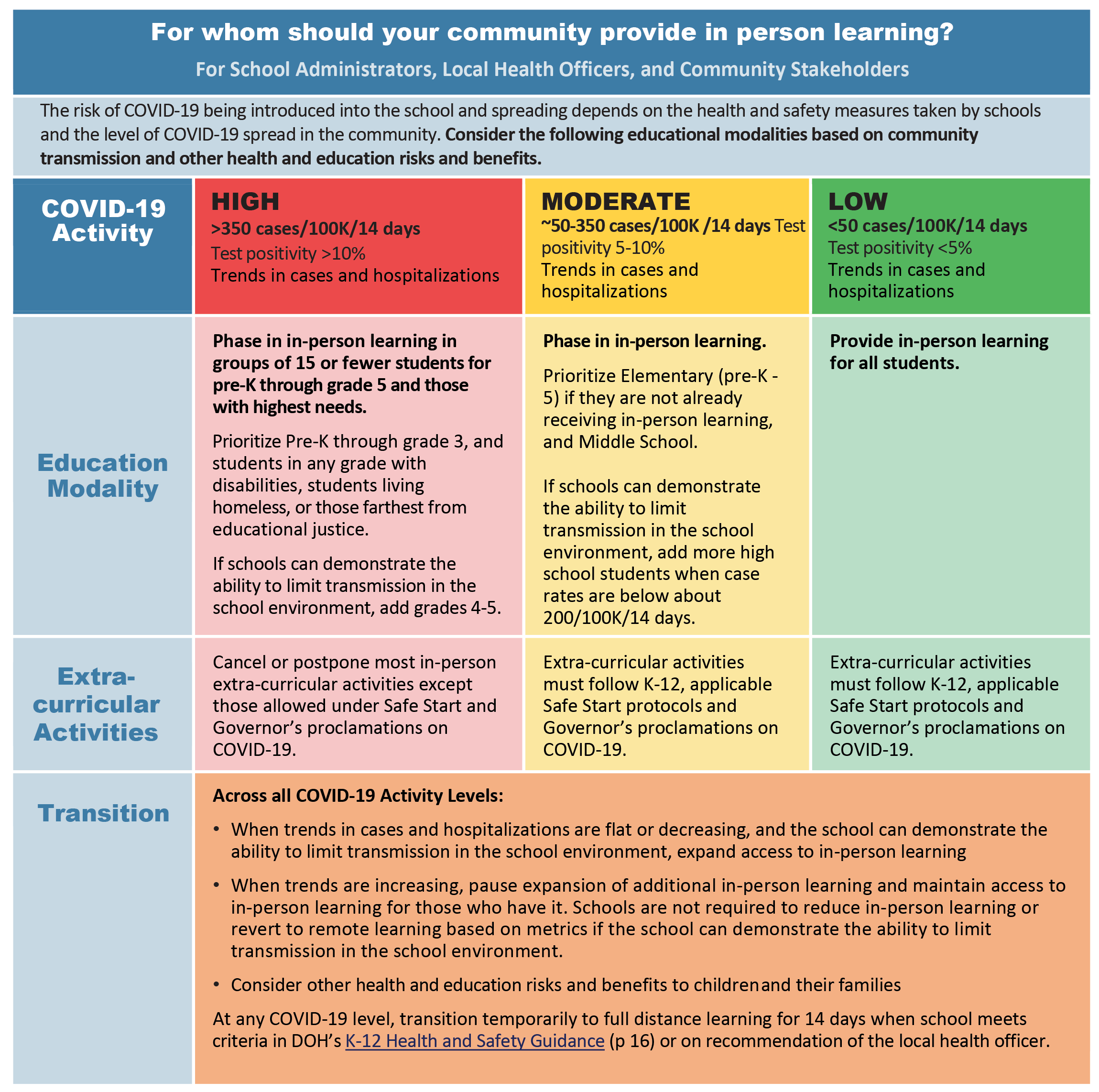 ---
Governor releases budget proposal
In the 2021 session, lawmakers will come up with a new two-year budget for our state. While it is the Legislature that ultimately drafts, votes on, and sends the budget to the governor for signature, the governor also releases a budget proposal prior to the start of session. This proposal lays out the governor's priorities for the coming session and may be viewed as a starting point, but what lawmakers end up passing may look very different.
The governor released his budget proposal, which invests in things like increased public health funding, affordable housing and homelessness programs, expansion of rental assistance, and economic recovery for families, workers, and businesses hit hard by the ongoing pandemic. It also prioritizes racial and economic equity. You can read highlights of the plan here.
I appreciate the governor kicking off the conversation around a balanced approach to our state budget, and a recovery that is equitable and inclusive for all communities across our state. This session, I'll be standing up for the needs of our district's families, workers, and small businesses as the state budget goes through the legislative process.
---
Washington's Coronavirus vaccine plan
Less than one year ago, no one even knew the novel coronavirus existed. Now, several vaccine trials are nearing completion, and the FDA will determine the first vaccines to pass the high bar of safety and effectiveness. While the race to develop vaccines has progressed with unprecedented speed, we also know the suffering has been immense and hardly bearable. Here in our state nearly 190,000 people are known to have contracted the virus, and over 3,000 of our friends, family, and neighbors have died.
But, as Dr. Anthony Fauci said recently, "Help is on the way, but we need to actually double down on the public health measures as we're waiting for that help to come."
Washington state is wasting no time getting ready for the arrival of COVID-19 vaccines. The Department of Health (DOH) has been working with local partners in every corner of our state to plan for the distribution of vaccines as soon as they are approved and ready. The exact date remains uncertain, but DOH remains hopeful that vaccines will become available this month.
It is also important to remember there will not immediately have enough vaccines for everyone who lives in our state. Workers in healthcare settings that care for patients with COVID-19, along with staff and residents of long term care facilities will be among the first to receive the vaccine. Additionally, the National Academy of Medicine's "Framework for Equitable Allocation COVID-19 Vaccine" will serve as a guide in our state's development of a distribution plan, along with feedback from communities across Washington, and additional sectors and industries that are heavily impacted by COVID-19 here.
Learn more about Washington's vaccine distribution plan here.
---
Police Accountability and the Policing Policy Leadership Team
When someone is shot or killed by police and the law doesn't offer a pathway to justice, it damages the community, the reputation of law enforcement, and the entire concept of justice. After the killing of George Floyd by Minneapolis police officers, historic protests against racism and police brutality broke out across the country. As policymakers it is our responsibility to listen to the anguish and righteous anger of thousands of peaceful protestors and work with Black, Brown, and Native American communities to create laws that truly hold police accountable and create equal justice in our state.
Recognizing that a more diverse Legislature can yield better policy, House Public Safety Committee Chair Rep. Roger Goodman put together a leadership team to examine current policy and come up with a plan to rebuild our communities' trust in our police. The leadership team is made up of members from the Black Members Caucus, Reps. Debra Entenman, Jesse Johnson, and John Lovick; and the Members of Color Caucus, Reps. My-Linh Thai, Bill Ramos, and Debra Lekanoff.
Starting in June, the leadership team met with families of victims of police violence, community representatives, members of law enforcement, academics, young people, and other stakeholders.  Working closely with these stakeholders as well as the Governor's Task Force on Independent Investigations on Police Use of Force, and Senate Democrats, the leadership team is developing a comprehensive package of bills to:
strengthen police accountability measures;
limit questionable police tactics and the use of deadly force;
increase transparency of police activity, and
ensure truly independent investigations and prosecutions of egregious police misconduct.
Rebuilding our communities' trust in law enforcement is of paramount importance. Police officers are the first and often only interaction the public has with our government. We must ensure that preserving human life is the highest priority for our law enforcement and that they are being held to the highest standards. This will be one of the Legislature's top priorities this year.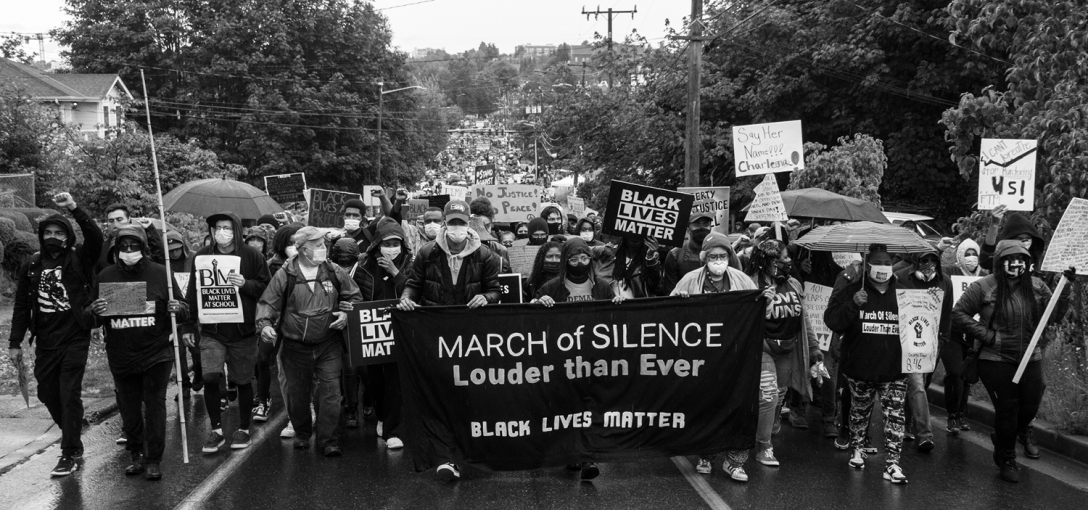 ---
State revenue snapshot: Not as bad as expected, but challenges remain
On November 18, the state Economic and Revenue Forecast Council (ERFC) released its latest revenue forecast for our state. State lawmakers, particularly budget writers, are paying close attention to these forecasts as they prepare to draft a new two-year budget for our state when the Legislature convenes in January.
Here's what we know: The November report showed the state took in more revenue than the previous forecast anticipated. This has been the case since the June revenue forecast, when lawmakers were expecting the very worst in the wake of the COVID-19 pandemic and the Governor's "Stay Home, Stay Healthy" order. That forecast, like November's, was not as bad as expected – although the state still faces a revenue shortfall of approximately $740 million for the two-year budget legislators will write this coming session.
While the news last month was less dire than initially feared, there's no denying the COVID-19 pandemic has taken a very heavy toll on our state's families, small businesses, and communities.  And looking forward, there's still a good degree of uncertainty because the pandemic continues.
During the Great Recession, shortfalls in the state budget led to deep cuts to our state's safety net. These cuts hurt working families and the most vulnerable people in our communities. That's a path we don't want to go down again. I'm dedicated to supporting a balanced approach to our budget shortfall – one that promotes a sustainable and equitable recovery.
---
Legislation is being written and introduced every day now as we approach the 2021 session. I'll send more updates as news breaks.
Thank you for taking the time to read this, and best wishes for the holidays!

---