Three budgets that put people first
Dear friends and neighbors,
This is perhaps the most significant week of the 2021 session, with both the House and Senate releasing their proposals for the three state budgets: operating, transportation, and capital.
Getting to agreement and adjourning on time is difficult in a normal year, and 2021 is anything but normal. This is the first remote session in history, and hopefully the last. The covid pandemic ravaged our health care system and local economy. People are suffering.
The three House proposals work together to do three things: beat this COVID pandemic, give people the help they need, and rebuild our economy.
---
An operating budget that puts people first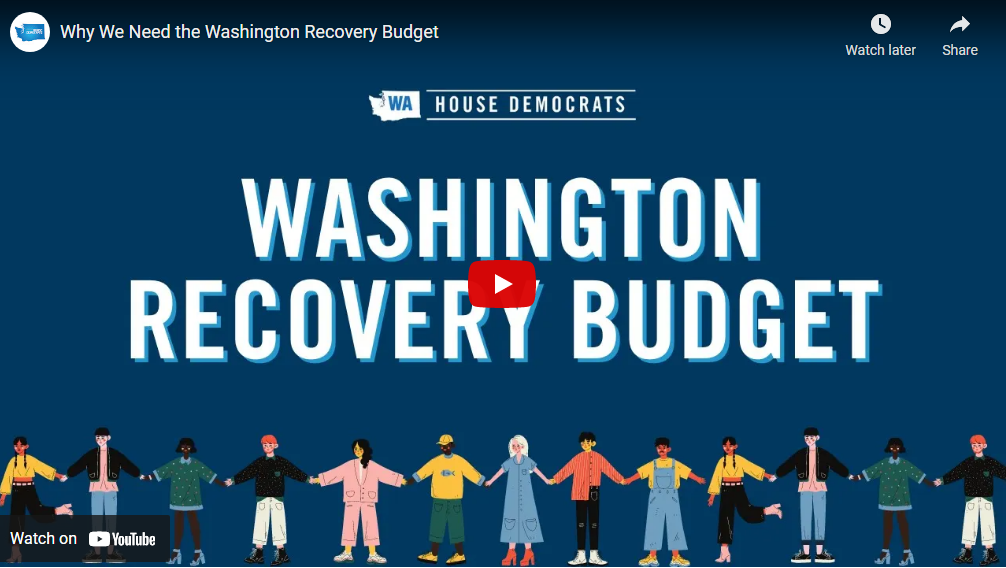 During the Great Recession, our state made massive cuts. Here in the 22nd District, families are well aware of how devasting those cuts were. Dedicated public servants saw their pay cut, then frozen. People were laid off. It took years for working families to recover, though the wealthy did better than ever.
Today, economists say we didn't need to go through so much pain and misery. Austerity budgets don't work. They only lead to more cuts and suffering.
The smart way–and the compassionate way–to bounce back from a recession is to give people help right away.
We are happy to report that this is the approach we are taking with the Washington Recovery Budget. It's designed to give families, communities, and small businesses the help they need to bounce back from this pandemic.
A few highlights of the operating budget:
Economic recovery
$1.07 billion for rental assistance to continue the goal of paying the back rent accrued during the Governor's eviction moratorium. This is in addition to the $325 million allocated in the Step One for Community and Economic Recovery bill (HB 1368) passed by the Legislature in February.
$600 million for unemployment insurance tax rate cuts to lessen that burden on businesses and $250 million in small business grants to help get cash out to those businesses who kept their doors closed to protect others.
$166.6 million in mortgage assistance through the ARPA Homeowner Assistance Fund to help prevent foreclosures and delinquencies.
$140.8 million in food assistance programs so that families will not go hungry and to maintain our food security network.
$121.6 million in state housing/homelessness assistance.
$37.63 million to increase TANF grants and $26 million to extend TANF benefits.
A $26.5 million increase to the Housing and Essential Needs Program. We know there are about 1700 people who are homeless, with disabilities, who are eligible for this program but there haven't been enough funds to serve them, so this funding will get those 1700 people into the program.
$26.2 million increase for the Emergency Cash Assistance program for families who need one-time funds to maintain safe housing and utilities or have an unexpected emergency.
$13 million for state foreclosure assistance.
COVID response and health care
$1.185 billion for COVID vaccines, contact tracing, and testing.
$100 million for local public health districts and regions.
$94 million for primary care provider rate increases.
$35 million for uninsured and underinsured care through federally qualified health centers, rural health centers, and free clinics.
$11 million for school nurses so that children have access to immediate care when they're at school.
K-12 Education and Higher Education
$53 million for additional special education funding.
$52.5 million for additional counselors in high-poverty schools.
$8.9 million to cover school lunch copays so students aren't turned away or shamed for not having money for their meals.
Continuing our historic investments with the Workforce Education Investment Act, fully funding the Washington College Grant, and maintaining support for higher education institutions.
$15.9 million for Guided Pathways, which helps community college students finish their programs.
$14 million in higher education emergency assistance grants that help college students maintain stability so they can finish their programs.
---
A transportation budget that keeps Washington moving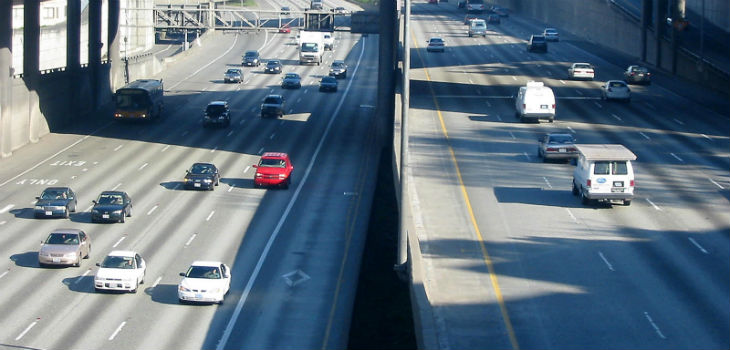 Last year wasn't kind to our transportation budget, either, which was already under severe stress from declining gas tax revenues despite more than one million people moving to Washington and using our highways, ferries, buses, and trains.
Transportation took body blows from three different directions: reduced gas tax revenues due to the pandemic, the assumed loss of revenue due to Initiative 976, and the cost to construct fish passages to meet our treaty obligations along with a court ruling.
The fiscal picture looked so awful that Gov. Jay Inslee put transportation construction projects on hold, meaning we lost an entire construction season.
Things look much better today. The state Supreme Court rejected I-976 as unconstitutional and the federal aid package includes nearly $800 million in funding for transportation.
That improved financial picture means our proposed transportation budget can take all those projects off hold and continue working on improving and transforming our state's transportation system. Our budget invests in green transportation, mass transit, fish passages, and critical projects such as the I-5 bridge between Washington and Oregon. There's also $12 million for electric vehicle charging grants and alternative fuel refueling infrastructure and $15 million for green transportation capital grants to help transit agencies fund the projects needed to reduce carbon emissions and switch to electric vehicles or other zero-emission options.
A more in-depth look at the transportation budget proposal can be found here.
---
A capital budget that builds a better Washington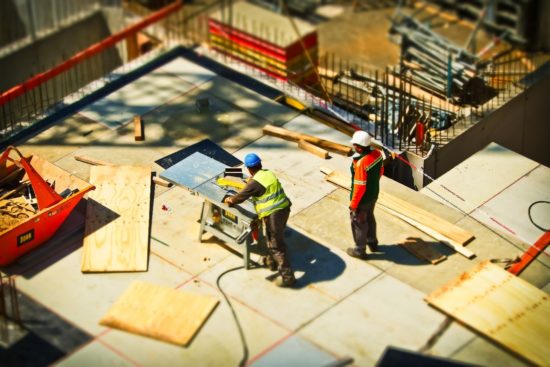 Our proposed 2021-23 capital budget (House Bill 1080) break House records for investments in housing ($240 million), early learning ($48 million), and broadband internet access ($155 million).
By comparison, the 2015-17 budget included $75 million for housing, $15.5 million for early learning facilities, and $10 million for broadband.
The budget includes $400 million in federal funding for investments in water, sewer, and broadband service along with $189 million for critical capital budget projects enabling work, education, health monitoring, and other items related to responding to the pandemic.
Public schools would receive $969.9 million, while community colleges get $299.8 million and public universities are set for $678.9 million in construction funding. The largest project is the construction of the Behavioral Health Teaching Facility at the University of Washington ($191.3 million).
Full details about the budget are available here and you can also look at district project lists and maps.
---
Finishing our work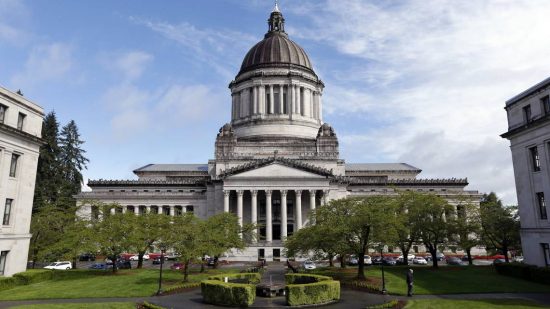 This week, the House and Senate are scheduled to vote on all three budgets—in committee and on the floor.
We will be focused on debating and voting on bills that the Senate passed, while they do the same with House bills we passed.
Please do not hesitate to contact our offices whenever you have questions, comments, or a story to share. We hope to see you soon, in person, after the House adjourns and this pandemic is behind us!
---
---