Making History and Breaking Barriers
On January 13, 1913, Reps. Frances Axtell and Nena Jolidon Croake became the first women sworn into the Washington State Legislature – alongside 95 male representatives. Axtell and Croake entered the Legislature after Washington women gained the right to vote in 1912. It would take until the passage of the 19th Amendment in 1920 for women – albeit only white women – to exercise their right to vote nationwide.
On the same day, 107 years later, Laurie Jinkins became the first woman and out lesbian in Washington state history to hold the position of Speaker of the House! As a tribute to the suffragette movement that paved the way for a woman to be elected Speaker of the House, and in celebration of 100 years of women's suffrage (again, we acknowledge this movement was not as inclusive as it should have been, and only white women won the right to vote), lawmakers wore white.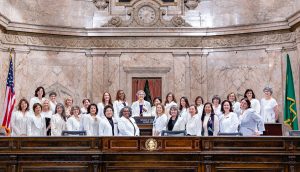 Lawmakers wore white as a tribute to the suffragette movement, which paved the way for a woman to become Speaker of the House.
This year is the 100th anniversary of women's suffrage – although we acknowledge the victory was only for white women.
In her opening day speech, Speaker Jinkins made clear her commitment to equity and inclusion, and to expanding opportunity for all people in our state.  She reminded us of us of the policies we've passed in recent years that are helping families across Washington, such as the first-in-the-nation long-term care insurance program, free or reduced college tuition and apprenticeships for low- and middle-income families, and our Paid Family and Medical Leave program that is in effect as of this year!
Speaker Jinkins also reminded us of the hard work ahead, including addressing rising homelessness and the lack of affordable housing, mitigating the damaging effects of climate change, bringing down the costs of healthcare, reducing gun violence, and grappling with the effects of Initiative 976 on our transportation system.
With a new, barrier-breaking Speaker, it's a new day in the People's House, and a new chapter for our state. I am excited to work with Speaker Jinkins on policies that will provide greater opportunities for all and help our communities thrive!
Juvenile Justice updates
This week in the Human Services and Early Learning Committee, of which I am the Vice Chair, we had a work session to look at the implementation of some of the juvenile justice legislation passed in previous sessions. You may recall that I often talk about the significant problems with the way our justice system handles young people, and have been working on a range of juvenile justice reform legislation during my tenure in the legislature.
In the last two years, we've passed reforms that take into account the latest research on brain development, and gives these young people a chance to get the supportive services and rehabilitative activities they need to have a better chance of succeeding in life after their release. The work session on implementing House Bill 1646 and Senate Bill 6160, showed that these reforms are already having an impact, and laid out a map for continued improvements in juvenile rehabilitation.
To help ensure the continued forward progress, this session I've introduced House Bill 2064, an omnibus juvenile justice bill. It includes some technical changes to update juvenile justice legislation passed in 2018, as well as expansions to evidence-based programs in juvenile rehabilitation facilities, such as trauma-informed programs, programs that support education and employment opportunities, and construction pre-apprenticeship training programs. More and more, we are moving away from pushing juveniles into the revolving door of the adult criminal justice system, and moving toward setting these young people up for success as adults.
Going Paperless & a Public Records Act update
First, let me say that I am happy this matter is finally put to rest and lawmakers understand that we must all follow the same rules when it comes to an open and accountable government. This is a great step forward for Washington!
My office will fully comply with all public records requests under the law. If you have a public records request, please contact Samina Mays, the designated public records officer for the Chief Clerk and members of the House.
We're Going Paperless!
I appreciate that lots of those who come by to visit my office during session work hard on creating and printing handouts, and I'd ask that you email those documents to our office instead, and save yourself the printing costs.
We're doing our small part to conserve precious natural resources by reducing our paper use. In addition, we are in a transition and the entire Legislature is still developing the appropriate infrastructure and processes to comply with the Public Records Act, which would require us to keep every piece of paper that comes through our office. You will be helping to keep our office organized and efficient by not bringing more paper our way.
Please send any informational materials, inquiries or invitations to Noel.Frame@leg.wa.gov or Natalia.KossVallejo@leg.wa.gov. That includes legislative priority lists or agendas from your organization. Thank you!
A very welcome game-changer for working families is finally here!
To promote family stability and economic security, three years ago the Legislature passed the Paid Family and Medical Leave Act. I was a cosponsor of the original legislation, and was proud to cast my vote in favor of this program.
The program, funded by a small premium paid by both employers and employees, allows qualifying workers to take paid leave to care for themselves or a family member, to bond with a new child, and for military families for certain service-connected events.
Employers began collecting premiums for the program last January and benefits began with the start of the new decade.
Here's a quick overview of what you need to know about Washington's new Paid Family and Medical Leave Program:
Do I qualify? You do if you worked 820 hours in 2019.
When can I start applying? Right now! Benefits are available as of January 1, 2020.
How much time can I take? 12 weeks of paid leave a year for qualifying events, but it can be extended to up to 18 weeks in some cases. Important: you don't have to take all your leave at once.
What's a qualifying event?

Having a new baby or adopting a child
You or a family member has a serious illness or injury
A family member who is in the military is about to be deployed or has just returned from overseas deployment

How much do I get paid when I take paid leave? You could receive up to 90 percent of your weekly pay — up to a maximum of $1,000 a week
How much is this costing me? If you earn $50,000 a year, less than $2.50 is taken out of each paycheck
For more information, click on the image below for a short video or visit the Paid Family and Medical Leave website.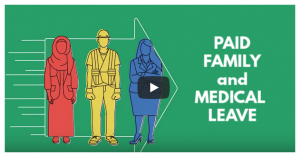 Click on the image for more information on Paid Family and Medical Leave in Washington state.
How to Stay Involved
Now that we are back in Olympia, feel free to schedule a visit! Tours are available and I will do my best to step out or schedule time to connect with you while you are on campus. Even if you can't make it down during the session, give me a call at 360-786-7814 or send me an email at Noel.Frame@leg.wa.gov.
Want to track what's happening in the legislature? I can't recommend enough TVW's "Legislative Review" – a 15-minute overview (30-minute on Fridays) of what happened each day here in Olympia. It's a quick and easy way to learn how the legislature works and you can stream or download it on your mobile device!
Our democracy is strongest when everyone has the ability to participate, so please feel free share your comments, questions, and ideas. I hope to hear from you soon!
Sincerely,



Rep. Noel Frame
---