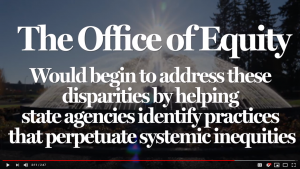 The Office of Equity & the Dream of Martin Luther King Jr.
At the beginning of last week, the Legislature celebrated the life and legacy of Reverend Dr. Martin Luther King Jr. The newly appointed representative for the 30th district, Rep. Jesse Johnson, and Rep. Drew Hansen each spoke on the floor of the House, paying tribute to Dr. King and reminding us all of the importance of recognizing the reality we live in and taking action to make positive change.
On the same day, Democrats took a significant step toward equity by passing legislation to create the nation's first 'Office of Equity,' which is intended to reduce systemic racial disparities in Washington state.
Race influences where we live, where we work and what our long-term health impacts are. Consciously or unconsciously, race effects the way we move around on a daily basis.
Since the time when Dr. King voiced his dream for a more just America, we have made progress. However, systemic inequalities still exist. Too many people are being left behind.
And if we don't take action to correct historical injustices, we will continue to see disparities. That's why I am proud to have voted YES for the statewide Office of Equity. Through this office, our state government will begin taking action to end practices that perpetuate systemic inequities.
Learn more in my recent video update.
---
Join us for the 36th LD Town Hall!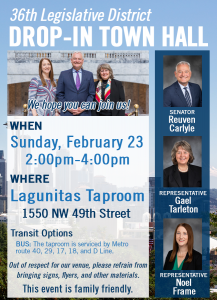 On Sunday, February 23, Sen. Carlyle, Rep. Tarleton, and I will be at Lagunitas Taproom (1550 NW 49th St.) from 2:00 pm to 4:00 pm.
As a "Drop-In" Town Hall we encourage you to join us anytime in the two-hour window that works for you. We'll aim for casual small group conversation and try to swap out who is at the table to ensure everyone gets a chance to be heard. Out of respect for our venue, please refrain from bringing signs, flyers, and other materials. Kids are welcome!
I hope you'll join us!
---
The House passed a Clean Fuels Standard!
The 2019 session included passage of some key environmental policies, including a bill to transition our state to 100% clean energy by 2045, legislation that phases out super pollutants, a bill that supports increased energy efficiency for commercial buildings, and much more.
While these were big victories, we know that there's a lot more work to do to.
This week, House Democrats led the charge toward another climate victory by once again passing a Low Carbon Fuels Standard for Washington state.
Nearly half of our state's greenhouse gas emissions are from the transportation sector. Implementing a clean fuels standard would deliver the triple win of protecting our climate, cleaning our air, and growing clean energy jobs.
Additional Environmental Protections
This session we're also looking at environmental bills to set targets for reducing greenhouse gas emissions, address plastic pollution, implement solid waste policies, and further efforts to protect clean water.
Greenhouse Gas Emission Reduction Targets – In 2008 Washington established an emissions reduction timeline; this new legislation would align those targets with current climate change science. Climate change is already increasing the severity of wildfires, making our ocean waters more acidic, and melting our snowpack earlier in the year. It's a global problem, but it will take all of us working locally to protect our environment for future generations. This bill was voted out of the Environment & Energy Committee last week and is currently being considered in the Appropriations Committee.
Single-use Plastic Bags – Each year, Washingtonians consume around 2 billion single-use plastic bags. And each of those bags is used for only about 12 minutes. Single use plastic bags gum up our recycling facilities, add to landfill waste, and contribute harmful microplastics in the environment, which threaten our health and the health of our state's wildlife. House Bill 1205 would restrict single-use plastic bags across the state and give retailers and grocers one simple standard to comply with instead of the current 37-jurisdiction patchwork. The bill advanced out of committee last year, and the Senate voted its companion off the floor already this session.
Not-so-flushable wipes – Just because something is labeled "flushable" doesn't mean it's a good idea to flush it down the toilet. Flushing so-called "flushable" wipes can cause major problems for household plumbing and municipal sewer systems. It has also led to expensive repairs for wastewater infrastructure and sewage spills into the Puget Sound. This legislation would make sure that items labeled as "flushable" are actually flushable. It was voted out of the Environment & Energy Committee yesterday.
---
Thank you to the 36th District Legislative Pages!
Thank you to Chloe Olson and Penelope Hendricks, both young women from the 36th who recently served as legislative pages! Chloe attends McClure Middle School, while Penelope attends Lincoln High School.
The Page Program is a great opportunity for 14-, 15- and 16-year-olds to learn how our state government works, and gain hands-on experience with the ins and outs of the legislative process.
If this is something your teen might be interested in for next session, go to the Page Program website to learn more, fill out an application, and get information on how to apply for the Gina Grant Bull Scholarship.
---
As always, please feel free to reach out with comments, questions, or ideas!
Sincerely,
Rep. Noel Frame
---