Workforce Education Investment Act Update
The Workforce Education Investment Act that the Legislature passed last session funds expanded higher education programs, including high-demand degrees such as nursing, engineering, and computer science, and supports apprenticeships across the state. The investment also provides free or reduced tuition for students from low- and moderate-income families.
However, the law needed some changes, both to make sure Washington honors the promise made to students and workers, but also to help small businesses by clarifying who pays, streamlining the process, and exempting businesses grossing less than $1 million in revenue per year. That's why the Legislature passed SB 6492, and early last week, the governor signed the bill into law. The new law improves and simplifies the way we collect the funding for these programs, making it easier for businesses to comply, and ensuring our state's students can get the education they need to fill the more than 750,000 family-wage jobs that will become available in Washington state over the next few years.
Learn more in this video from the wings during floor debate on the bill.
Small Business Day at the Capitol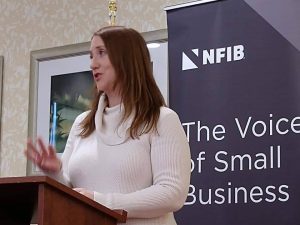 At the beginning of the month, I participated in the National Federation of Independent Business (NFIB) Small Business Day here in Olympia. The event brought small business owners from around the state to the Capitol to testify on legislation they care about and engage with lawmakers about issues facing small businesses in Washington.
At the event, I had the opportunity to discuss the ongoing work I'm doing as Co-Chair of the bipartisan Tax Structure Work Group (TSWG), a position I share with Republican Sen. Keith Wagoner from Sedro-Woolley. The TSWG is intended to provide a pathway to modernize and balance the Washington state tax structure so that it is equitable, adequate, stable, and transparent. Currently, an in-depth analysis of Washington's tax structure is being conducted, but the next step will be to engage the public in discussions on the state's tax structure, and small businesses are a key part of that conversation.
Washington state's current tax structure relies primarily on taxes that burden households at the lowest end of the income spectrum, as well as small, start-up, and low-margin businesses with high capital costs. In addition, tax preferences have only made our tax code more regressive and created 'winners' and 'losers' within the code. That's why the TSWG aims to conduct a holistic review of our code and develop alternatives, with small, start-up, and low-margin businesses, as well as low- and middle-income taxpayers at the table guiding that work.
Learn more about the Tax Structure Work Group, sign up to receive email updates, and find information on past and upcoming meetings on the Department of Revenue dedicated website for the TSWG.
Environmental Protections and Investments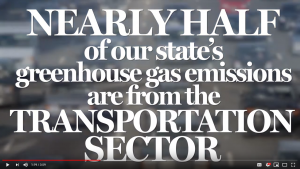 Climate change is already increasing the severity of wildfires, making our ocean waters more acidic, melting our snowpack earlier in the year, and more. Plastic covers our beaches, threatens our wildlife, and breaks down into microplastics that pollute our waterways and endanger our health.
Our planet is in crisis. It's a global problem, but it will take all of us working locally to protect our environment for future generations. That's why last year, Democrats led the charge to pass legislation to transition our state to 100% clean energy by 2045, phase out super pollutants, support increased energy efficiency for commercial buildings, and more.
This session, we are working to build on those victories with legislation to reduce emissions, address plastic pollution, protect our clean water, and ensure the survival of our iconic orcas. By passing bills such as the Low Carbon Fuels Standard and a ban on single-use plastic bags we can help protect our environment, our health, and the abundant natural resources we enjoy in our state.
Learn more in my recent video update.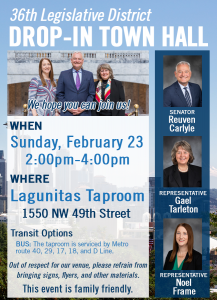 Join us this weekend for a Drop-In Town Hall!
On Sunday, February 23, Sen. Carlyle, Rep. Tarleton, and I will be at Lagunitas Taproom (1550 NW 49th St.) from 2:00 pm to 4:00 pm.
As a "Drop-In" Town Hall we encourage you to join us anytime in the two-hour window that works for you. We'll aim for casual small group conversation and try to swap out who is at the table to ensure everyone gets a chance to be heard. Out of respect for our venue, please refrain from bringing signs, flyers, and other materials. Kids are welcome!
I hope you'll join us!
Sincerely,



Rep. Noel Frame
---